MEDINI CITY, ISKANDAR PUTERI, Johor, 20 December 2017 – Universiti Teknologi Malaysia (UTM) Johor today inked a Memorandum of Understanding (MoU) with Medini Iskandar Malaysia Sdn Bhd (MIM), the first development/private company from Iskandar Puteri.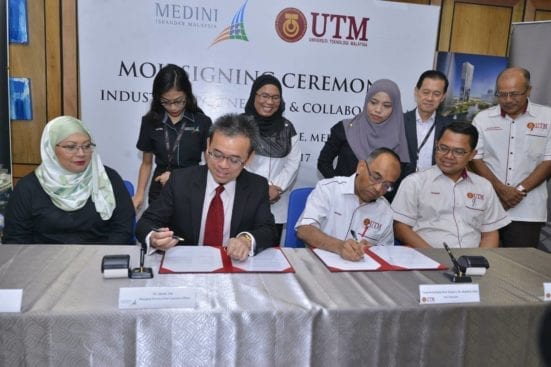 The MIM sets out the basis of cooperation between UTM and MIM in enhancing the talent pool and prepare the UTM graduates for employment.
The signing took place at Medini Investor Centre @ Medini 6 in Medini City, where the MoU is expected to broaden the opportunity for both parties to build young talents that provide necessary exposure and skill-set development programme.
UTM is represented by the Vice Chancellor Prof. Datuk Ir. Dr. Wahid Omar, while MIM is represented by Dr James Tee, the Managing Director/ Chief Executive Officer of Medini Iskandar Malaysia Sdn Bhd.
Also present were Deputy Vice Chancellor (Student Affairs) Professor Dr Durrishah Idrus, Director of UTM Career Centre, Assoc Prof Dr Othman Ibrahim and Director of Alumni UTM, Assoc Prof Dr Mohamad Ibrahim Mohamad.
"MIM is the first company in Iskandar Puteri that UTM is signing with, and we are privileged that they MIM is very supportive of local universities like UTM.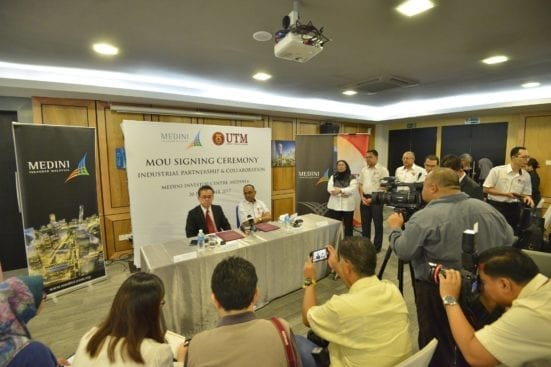 "Being the master developer and master planner of the 2,230 acres thriving township of Medini City, I can see that the development is robust and I understand there is a strong need to retain and grow skilled workforce," Professor Wahid said.
He cited, through the collaboration, UTM will give the opportunities to their bright students to garner experience from MIM and hone their skills while learning more about township development in the process of building a sustainable and smart Central Business District.
"The first intake will be in February next year, where MIM will recruit undergraduates and postgraduates to fulfil internship programmes at MIM, particularly in the fields of engineering and construction.
"These programmes are intended to be implemented within a timeframe of three to six months," he added.
He said, the internship programme is a good platform for the students to learn, and get first-hand experience to build a well-planned city.
"There will be many other companies from Iskandar Puteri expected to adopt this initiative within the next few months. For now, we are happy to have kick-started the process for student placement at MIM," he said.
Meanwhile, Managing Director / Chief Executive Officer of MIM, Dr James Tee,  said, MIM is very committed to implement the industrial partnership initiative because as a thriving Central Business District, they are building and creating new opportunities for the younger generations to acquire, learn and contribute to the success and sustainability of Medini City.
"Youths are our future leaders and this initiative of educating and nurturing crop of young people in the business of city development will make them better aware of what it takes to build a city.
"As the saying goes, Rome wasn't built in a day, and programmes like this would make the interns better understand the requirements and appreciate the fine details of city development," he said.
Dr James added, they chose UTM to implement the programme because of its status being one of the most prestigious and respected local universities in Malaysia that is leading in the academic and research fields of engineering, science and technology.
"We seek bright local talents to be part of this exciting and distinctive journey where Medini City also aspires to be the benchmark for future city development in Malaysia and for the region too," he cited.
Dr James who graduated with fisrts class degree from UTM in 1995 said, more then 10 percent's MIM staff graduated from UTM and he thanked to UTM for setting up a corner stone for his career and future.