JOHOR BAHRU, 22 MAY – A hearty congratulations to Siew Hon Chong, a postgraduate student from School of Electrical Engineering is now a Master graduate of Universiti Teknologi Malaysia (UTM). 16 years ago, he was a graduate from Swansea University, Wales, United Kingdom and currently, he is working at a company in Singapore as an electrical consultant since 2011.
During the interview session, he was asked on how was he capable to divide his work and his studies. He said that, "I prioritize my studies. This is because the moment I take the opportunity to further my study, I need to focus and pay attention to what I am doing."
Mr. Siew spent at least 1 hour per day to work on his thesis, do some revision and catch up on his lesson. "My family, especially my wife, daughter and son are my inspiration to keep me focus on my study," he said. As he is a working man, his weekdays are already spend on working and long journey hours.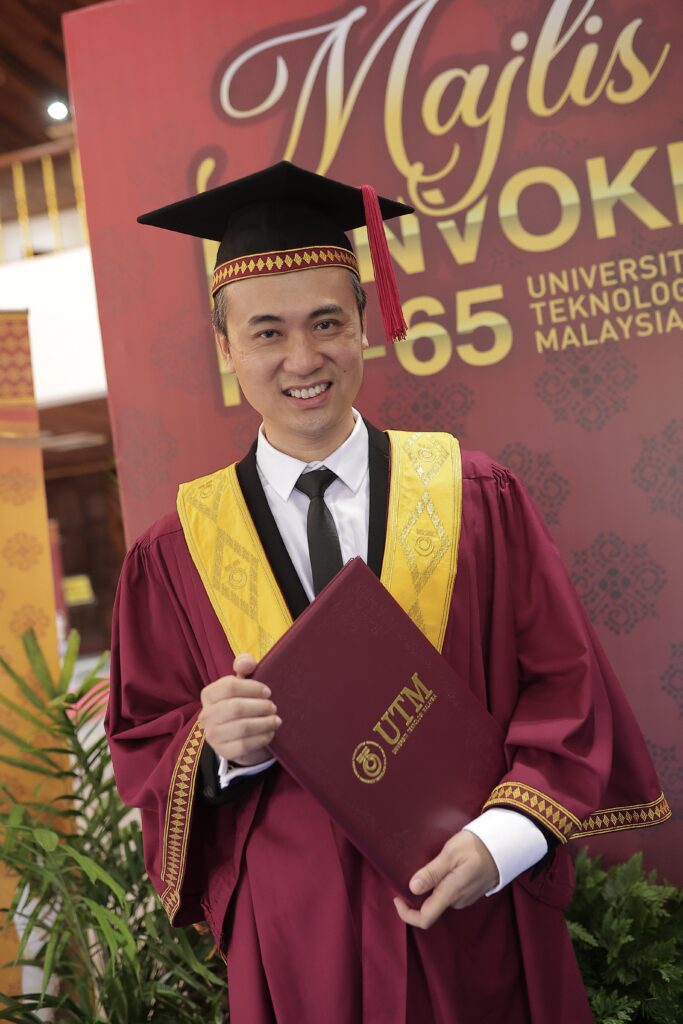 "Discipline is very important, as I am busy with my work during weekdays, I need to maximize my weekends," added Mr. Siew. Working full time and to work in a foreign country, bring challenges for Mr. Siew to focus on his study.
When Covid-19 pandemic hit, Mr. Siew was torn between working and studying. Before the pandemic, he shuttled back and forth from Malaysia to Singapore and vice versa every day. When the lockdown happened, he was having some difficulties in adapting new lifestyle as 'Work From Home' (WFH) culture was implemented for him. His classes also was transformed from physical class to online class.
"I need to keep my momentum and make sure that I won't missed up on anything," said this 44 years old graduates.
He attended his classes without fail despite his hectic schedule. He paid full attention during the lecture, taking notes and asking questions. These are his tips to understand and learn faster as he had no time to study the same thing again and again. "If I do not clear my doubt today, it will be an issue for tomorrow."
The driven force to get him studying again after 16 years is his interest. He also would like to upgrade his profession as a professional engineer. Study again took a lot on him as he needs to get back on a routine as a student.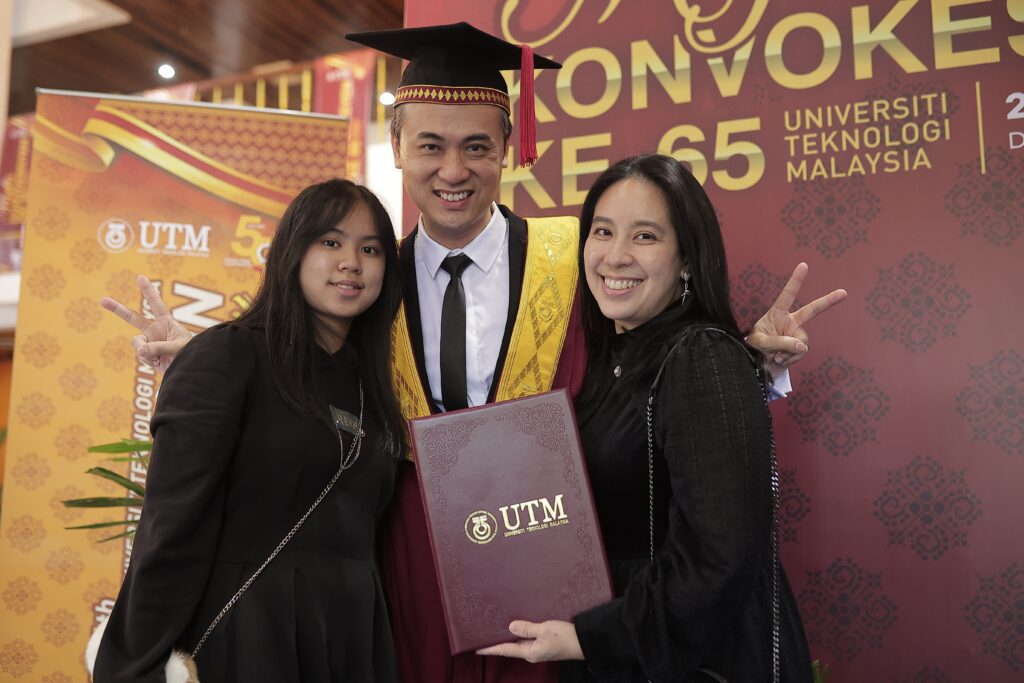 Her wife, Mrs. Siew was truly touched when she saw her husband receiving the scroll on the stage. She felt very grateful and honored to have a husband who was very dedicated in his studies. She saw her husband walking on the tough path but always have faith and confident in him. The only thing worrying Mrs. Siew was Mr. Siew's health concern and time constraint. Travelling during working was tiring enough but juggling his responsibilities as a husband, father, worker and student were another challenge.
As for now, Mr. Siew would like to focus on his career first. He might want to pursue his studies again for PhD but that's for long future ahead.