Congratulations to Razak Faculty of Technology and Informatics (RFTI), Universiti Teknologi Malaysia (UTM) and Ministry of Science, Technology and Innovation (MOSTI) for the continued partnership to groom professional talent in science and technology.
Following the enrolment of first UTM-MOSTI Master of Professional Science (MPS) cohort in February 2020, the second cohort of 12 candidates from the ministry, Atomic Energy Licensing Board (AELB),Department of Chemistry Malaysia (KIMIA MALAYSIA), Academy of Sciences Malaysia (ASM) and Malaysia Debt Ventures Berhad (MDV) had signed up to pursue MPS starting the first semester in mid-October this year.
Internationally, Professional Science Master's Degree, a similar program to MPS has been gaining popularity among the STEM graduates as their 'MBA for science' options. Accredited by the Malaysian Qualifications Agency since 2017, MPS offered by UTM is an innovative program that enables students to pursue advanced training in science and technology while developing highly valued management skills.
MPS students get the flexibility to bridge two academic disciplines and choose various elective courses ranging from business and management, science, technology and innovation (STI) policy, occupational safety, health and environmental management, to advanced informatics that best suit their organizational aspirations and needs.
"Through the UTM-MOSTI MPS program, RFTI has broken down the silos and cultivated meaningful partnerships to meet the needs of multiple stakeholders from MOSTI. Rather than looking at individual academic departments and their subject matters separately, RFTI took a flexible and non-conventional approach to engage multiple academic departments and integrate parts of each department into the collaborative program", said the Dean of RFTI, Prof. Dr. Astuty Amrin.
Indeed, for the second cohort, FTIR embraces the trans faculty synergy (PAKAT-Program Akademik Rentas Fakulti) to collaborate with the Faculty of Science, UTM Johor Bahru, in offering forensic science-related courses as electives.
Meanwhile, the Principal Assistant Secretary of Human Resource Department, MOSTI, Ms. Marlyza Said, applauded RFTI's approach that engages employers to work together with the university in designing the program's content and delivery that break the institutional silos towards a win-win outcome for all stakeholders. Ten students who are civil servants among the second cohort have been awarded scholarships from the Public Service Department to pursue the MPS program.
A program briefing by MPS program coordinator, Ts. Dr. Noorlizawati Abd Rahim was held on 15 October 2021 via an online platform to welcome the new students and provide them with guidance to ensure a smooth and fulfilling student learning journey from day one until graduation. An engagement session with the Dean and academic management team was also held on the same day.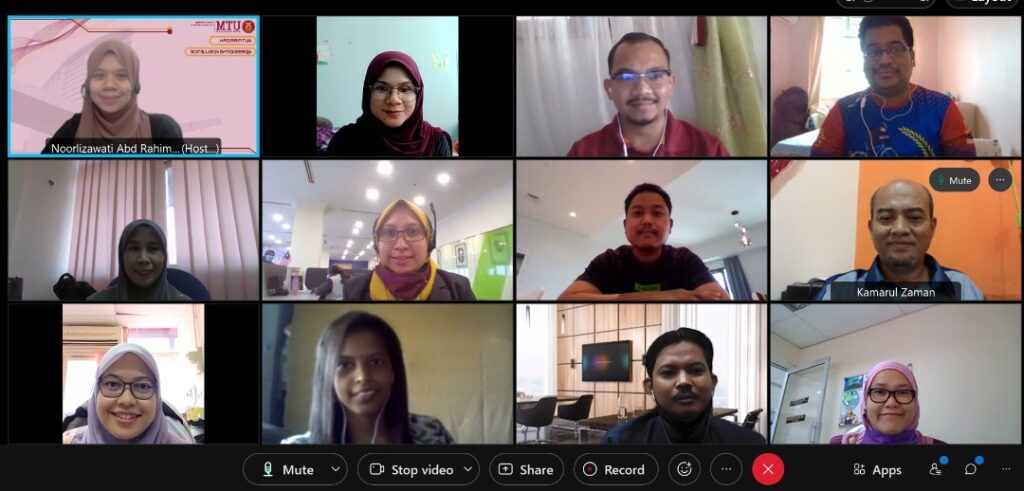 From a student's perspective, Ms. Uwarani a/p Krishnan from Malaysian Science and Technology Information Centre (MASTIC), MOSTI is intrigued by the program.
"MPS program is very much in line with the scope of my work. The combination of STEM and management will further enhance my expertise, efficiency and credibility in performing my duties as a science officer. Upon returning to the ministry, I will be able to assist in the analysis and decision making related to various issues and challenges faced by the ministry as well as contribute to the formulation of policies, strategies and operations," said Ms. Uwarani.
Another student specializing in forensic science, Mr. Abd Hadi Abd Rahim from KIMIA MALAYSIA, Penang viewed the online weekend courses offered by MPS as a remote learning opportunity for him to pursue study while working, without the hassle of travelling to UTM Kuala Lumpur or UTM Johor Bahru campus.
Located at the heart of Kuala Lumpur city, Razak Faculty of Technology and Informatics continues to be the choice of working professionals to pursue graduate studies in various disciplines from engineering business management, business intelligence analytics, occupational safety and health management, STI policy to many more.
/ Razak Faculty of Technology & Informatics