KUALA LUMPUR, 19 Oct. – The UTM creative innovation of QuikHalal has been selected to receive the consolation prize at Malaysia Commercialization Year or MCY 2018 held at Kuala Lumpur Convention Centre (KLCC).
For this success, the QuikHalal inventor Dr. Mohd. Iskandar was selected as the recipient of consolation award for the Research Entrepreneurship category at MYC 2018 awards giving ceremony thus taking home RM50,000.00 cash prize.
Dr. Mohd. Iskandar said that this competition was introduced in 2016 to focus on commercialization initiatives of local R&D products.
"There were five categories being contested namely the Research Entrepreneur, Social Entrepreneurship, Young Innovators, Commercialization Deal and Industry & University Partnership Award.
"The main winners in each category received RM130,000 worth of prizes including trophy and certificate while consolation prize winners receive prizes worth RM50,000 including a trophy and certificate," he said.
There were only 10 finalists (two finalists for each category) to be selected carefully from 600 participants.
Dr. Iskandar was lucky through his invention known as QuikHalal which is the first cloud-based mobile halal auditing apps that help auditors to prepare, plan, execute and produce halal audit report for the purpose of new or renewal of Halal Certification application.
"It eliminates the needs to prepare any checklist since it contains the predefined checklist based on the Malaysian Halal Certification Schemes.
The checklist can be customized according to type and size of the company and automatically updated if the new standard occurs," said Dr. Iskandar.
QuikHalal helps to collect photo evidence and comments as well as annotate the photos to highlight important information. It can generate professional halal audit report automatically and instantly through email or any cloud services (e.g. DropBox, Google Drive, etc).
The awards were in appreciation of local talents who contribute to the country's economic growth and to encourage interest in the commercialization of national R&D products by giving recognition and incentives to the best products and technology.
MCY 2018 was organised by the Ministry of Energy, Science, Technology, Environment and Climate Change (Mestecc), which was held in conjunction with the International Greentech and Eco Products Exhibition held at Kuala Lumpur Convention Centre.
For more info about QuikHalal, kindly visit http://experts.utm.my/2017/10/05/quikhalal-a-solution-to-halal-certification-process-for-industry/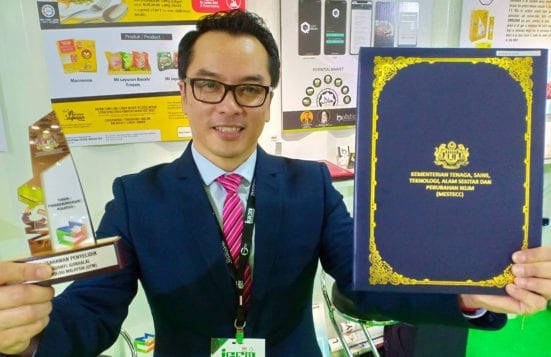 / Section of Corporate Affairs