JOHOR BAHRU, 26 September 2016 – Universiti Teknologi Malaysia (UTM) has exchanged a Memorandum of Understanding (MoU) with the Association of Chartered Certified Accountants (ACCA) as part of its continuous effort to enhance graduates' employability through industry–academia collaboration.
The MoU was signed by Deputy Vice Chancellor of Research and Innovation, Prof. Dr. Ahmad Fauzi Ismail while the ACCA was being represented by its Malaysia Country Head, David Chin.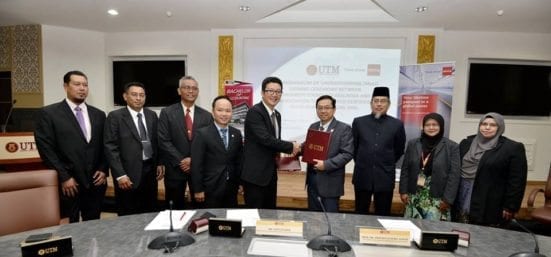 Prof. Ahmad Fauzi said that although the accounting degree in UTM was still new, it has collaborated with a globally recognised professional accounting body such as the Institute of Chartered Accountants in England and Wales (ICAEW).
"Upskilling our graduates with industry recognised professional qualifications will help our Malaysian graduates realise their true potential and will empower them to better prepare themselves for employment.

"This ongoing effort to produce industry-relevant graduates is to ensure that our future graduates are able to access the high-income opportunities arising from the Malaysian economic transformation," he said.
With this MoU, the ACCA is committed to provide opportunity and access for students of UTM to the highest professional standards and support these students in their professional development and careers in accounting, business and finance.
"More importantly, it will facilitate access to the ACCA for high-quality students where the ACCA offers to the university its unique programme- Accelarate.
"This ACCA Accelerate Programme will allow students to start their journey towards becoming chartered accountants while they are in university and make them more marketable upon joining the workforce," said. Prof. Ahmad Fauzi.
Being students in the programme accredited by the ACCA, UTM students will be able to register with the ACCA before they even complete their Bachelor of Accounting. Under this accelerated programme, eligible students will be able to access exclusive benefits as agreed in the MoU.
"Among all they will be enjoying free initial registration, free annual subscription fee up to two years inclusive of graduation year and deferred exemption fee payment up to 24 months after graduation.
"UTM students are also allowed to access the ACCA's online resources, including their own ACCA account on MYACCA portal which offers support during study and training," said Prof. Ahmad Fauzi.
Besides becoming a value added benefit to UTM accounting degree students, this MoU will also benefit the staff where it serves to promote and support research collaborations between the Faculty of Management staff and the ACCA by establishing a joint research platform in the field of accounting and professional ethics.
"At the same time, the UTM Faculty of Management will promote the programme and ensure accredited courses continuously meet ACCA criteria with high quality of teaching," said Prof. Ahmad Fauzi.