Heartiest congratulations to Prof Mazlan bin Hashim from Faculty of Geoinformation and Real Estate, Prof Dr Tharek bin Abdul Rahman, Faculty of Electrical Engineering, and Prof Dr Azman bin Hassan, Faculty of Chemical and Energy Engineering, for being conferred as the 2016 Top Research Scientists Malaysia by the Academy of Sciences, Malaysia. They are three of ten recipients of the award nationwide. The TRSM project aims at fostering a culture of excellence in science, technology and innovation (STI). TRSM recipients are selected based on the contributions they have made towards STI and in meeting the agenda of the nation.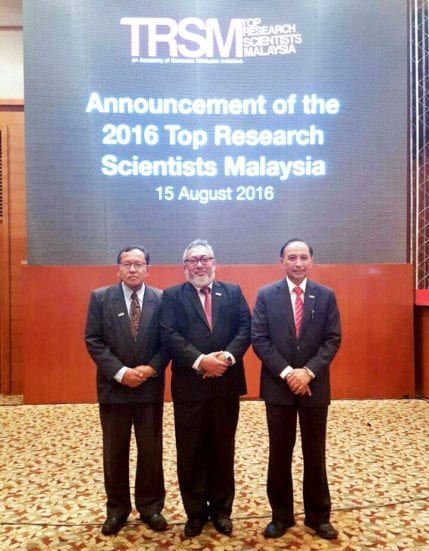 Professor Dr. Azman Hassan is an expert in polymer nanocomposite and natural fibres polymer composites. His work focuses in the utilisation of local natural resources to produce value added products. Commercialisation of Epoxidised Natural Rubber (ENR) is an important area under National Key Economic Areas and his studies have shown the potential of ENR as an impact modifier for various polymers. Through the research, he has received LRGS grant to develop kenaf reinforced biocomposites for automotive applications. His current research work focuses on developing automotive parts using graphene reinforced polymer nanocomposites. Products based on graphene is expected to contribute RM18 billion to Malaysian economy by 2020. He also has completed an international project in collaboration with Qatar University using date palm in recycled polymer composites which has impact on societal well-being. Another novel study of his research is the production of nanocellulose whiskers from empty fruit bunch which was published in Tier 1 journals. Currently, he is the Deputy President of Malaysia Polymer Society.
Professor Dr Mazlan Hashim is an expert in geospatial and remote sensing. His research focuses on remote sensing applications within natural resource management, environmental management and conservation as well in mapping various national strategic applications. He has used a variet of remote sensing techniques and applications, image processing, and programing skills to address research issues related to geomatic engineering, aerospace, environmental impact assessment and signal processing. His main contributions are on issue of operational applications of remote sensing. Addressing these operational issues, he has merged related diverse needs in the area of engineering sciences, applied sciences and technologies, environmental sciences, information and computer sciences. Through this work, he received few international awards and held several positions as Visiting Professor or Scientist. Commercial-wise, he have also patented his works and formed a university spin-off company for: (i) subsurface object recognition with non-destructive method; and (ii) emerging technique for sea-grass biomass determination for blue carbon estimation.
Professor Dr Tharek Abdul Rahman is an expert in wireless communication. His research focuses on mobile communications, antenna and propagation. 28 students for PhD level and 28 students for MSc level in the field of mobile radio systems have graduated under his supervision and over 300 publications were published in journals and conferences. He also has obtained many national and international awards. Furthermore, he was responsible in the establishment of laboratories in Wireless Communication Centre (WCC) which includes Anechoic Chamber, LTE, SAR, WIE, and RF Propagation. In 2014, WCC has received recognition from the Department of Higher Education Ministry of Education as a Higher Institution Centre of Excellence (HICoE) and thus became the first HICoE in UTM. He was also involved in the International Telecommunication Union (ITU) Working Group as an expert in mobile radio communication system. He has contributed ideas towards 3G standard and is currently involved with the research for the 4G/LTE. The aim is to integrate the wireless telecommunications industry in Malaysia.