JOHOR BAHRU, 24 May 2015- A delegation from the Palestinian Embassy to Malaysia, led by His Excellency Dr Anwar Al-Agha, visited UTM.
This visit was in conjunction with the 67th Anniversary of Al-Nakba Commemoration Day, where Al-Nakba is the Arabic word for "catastrophe". In his opening address, His Excellency explained that 15th of May each year commemorates the ethnic cleansing of Palestinians from their land in 1948 for the creation of what is called the state of Israel. This has resulted in more than 800,000 Palestinians being expelled from their homes and forced to leave their homeland. 400 Palestinian towns and villages were depopulated and destroyed. Today, up to 8 million Palestinians are refugees in Jordan, Lebanon, Syria, the Gulf countries and across the globe. This has made Palestine into one of the largest and longest-standing unresolved refugee case in the world today.
Dr Anwar thanked UTM for the efforts made in support of Palestinian students. He encouraged UTM to have better education and research collaboration with universities in Palestine. The collaboration suggested included joint research and publication.
Dr Anwar later adjourned to Perpustakaan Sultanah Zanariah to officiate an exhibition in conjunction with the anniversary of Al-Nakba. The exhibition will be held for one week, commencing 24th May.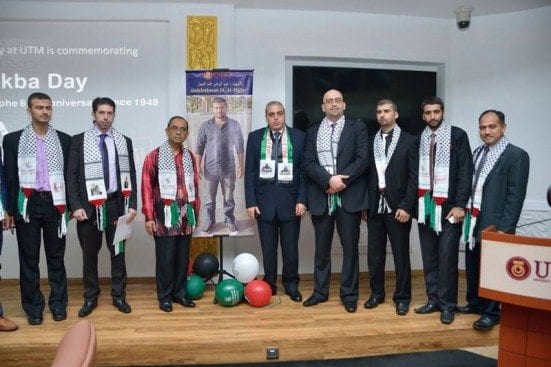 UTM Vice Chancellor (third left) taking a group photo with the Palestinian Ambassador to Malaysia, His Excellency Dr Anwar Al-Agha ( fifth right) at the launching ceremony of the 67th Anniversary of Al-Nakba Commemoration Day at UTM Johor Bahru campus.