11 JANUARY 2013, JUMAAH HALL UTM KUALA LUMPUR
UTM further strengthens its relationship with Nanyang Technological University (NTU) by hosting a visit by the director and staff from the Nanyang Centre for Public Administration Office on 11 Jan 2013. Together with them were 45 senior officials from different Chinese provinces and Ministries, who are currently taking a 'Social Management' programme at NTU.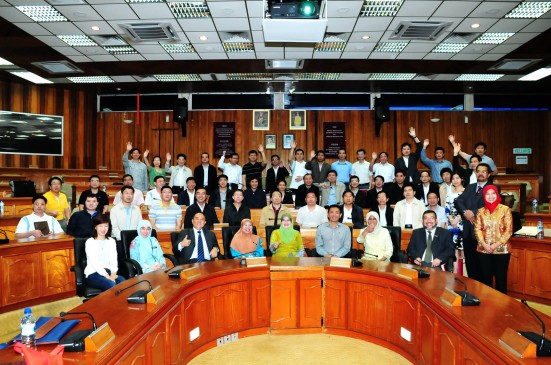 During the session at UTM KL campus, Prof. Dr. Rose Alinda Alias, Deputy Vice Chancellor (Academic and Internationalization) presented an overview about UTM and emphasised on collaboration possibilities between UTM, NTU and China.
UTM had invited Madam Zulika binti Mohamed, Deputy Director, Economic Planning Unit (Prime Minister's Department Malaysia) to share insights on Malaysia's National Development to the delegates.
Dr. Wu Wei, Director of Nanyang Centre for Public Administration, expressed his heartfelt gratitude to UTM for the warm welcome and sharing of information sessions which have benefitted all parties. Indeed, the visit to UTM was the highlight of their trip to Malaysia. He added that through such activities we can create platforms to enhance cooperation between the three countries.
——————————
By:
Nora Mislan
Regional Manager (Singapore & Oceania)
Office of International Affairs
UTM Johor