KUALA LUMPUR, 17 August 2023 – The inaugural Global Algae Summit 2023 (GAS 2023) concluded successfully, marking a significant milestone in uniting thought leaders, researchers, and experts from the algae industry and related fields.
Organized collaboratively by Leave a Nest, Euglena Malaysia Sdn. Bhd., and Malaysia-Japan International Institute of Technology (MJIIT), Universiti Teknologi Malaysia (UTM), the summit took place on August 17th, 2023, at Azman Hashim Hall, UTM Kuala Lumpur.
Strategic partnerships with leading organizations, including Malaysian Bioeconomy Development Corporation (Bioeconomy Corp.) and the Algae Biotechnology Consortium (ABC), underscored the summit's commitment to advancing a circular and sustainable bioeconomy.
NanoMalaysia Berhad, serving as a session partner, spotlighted the role of nanotechnology in renewable energy and augmenting algae-related innovations, showcasing the potential of nanomaterials in sustainable biofuel production, advancing algae cultivation, product development, and more.
Under the theme "Paving the Future of Circular Algae Bioeconomy," the summit illuminated the immense potential of algae in revolutionizing industries such as healthcare, renewable energy, biotechnology, and more.
Attendees experienced diverse sessions, including keynote speeches, interactive panel discussions, engaging pocket talks, informative poster presentations, and interactive exhibition booths, all of which showcased cutting-edge research, innovations, and technologies in the field of algae.
Before the summit, a significant step was taken as MJIIT, UTM joined hands with Euglena Co. Ltd. by signing a memorandum of agreement. This marked the official initiation of their collaborative algae research and development efforts.
Prof. Ts. Dr. Abd Latif Saleh, the Pro-Vice Chancellor of UTM Kuala Lumpur, emphasized the profound nature of this collaboration, describing it as a fusion of visionary intellects, a seamless merging of academic prowess and industrial expertise, and a dedicated stride toward pushing the boundaries of scientific understanding and technological innovation in the field of algae.
The summit's highlight was the keynote address by distinguished academician Emeritus Professor Dr. Phang Siew Moi, FASc, FMBA (UK). Her address, titled "Meeting the Challenges of Establishing an Algal Industry," captivated the audience as she delved into the complexities and opportunities of establishing a thriving algal industry.
Prof. Phang's insights shed light on why Southeast Asian countries, including Malaysia, have not yet fully capitalized on their geographical advantages to dominate the global algal market. She explored challenges such as productivity, scalability, economic viability, diversification of products, and regulatory compliance while emphasizing the promising avenues of functional foods, feed, and nutraceuticals. She concluded her speech by emphasizing the urgent need to develop an Algae Technology Roadmap, highlighting its crucial role in advancing the success of the Algae Industry.
The summit featured engaging panel discussions that delved into the multifaceted potential of algae. Panel Discussion 1, "Essentials in Building a Thriving Algae Ecosystem," brought together diverse perspectives from Dato' Paduka Syed Isa Syed Alwi, a consultant at Eureka Farms Sdn. Bhd.; Associate Professor Ts. Dr. Mohd Razif bin Harun from the Department of Chemical & Environmental Engineering, UPM; and ChM. Dr. Kuan Shiong Khoo, Assistant Professor at Yuan Ze University representing Algal Biotechnology Consortium (ABC). This forum examined the fundamental principles of constructing a flourishing and sustainable algae ecosystem.
Panel Discussion 2, "Exploring the Potential of Algae-based Healthcare Solutions: A Global Perspective," featured insights from Mr. Daniel Ho Yu Kun, Senior Principal Assistant Director of the National Pharmaceutical Regulatory Agency (NPRA); Mr. Marcus Fei Xiao Song, Director at Algae Living Sdn Bhd; and Professor Dr. Suzana Makpol from the Department of Biochemistry, Faculty of Medicine, UKM. This panel delved into the global potential of algae in revolutionizing the healthcare and pharmaceutical industries.
Panel Discussion 3, "Advancing Algal-Based Green Energy for a Low-Carbon Economy," brought together esteemed experts, including Dr. Rezal Khairi Bin Ahmad, Chief Executive Officer of NanoMalaysia Berhad; Dr. Liew Kan Ern, Chief Executive Officer of Aerospace Malaysia Innovation Centre (AMIC); and Dr. Kengo Suzuki, Co-Founder of Euglena Co., Ltd. These experts explored the latest research, technological advancements, and practical applications driving the advancement of algae-based biofuels which drive a low-carbon economy through innovative green energy solutions.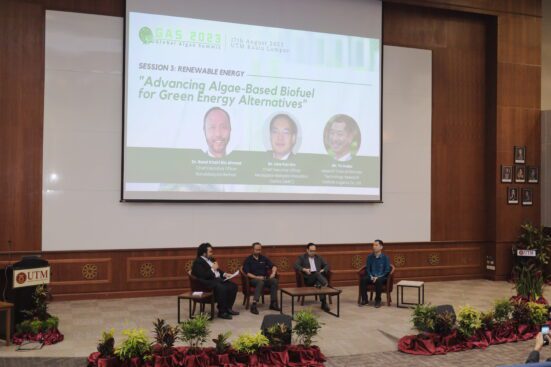 Pocket Talks, under the theme "Pioneering a Sustainable Algae Revolution," offered a platform for concise yet impactful insights from government agencies, corporations, NGOs, and non-profit organizations.
A total of 185 participants from all over Malaysia, which involved a consortium of esteemed universities, including Universiti Putra Malaysia (UPM), Universiti Sains Malaysia (USM), Universiti Islam Antarabangsa Malaysia (UIA), Universiti Malaysia Terengganu (UMT), UCSI University, International Medical University (IMU), Sunway University, and Universiti Selangor (UNISEL), enriched the summit with diverse perspectives and fueled the progress of algae research and innovation through poster presentations.
Notably, the poster presentation was also enriched by the participation and contributions of researchers from various industries and corporate entities.
Mr. Abdul Hakim Sahidi, Managing Director of Leave a Nest Malaysia, expressed great satisfaction with the summit's outcomes. "The Global Algae Summit 2023 exceeded our expectations regarding engagement, knowledge sharing, and collaborative spirit. We're thrilled to have provided a platform that propels the algae industry toward a more sustainable and circular future."
The success of the inaugural Global Algae Summit 2023 sets the stage for future editions of the event, with the aspiration to make it an annual gathering. The support of various industrial players and universities has been instrumental in achieving this milestone.
Detailed information about the summit's sessions, speakers, and outcomes can be found on the official summit website: https://global.lne.st/gas2023/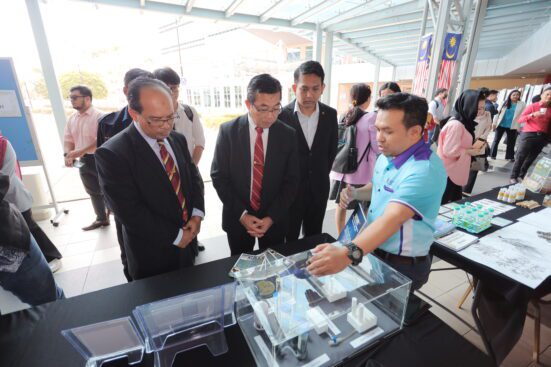 By:
Assoc. Prof. Ir. Dr. Dayang Norulfairuz Abang Zaidel
MJIIT UTM Kuala Lumpur
Dr. Ezral Ghazali
Leave a Nest Malaysia Sdn. Bhd.
Email: ezral@lne.st)