KUALA LUMPUR, 12th May –  Universiti Teknologi Malaysia (UTM) shows remarkable achievement in the 34th International Invention, Innovation & Technology  Exhibition (ITEX 2023) with five gold and two silver awards.
This Asia's leading invention, innovation and technology exhibition held from 11th to 12th May in KL Convention Centre (KLCC) was participated by 700 inventors from more than 20 countries worldwide, with more than 80% of the innovation focusing on climate change solutions.
ITEX 2023 was officiated by the Minister of Science, Technology and Innovation (MOSTI), YB Tuan Chang Lih Kang.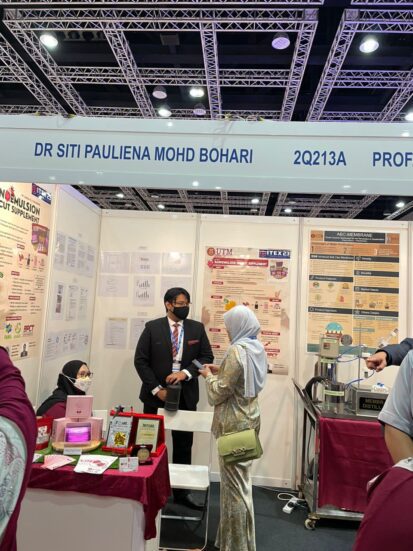 UTM leading researchers bag five gold awards through their outstanding innovation products of Hi-Red Nanoemulsion Glucut as Sugar-Controlling Supplement (Dr Siti Pauliena Mohd Bohari and team), ABC-Membrane: Smart Ceramic Membrane for the Revolution in Desalination (Prof. Ts. Dr Mohd Hafiz Dzarfan Othman and team), Starpro Flocculant: A Magnificent Savior in Palm Oil Wastewater Treatment (Assoc. Prof. Ir. Dr Norzita Ngadi and team), Portable Visual Signal Device for Deaf Sports (Ts. Dr Jaysuman Pusppanathan and team) and Geolite (Ts. Dr Nor Hasanah Abdul Shukor Lim and team).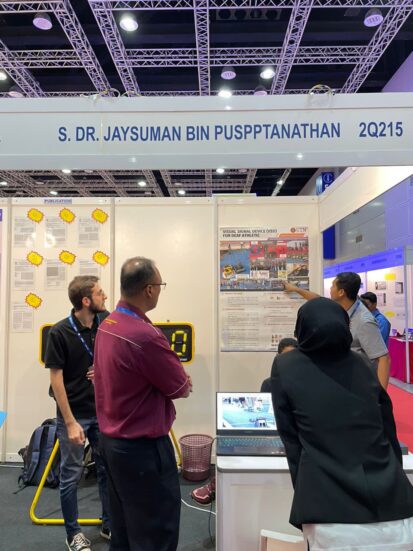 Another two researchers received silver awards through their potential innovative products of Nanoblast-Nanobubbles Generator from Carbon Nanotubes and Zeolite (Ts. Chm. Dr Faizuan Abdullah and team) and Prefabricated Load Bearing Wall Paneling for Industrialized Building Construction (Assoc. Prof. Ir. Dr Shek Poi Ngian and team).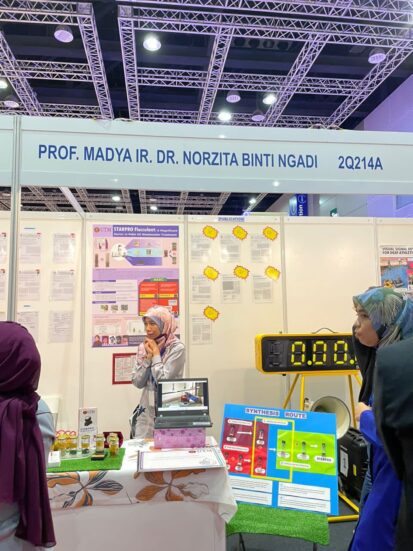 UTM was represented by a team of researchers who displayed outstanding achievement in the previous 24th Industrial Art & Technology Exhibition (INATEX) 2022, held from 6th to 7th March 2023 at UTM.
Again, this extraordinary achievement proved that our academics and researchers are at the forefront of technological innovation, designing and developing new products and systems that improve our quality of life and overcome demanding global challenges.