JOHOR BAHRU, 9th March. –Track and field differ from most other sports because it is solely measured in meters and seconds, where even a tiny fraction of a second can be the determining factor. Hence, the technology to record data from track and field races must be exceedingly precise and accurate.
However, it is a big challenge for deaf athletes who are hearing impaired and cannot listen to the sound of gunshots, especially in track events such as 100 m, 200 m, and 400 m and relay sprinting disciplines such as 4×100 m and 4×400 m.
In addition, the current practice of 'manual flag waving' to signal the deaf athletes for take-off from starting block does not solve the problem. This practice is not synchronous with the timer and photo-finish for real-time and accurate results records.
To address this issue, a group of researchers from Universiti Teknologi Malaysia (UTM) have come out with an innovative Visual Signal Device (VSD) – an assistive visual light (red, blue and green) to imitate the sound of a gunshot for the deaf athletes.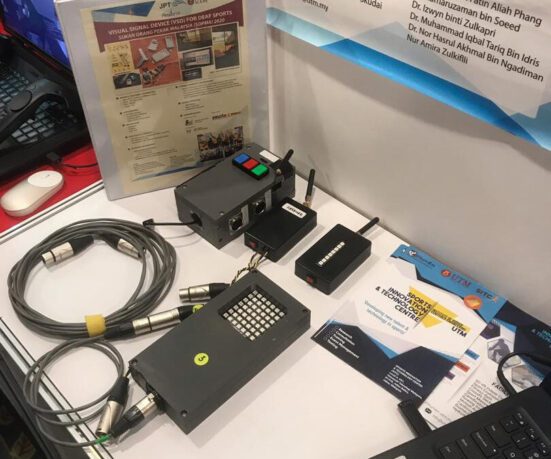 "The VSD system consists of a RGB LED panel which will illuminate red colour ('on your mark'), blue colour ('ready') and green colour ('go')," said the Project Leader, Ts. Dr. Jaysuman Pusppanathan.
"The LED panel can be wireless or wired with the button controller. The controller is then synchronized and connected with the SEIKO brand electronic gun.
"Once the gun is triggered, the green light will be switched ON. This will immediately trigger the SEIKO photo-finish system to begin the timing for all athletes as they take off from the starting line," added Dr Jaysuman.
"The first version of the VSD system has been successfully utilized during the Malaysia Deaf Games (SOPMA XX) Perak 2018. After a series of improvements, the upgraded version of the system was officially used during the SOPMA XXI 2022 and 1st ASEAN Deaf Games (ADG) Kuala Lumpur 2022.
UTM's VSD system has been recognized on several occasions, such as the Gold Medal Award at the International Conference and Exposition on Inventions by Institutions of Higher Learning (PECIPTA '19). Recently, this innovation received the Gold Medal Award and Special Award (Community) at the 24th Industrial Art & Technology Exhibition (INATEX 2022).
The development of UTM's VSD was also supported by the Ministry of Education as an institutional collaborator, Malaysian Deaf Sports Association (MsDeaf) as a stakeholder, and Innotex System Corporation Sd. Bhd. as an industrial collaborator.
Among UTM researchers involved in the development of this VSD system are Ir. Dr. Fauzan Khairi Che Harun, Prof. Dr. Fatin Aliah Phang Abdullah, Mr. Omar Fahmi Omar Arm, Mr. Abdulrahman Darwish Almnini, Mr. Feisal Mohamed Khamis and Mrs. Nur Amirah Zulkifli.