JOHOR BAHRU – A total of six (6) non-academic staff of Universiti Teknologi Malaysia (UTM) became the pioneers of the High Impact International Working Exposure (Hi-WE) program to Turkiye between 14 – 18 November 2022.
Istanbul Gelisim University (IGU) and Istanbul University (IU) were chosen for the first Hi-WE program based on their outstanding reputation in Turkiye.
The program was organized by UTM International (UTM-i) in collaboration with the Centre for Talent and Leadership Development (CTLD), Universiti Teknologi Malaysia.
The Hi-WE program aims to produce impactful knowledge among the staff through exposure and experience aligned with UTM Thrust Value S3 in culturing the working ecosystem's Integrity, Synergy, Excellence and Sustainability (UTM ISES).
The program also aims for an international relationship and partnership activities of UTM with other reputable universities across the globe. Hi-WE is designed to foster staff development through the experience of working exposure in creating innovation, creativity and best practices from the value-added knowledge.
IGU was preferred as the first Hi-WE institution because it is one of the leading private universities in Turkiye with the requisite staff development strategy. In the Times Higher Education World University Ranking, IGU is ranked 16th in the world and first in Turkiye in the field of Quality Education (SDG4). In the QS World University Ranking, IGU is ranked Top 350, 37 in Citations Per Article and among the top 60 and above in the international academician category.
In the field of research and innovation, IGU is ranked 16 in Turkiye. In Erasmus+ IGU has more than 375 agreements with 155 universities from 24 European countries. In addition, Turkiye was a huge natural research centre with museums, historical monuments, national libraries and a rich sociological structure for theses and projects.
Hi-WE at IGU started with a familiarization session with Vice Rector 2, Prof. Dr Necmettin Marasli, at the Erasmus+ Office. The coordinator for Hi-WE program at IGU is Ms Sena Dunam, Erasmus+ Student Mobility and social media Responsible Person.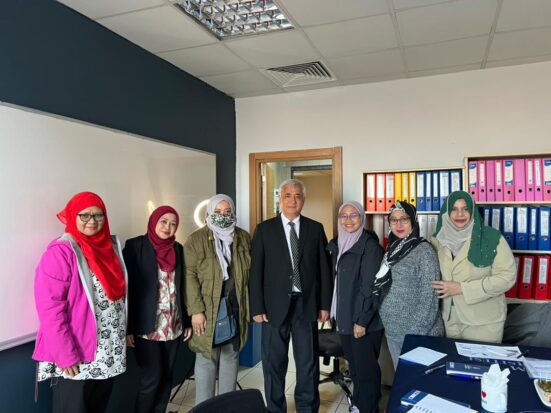 The program started with an orientation session, sharing and exchanging information between UTM and IGU. Then, the participants underwent working exposure at some strategic offices, such as the International Student Office and the Student Affairs Office. Impactfully, participants were exposed to the best practice of office management and new knowledge in related faculties too.
Participants toured the Faculty of Health Services, which includes Physiotherapy, Audiometry and Nursing Laboratories. The group also visited the Faculty of Fine Arts, which consists of the Gastronomy and Culinary Arts departments.
Participants also had the privilege to visit the rooftop tower of IGU to see the scenery around Avcillar City, where IGU is located.
On the third day at IGU, participants were invited to attend an aircraft management class by Associate Professor Dr. R. Haluk Kul with 20 other aircraft, maintenance and repair students. This once in a lifetime experience gives the participant a lot of information on how the teaching and learning system is implemented in the classroom at IGU.
The facilities in the classroom are conducive, student-friendly and ergonomic. Prof Haluk was overwhelmed and happy with UTM staff presence and has offered to be a Visiting Professor at UTM if given the opportunity.
A token of appreciation from UTM was given to the host institution to mark the end of the Hi-WE program at IGU. The participant had a farewell session with Madam Alisa Usubova, Erasmus+ Institutional Coordinator of IGU. UTM and IGU will embark on another chapter of international relationships and partnership in collaboration with student & staff mobility.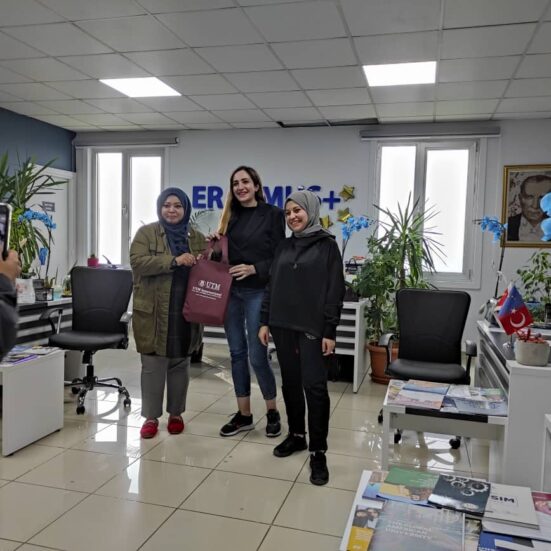 On the fourth day, the delegation visited Istanbul University (IU) to complete the four (4) days of the Hi-WE program. IU is a prominent public research university founded Mehmed II on May 30, 1453, a day after the conquest of Constantinople by the Turks. It was re-established in 1846 as the first Ottoman higher education institution based on European traditions. The long history of IU and its preserved cultural campus located in the city centre being chosen by the delegate for the UNESCO SDG 11- Sustainable cities & communities. UTM delegation was welcomed by two officials from IU International Office, Miss Deniz Celik and Miss Aysegul Unal, who are Office Responsible, Bilateral Multilateral Relations officers.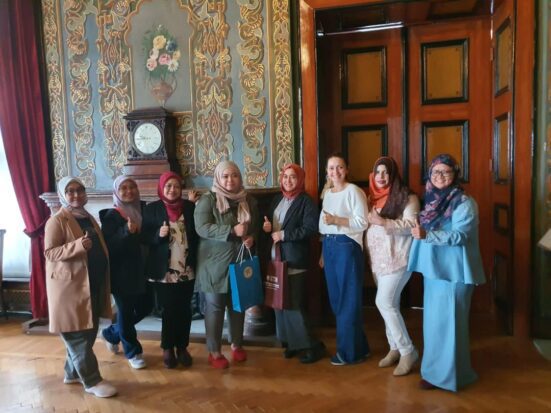 Exchange of token of appreciation between UTM & IU
The delegation held a bilateral discussion and has agreed to renew the cooperation agreement (MoU) between UTM and IU that expired in 2018. Both parties also agreed to hold an MoU related to the mobility program for students and staff. The delegation was then taken around the campus for an insight into Istanbul University facility.
In addition, participants also had the opportunity to visit historical places in Istanbul city under one-day excursion activities. The delegation visited some tourist attraction place such as the Blue Mosque, Topkafi Museum, Hagia Sophia Mosque, Sultanahmet Mosque, Eyup Sultan Mosque, Piere Loti, Fatih Mosque & Tomb, Taksim Square, Taksim New Mosque, Istikal Street, Eminonu and Bosphorous Cruise.
This program outline is to enrich the professional development of the staff through working exposure in a foreign country as the program name are "Lifelong Learning Success Through Internalization at Turkey (Hi-WE LEARN 2022), a visit to two (2) institution in Istanbul achieving the program KAI's. One of the outcomes and impacts is its increased staff competencies, such as technical, human, conceptual and managerial, for the furtherance of individual and institutional growth. Another achieved KAI is meeting new people and establishing a network of professional contacts in nurturing relationships with university partners in internationalization.
This delegation was led by Ayu Azrin Abdul Aziz, Executive Officer, UTM International Johor Bahru. Other members are Rozaina Mohamed, Norsiah Daud, Nurul Atiqah Othman from UTM-i JB, Siti Sarah Khairullah from UTM-i KL and Naimah Mohamed from AHIBS. Hi-WE Turkiye is a lifetime opportunity as it takes participants out of their comfort zone and inspires us to explore new surroundings, embrace adventures and engage in a lifelong learning experience that we will never forget for the rest of our life. Thank you, UTM!
Prepared by: Ayu Azrin Abdul Aziz, Rozaina Mohamed, Norsiah Daud, Nurul Atiqah Othman, Siti Sarah Khairullah & Naimah Mohamed
#utmHiWe #utminternational #ahibs #bringtheworldtoutm #bringutmtotheworld #utm #IamUTM