(Image credit: UTM Corporate Affairs)
Congratulations to Class of 2022, the first cohort of UTM-MOSTI collaborative program for the conferment of Master of Professional Science (MPS) award degree during the UTM 66th Convocation. The collaborative effort between Razak Faculty of Technology and Informatics (RFTI) and Ministry of Science, Technology and Innovation (MOSTI) to groom professional talent in science and technology started since 2019 with the enrolment of the first cohort in February 2020 and the second cohort in October 2021. These graduates are among civil servants who had been awarded scholarships from the Public Service Department to pursue the MPS program.
YBhg. Datuk Ts. Dr. Haji Aminuddin Hassim, the Secretary General of MOSTI, congratulated the graduates for their success and hoped that the knowledge and skills they have acquired will spearhead STIE and contribute to the development of nation.
Kudos on your big day!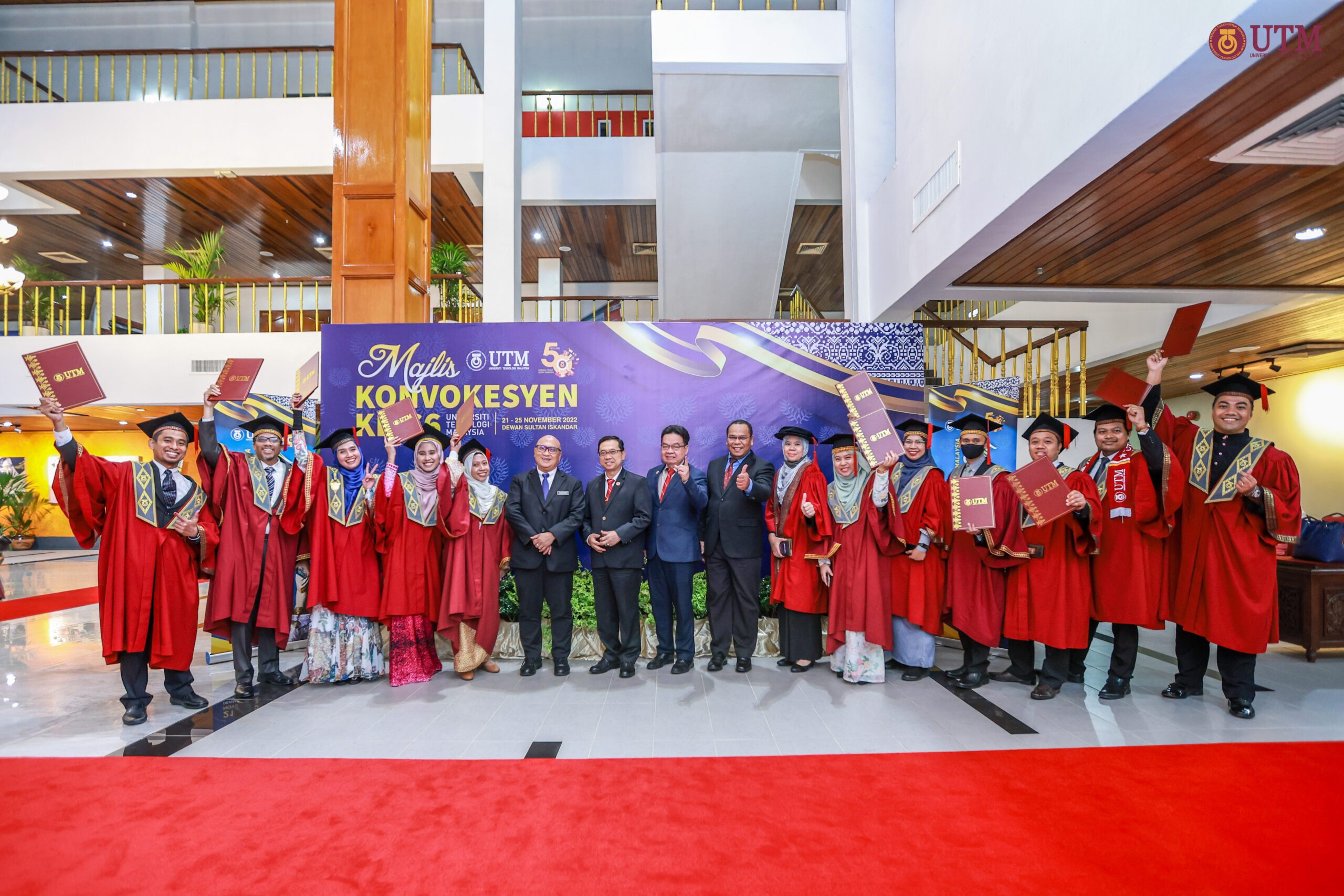 Standing 6th from left: Datuk Ts. Dr. Haji Aminuddin Hassim (Secretary General of MOSTI), Prof. Datuk Ts. Dr. Ahmad  Fauzi Ismail (UTM Vice-Chancellor), Prof. Sr. Dr. Hishamuddin Mohd Ali (DVCAI), Assoc. Prof. Ts. Dr. Naz'ri Mahrin (Dean) and Ts. Dr. Noorlizawati Abd Rahim (Program coordinator)
Under this special program, RFTI brought its innovative approach that bridges academic disciplines, supports students' professional and human capital development in various departments and agencies under MOSTI. Internationally, Professional Science Master's Degree, a similar program to MPS has been gaining popularity among the STEM graduates. Accredited by the Malaysian Qualifications Agency since 2017, MPS graduates are groomed to be capable of leading innovative and competitive organizations by leveraging advanced knowledge and skills in both science and management.
The graduation of the first UTM-MOSTI MPS cohort underlined RFTI's commitment to provide its student with multidisciplinary and industry-focused education at highest quality through first class teaching, learning and research environment.
Our focus on engaging employers to co-design the program's content and delivery is the key to the success of our graduates and a win-win outcome for all stakeholders", said Assoc. Prof. Ts. Dr. Naz'ri Mahrin, the Dean of RFTI.
MPS graduates get the flexibility to bridge two academic disciplines and choose various related elective courses ranging from engineering business management, business intelligence analytics, occupational safety and health management, STI policy to many more, that best suit their organizational aspirations and needs.
"Class of 2022, it had been a wonderful pursuit of excellence and advancement of knowledge. Best wishes for a successful career ahead!"-Program Coordinator.
Official UTM Alumni – A proud ambassadors of UTM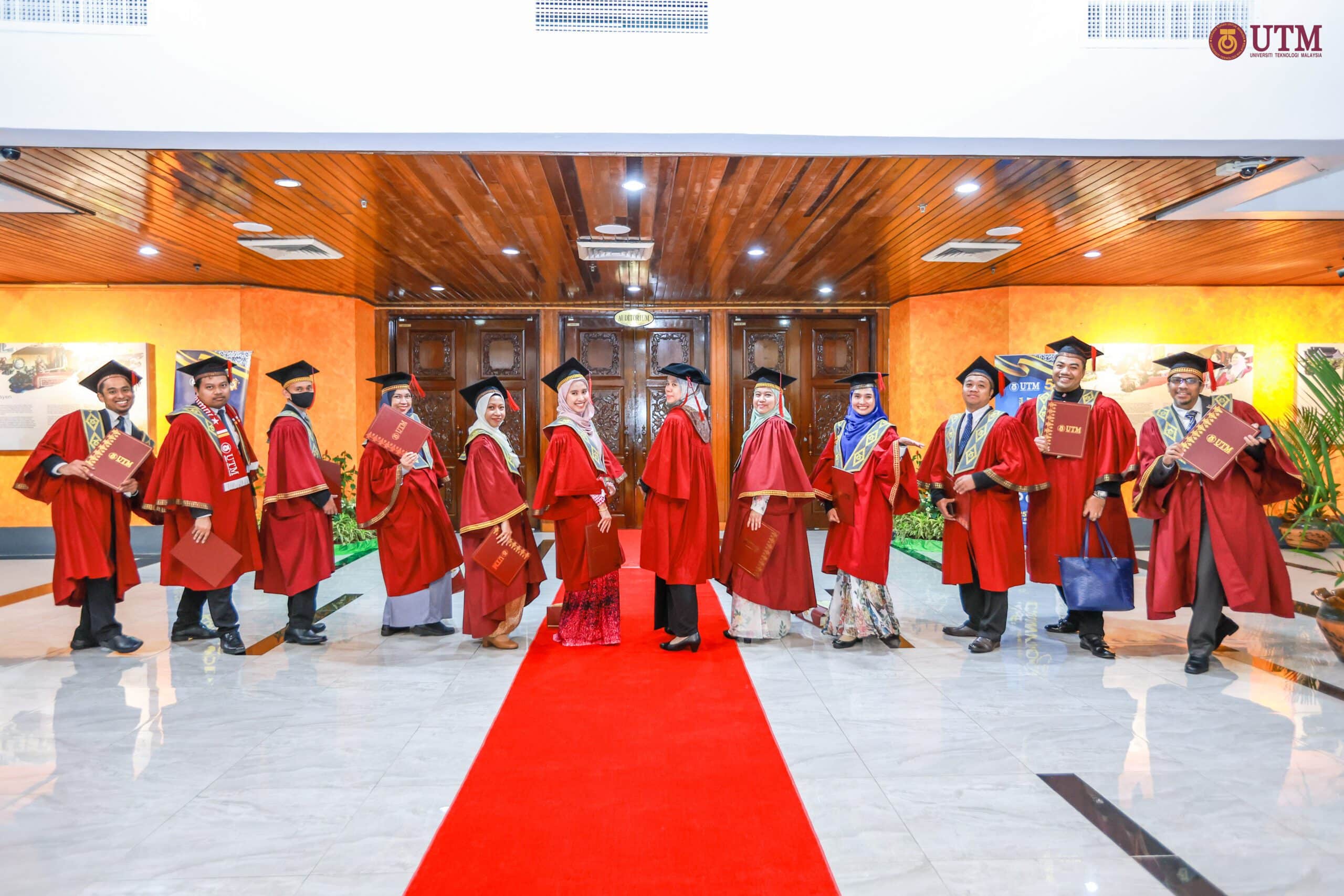 Standing from left: Mohd Hazwan, Ashfaq Ghafran, Rizmi, Siti Zulaikha, Nur Majeedah, Aznida, Ts. Dr. Noorlizawati, Nur Fadzlina, Siti Zubaidah, Mohd Anuar, Mohamad Firdhaus and Khairul Anuar