Universiti Teknologi Malaysia (UTM) and Asia Technological University Network (ATU-Net) successfully organised one of its signature programmes, the ATU-Net Student Leader Forum 2022 (ATU-Net SeLF 2022) which was hosted by UTM International and UTM Toastmasters Club (UTM TMC); and in collaboration with UTM Student Affairs, UTM Career Centre and Institut Dato' Onn (IDO).
With the theme 'Embracing Change and Transformation: Breakthrough Leadership and Communication', the ATU-Net SeLF 2022 was headed by Ms. Syaza Soraya Sauli as the Programme Director. Syaza, the Vice President – Membership of UTM TMC, is also a Ph.D. student from the Faculty of Social Sciences and Humanities (FSSH) of UTM.
In response to meeting the needs and skills that are crucial in youth nowadays, ATU-Net SeLF 2022 featured distinguished Keynote Speakers from reputable industries from Malaysia such as Iskandar Puteri City Council (MBIP), Micron Technology, Cisco Systems and Internet Society from United States of America. Subsequently, two forum sessions were delivered by prominent student leaders of ATU-Net member institutions and outstanding speakers from Toastmasters International.
Commenced by the ATU-Net Chair, who is also the Vice-Chancellor of UTM, Prof. Datuk Dr. Ir. Ahmad Fauzi Ismail, in his welcoming remarks mentioned the importance of the discussion of youth's roles and responsibilities in preparing them for the future especially in developing essential expertise and thus the ATU-Net SeLF 2022 is the best platform to dissect and deliberate on the current issues pertaining to our youth.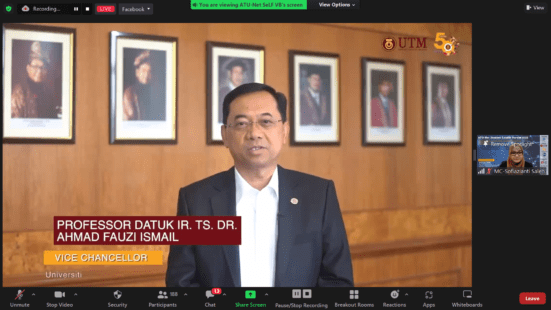 Prof. Datuk Dr. Ir. Ahmad Fauzi Ismail, the Vice Chancellor of UTM delivered the welcoming remarks during the ATU-Net SeLF 2022
Followed by the Keynote Session, one of the speakers emphasised the significance of instilling leadership skills in individuals at a very young age. Aisyah Shakirah Suhaidi, from the Internet Society of United States of America, focused her speech on inspiring youth to be certain and independent in every decision-making. She advocated that the youth connect themselves with scholars, to seize proactive actions and to boost confidence level in making sure that they are competent and capable as leaders.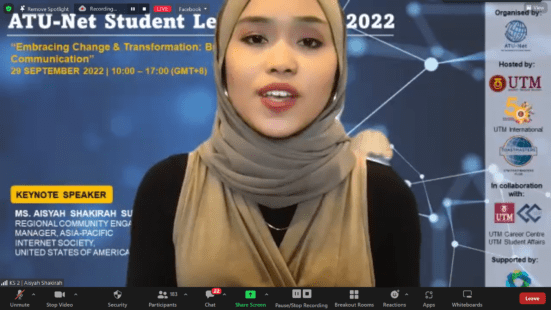 Aisyah Shakirah Suhaidi from Internet Society, United States of America during her Keynote Session at the ATU-Net SeLF 2022
Onto the next agenda, the ATU-Net SeLF 2022 highlighted two sessions of panel discussion which began with the ATU-Net Student Leaders Forum session. The session brought together student leaders from Universiti Teknologi MARA, Malaysia; Universiti Teknologi Brunei, Brunei; Indian Institute of Technology Bombay, India; and Cebu Technological University, Philippines to encourage and to enrich one another in promoting Sustainable Development Goals (SDGs) at the institutional level.
Some SDG-based activities were also presented as proofs in response to the current initiatives developed by the United Nations. Moderated by Ms. Maizatul Nadwa Che Aziz from UTM TMC, the session highlighted the roles of student leaders in adapting the SDGs and how student leaders can give great impacts in achieving SDGs.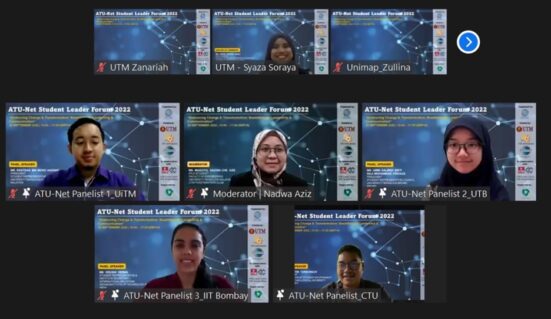 Panel Discussion Session I by ATU-Net member institutions, discussing on the Sustainable Development Goals (SDGs)
The second panel discussion was then continued by the Toastmasters International showcasing Toastmasters from diverse clubs and countries such as USM Health Campus and Bilingual Toastmasters Club, Malaysia; UBD Toastmasters Club, Brunei; UNS Toastmasters Club, Singapore; and Toastmasters by MAHRP, Maldives.
Among the key points of the discussion were on effective communication skills and the benefits that the Toastmasters Club could offer in shaping students to become a well-prepared and engaging speaker. The speakers sat together to examine and to tackle the importance of communication proficiency which is a staple for better leadership through participation in Toastmasters. Toastmasters was showcased as a benchmark for producing high quality leaders and it was indeed an insightful session presided by Dr. Nor Ain Husein as the moderator, who is also the current President of UTM TMC.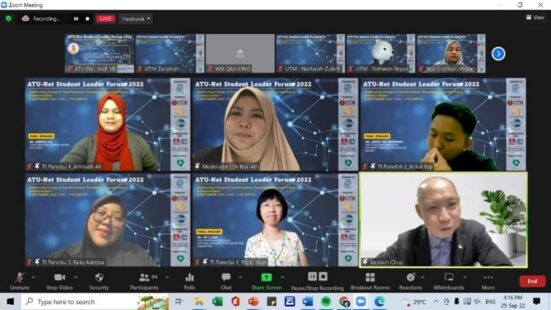 Toastmasters International speakers during the Panel Discussion Session II
ATU-Net SeLF 2022 was concluded by the ATU-Net Deputy Executive Director and the Acting Director of UTM International, Prof. Dr. Nor Haniza Sarmin. In her closing remarks, Prof. Dr. Nor Haniza expressed her highest appreciation to the organizing committee as well as to the speakers and audience for valuable contribution in making this programme a success with a great number of participations from the students of various institutions.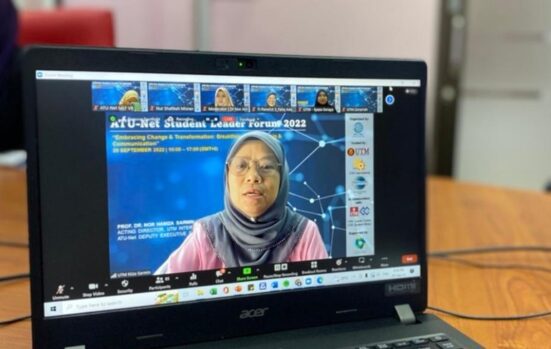 Prof. Dr. Nor Haniza Sarmin delivered her closing remarks as the ATU-Net Deputy Executive Director and Acting Director of UTM International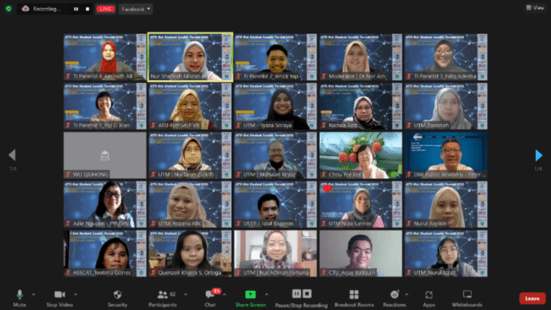 Group photo taken at the end of the ATU-Net SeLF 2022
ATU-Net SeLF 2022 has garnered more than 1000 participants from 22 higher education institutions across Malaysia, Indonesia, Brunei, Philippines, Pakistan, China, Singapore, Vietnam, India, Libya and Jordan on both Zoom and Facebook Live. This programme is an annual event which was inaugurated in 2020 and designed for students of ATU-Net member institutions and beyond for the purpose of sharing ideas and exchanging horizons. It is with hope that the programme has benefited all participants towards better self-development, shaping high-quality youth generation, uplifting hidden capabilities, and to better serve the community in the future.
Prepared by: Amni Mohammad Zahar, Zanariah Aripan & Syaza Soraya Sauli