Eight steps have been outlined in the 2023 Action Plan to strengthen Universiti Teknologi Malaysia (UTM) position next year. Among the steps drafted were the Vision UTM 2023 action plan, the academic programmes quality upgrading towards global recognition, World Ranking Academic Reputation, Academic Reputation, Translational Research, Global Practical, the Selection of Strategic Partners and Strengthening the Role of Alumni (local and International).
Further elaborating on the future strategies, the UTM Vice-Chancellor, Datuk Prof. Ir. Ts. Dr. Ahmad Fauzi Ismail said that using a global Quality Assurance (QA) framework will improve academic quality in all aspects.
"The use of this international QA makes UTM have the potential to lift our global recognition programs on par with similar programs abroad in addition to boosting UTM's visibility and further contributing towards the better ranking position," he added during 'Majlis Bersama Naib Canselor (MBNC)' that was held at Dewan Sultan Iskandar, UTM Johor Bahru on 18 October 2022.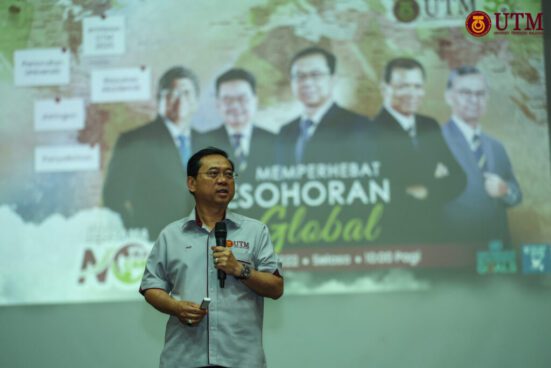 UTM Vice-Chancellor, Datuk Prof. Ir. Ts. Dr.  Ahmad Fauzi Ismail giving his speech during MBNC ceremony
During the event, Prof. Fauzi also emphasized the importance of improving UTM's position in the QS World University Ranking 2023, as this global positioning system affects the overall University reputation globally.
Before ending his speech, Prof Fauzi also reminded the importance of strengthening the role of UTM local and international alumni.
"Currently, we have 200,000 alumni and from this, 9,000 are international alumni. Most of them serve as government officials, educators and researchers in their home countries."
"In addition to bringing the name of UTM to the world, our alumni also can contribute as ambassadors of the University to convey information about UTM to the external or international community," he said.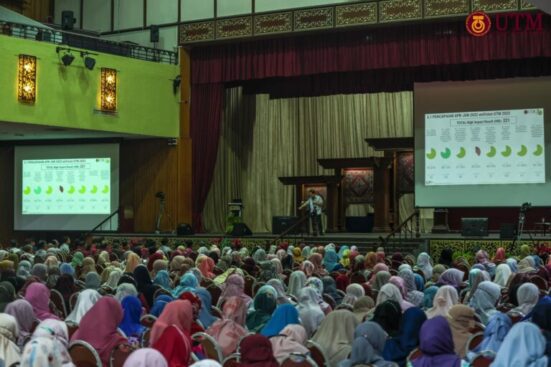 A huge crowd of UTM staff who attend the MBNC ceremony
Also attending the ceremony were Deputy Vice-Chancellor (Development), Prof. Dr. Hamdan Ahmad, Deputy Vice-Chancellor (Student Affairs), Prof. Dr. Shamsul Suhibbuddin, Deputy Vice-Chancellor (Academic and International), Prof. Dr. Hishamuddin Mohd Ali and Registrar, Nor Azizah Ismail.
/ Section of Corporate Affairs