JOHOR BAHRU, 16 June – As many as 1,000 vacancies were offered at Universiti Teknologi Malaysia (UTM) Career Carnival MyCareer@MOHE 2022 by 17 leading companies from all over Malaysia.
Among the companies that participated in the carnival organized by UTM in collaboration with the Ministry of Higher Education (MOHE) were Micron, Huawei, Schlumberger, Shimano, UTOC and Alcon.
UTM Vice-Chancellor, Prof. Datuk Ts. Dr. Ahmad Fauzi Ismail said the programme was held to provide opportunities for visitors, namely graduates, students and the local community, to forge a career and gain employment.
"In addition, this programme also serves as an excellent platform for students to highlight their potential in interacting with potential employers, thus creating the employment opportunities that lead to the increasing of graduates employability rates percentage as well as reducing the unemployment," he said.
Prof. Datuk Fauzi said this during his officiating speech for UTM Career Carnival 2022 held at Dewan Sultan Iskandar from 15 until 16 June 2022. Various activities, including career fairs, webinars, and interview sessions, were organized to provide exposure to the job market's latest needs. 
Implemented physically for the first time since the COVID-19 pandemic, this UTM Career Carnival 2022 received a warm welcome as it was attended by about 3,000 visitors, including graduates, final year students and local communities around the Southern Zone.
Also attending the ceremony were Deputy Vice-Chancellor (Student Affairs), Prof. Dr. Shamsul Sahibuddin and UTM Career Centre Director, Assoc. Prof. Dr. Che Rozid Mamat.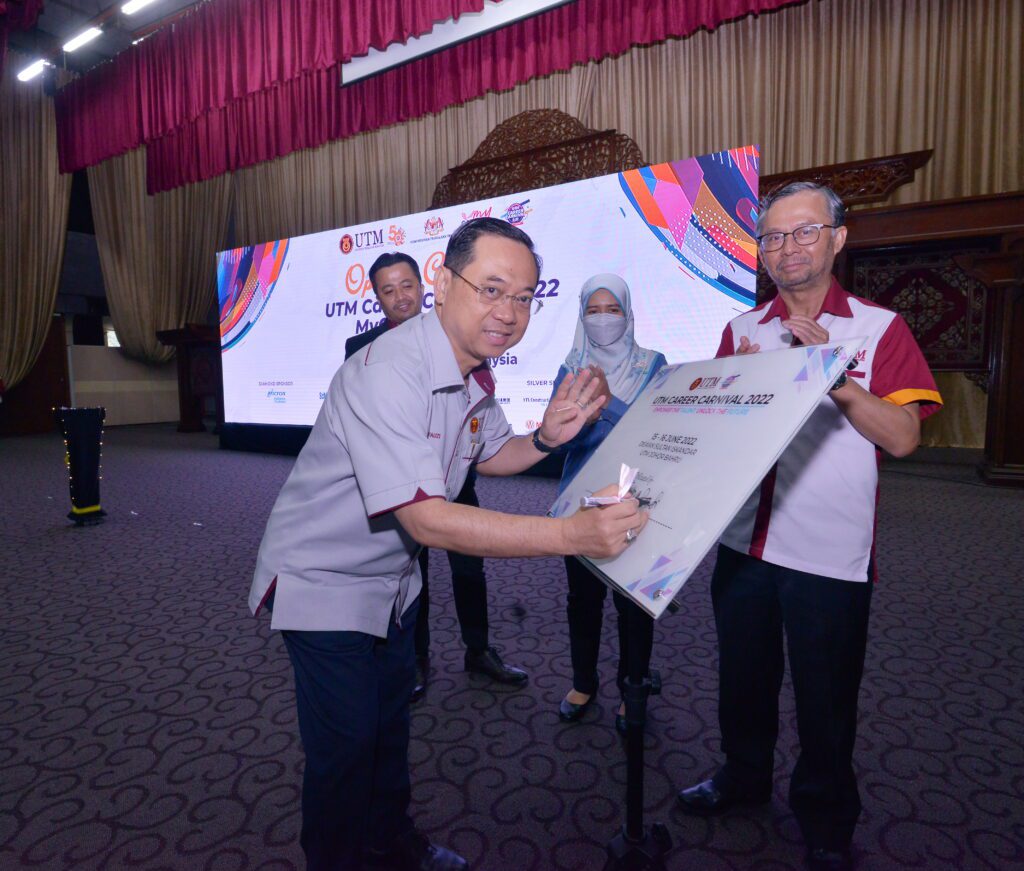 UTM Vice-Chancellor, Prof. Datuk Ts. Dr. Ahmad Fauzi Ismail (left) signed the plaque during the opening of UTM Career Carnival 2022