JOHOR BAHRU, 21 May – Listening to the advice of parents and practicing the habit of thinking positively are the keys to success for Dr. Muhammad Talhah Jima'ain in graduating with a Doctor of Philosophy (PhD) degree.
Apart from lecturers and classmates, as well as relatives, parents always provide strong motivation and support while studying.
"When I was studying for my PhD, everything went smoothly until the country was attacked by an infection caused by the Covid-19 virus."
"This situation has caused the Movement Control Order (MCO) to be declared and many activities and educational centers, such as schools and universities, have been ordered to close to prevent the spread of this dangerous virus to humans," he said recalling difficult moments while studying.
The recipient of the Chancellor's Award said that the declared MCO had disrupted his studies because he could not meet with the supervisor and other classmates to discuss the subject taken.
"The restrictions imposed disrupted the learning process because discussions can only be conducted online and there is not much that can be done."
"However, I am grateful for being gifted a parents who are educators and coincidentally my father, Prof. Dr Jima'ain Safar, is a former UTM lecturer who is also in the same major as me, which is Islamic Studies," he added during the interview session after receiving his PhD degree at the 65th Convocation Ceremony of Universiti Teknologi Malaysia (UTM) which took place at Dewan Sultan Iskandar this morning.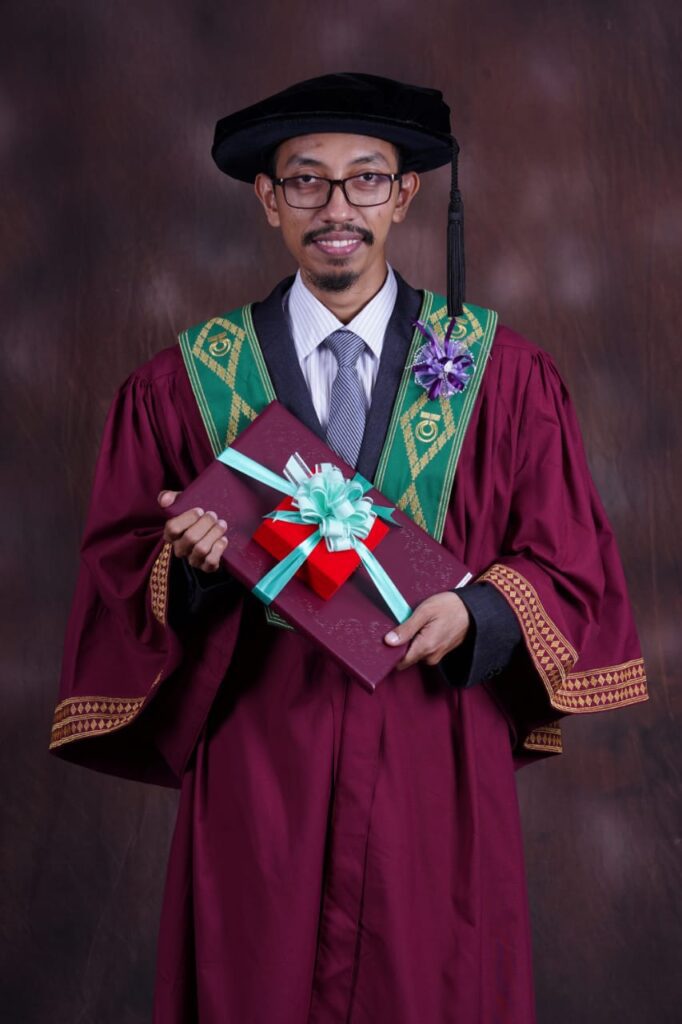 Dr. Talhah stated that during the implementation of MCO, his father was the main reference point in all discussions and also his thesis writing. Meanwhile, his mother, who is also a former educator, helped him in checking the grammar in his thesis writing before sending it.
"This pandemic also recorded a bitter experience that I will never be able to forget, namely being infected with Covid-19 and having to be quarantined for 14 days at home and hospital."
"However, I am proud because despite the need to stay at home during my quarantine period, I managed to complete my PhD thesis within 10 days. Here, my parents also played their roles by helping to take care of my children and wife during my quarantine process," he added.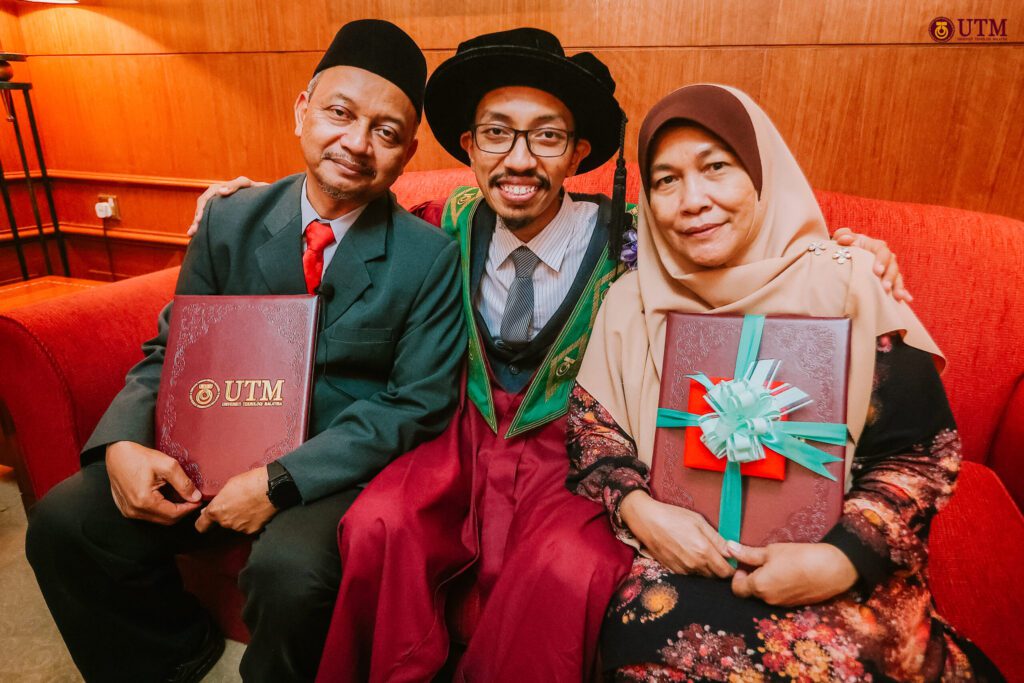 When asked about the coincidence of taking the same major as his father, Dr. Talhah said that after sitting for Sijil Pelajaran Malaysia (SPM), he aspired to major in law to enable him to become a lawyer.
"I am very interested in legal field but my parents advised me to major in Islamic studies and I just followed their wishes."
"Because of that, I took a Bachelor's degree in Islamic studies at the University of Malaya in 2014 and then continued at the Master's level in the same field at Universiti Kebangsaan Malaysia (UKM) in 2017," he added.
According to him, he is grateful for following his parents' words because he is confident that they know what is best for him.
"Every parent know what is the best for their children. So, just go on with their words as long as it does not violate Islamic law."
"I would also like to advise all students out there to always think positively even if we are tested hard because there is definitely wisdom in every upcoming test," he added.