By: Mohd Fadthul Ikmal Misnal
JOHOR BAHRU, May 21 – It was a historic moment today for a 59-year-old ICT consultant (project management), when she received her doctor of philosophy (PhD) degree scroll at Universiti Teknologi Malaysia (UTM) 65th Convocation Ceremony, held at university's Dewan Sultan Iskandar.
Dr. Inthrani Shammugam, was among the 409 PhD graduands who received their scrolls at the first session of the convocation ceremony today, officiated by Permaisuri of Johor, who is also the Chancellor of UTM, Her Majesty Raja Zarith Sofiah binti Almarhum Sultan Idris Shah.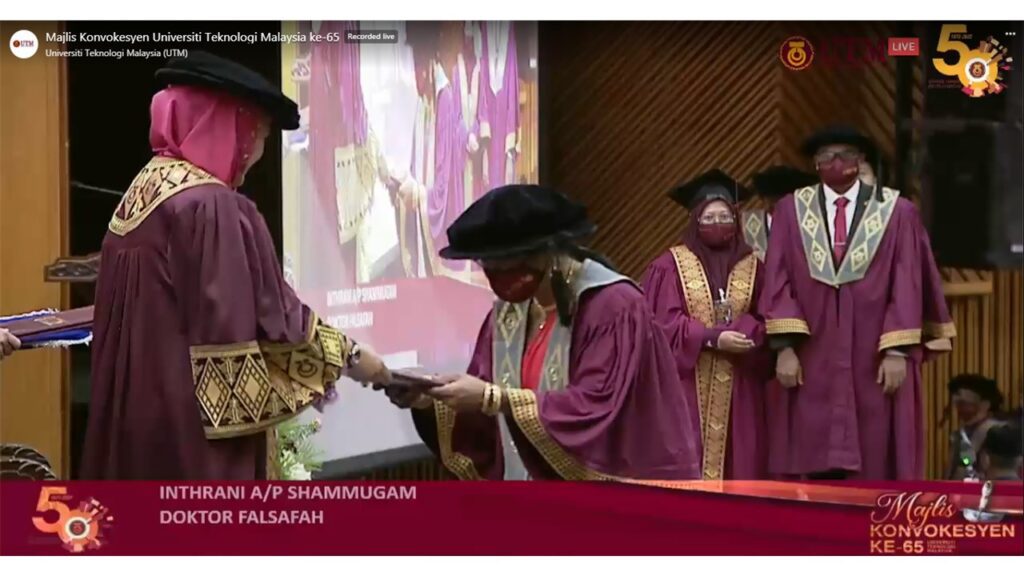 "Everything seems impossible until it is done. Thankfully, I had my family's support", she said.
She worked hard throughout her studies and said that time management skills are a key factor in achieving success for someone who works and studies part-time.
Dr. Inthrani also admitted that she went through a difficult time especially during the first semester of studies, when she need to take care of her sister who was involved in an accident, as well as during the second semester when she need to defer her studies for one semester in order to prioritize in her career as Director of IT.
In fact, her journey to complete the PhD seems impossible as she needs to change her supervisor, eventually making a few adjustments to her thesis title from public sector risk management to IT security field basis.
Despite the challenges faced by Dr. Inthrani throughout her studies, she managed to keep herself focused and determined by staying up late at the office until 10.30 p.m., as well as dedicating and sacrificing her weekend for thesis writing. One of her unique habits is, that she will take the chance to write her thesis at the hospital or airport, especially during waiting time.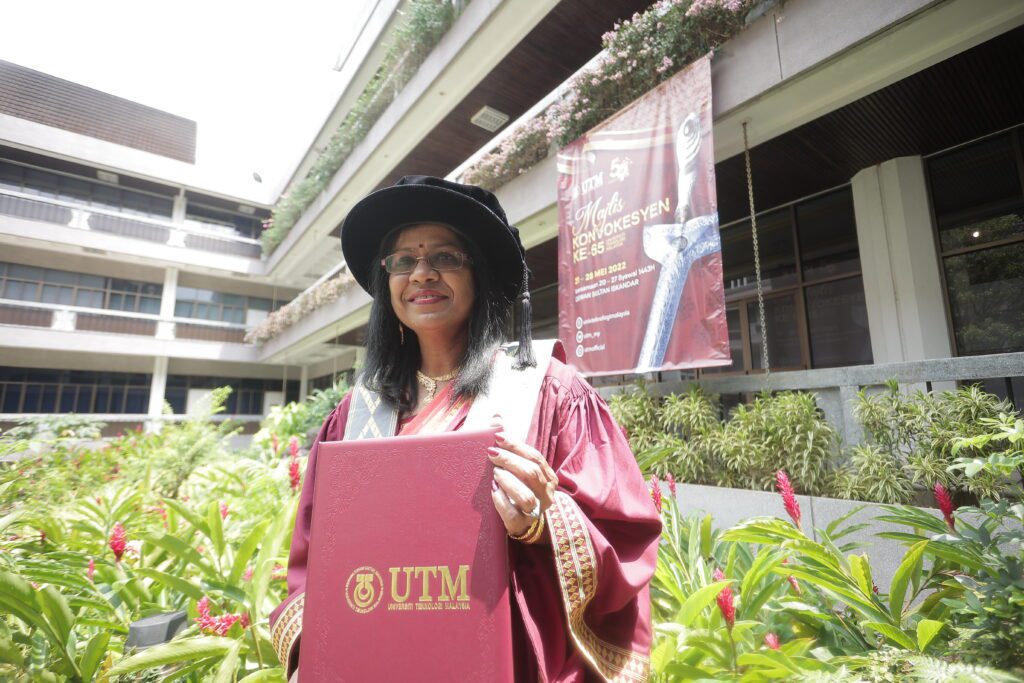 The turning point of her PhD completion happens during the Movement Control Order 1.0 (MCO 1.0) on March 2020. It was a blessing in disguise for her, as the work from home instruction by the government gives her plenty of time to complete her thesis writing.
Inspired by her 97-year-old father who loves reading, she has some advice for youngsters who want to excel in their life.
"It's all about the hard work and determination. Then, you can aim higher", Dr. Inthrani said.