UTM & AELB signed MoU on the exchange of technical information and cooperation in Nuclear and Radiation Safety, Security of Radioactive and Nuclear Materials and Safeguards of Nuclear Materials
Prepared by : Dr. Nor Ezzaty Binti Ahmad, Deputy Director (Radiation & Biosafety), UTM Occupational Safety, Health and Environment (OSHE) Office
JOHOR BAHRU, 8 Feb. – The signing ceremony of the renewed 'Memorandum of Understanding (MoU) on the exchange of technical information and cooperation in Nuclear and Radiation Safety, Security of Radioactive and Nuclear Materials and Safeguards of Nuclear Materials' between Universiti Teknologi Malaysia (UTM) and Atomic Energy Licensing Board (AELB) took place at Sultan Ibrahim Chancellery Building, here, today.
UTM was represented by its Deputy Vice-Chancellor (Development), YBrs. Prof. Ts. Dr. Mohd Hamdan bin Ahmad while AELB was represented by the Director General, YBrs. Tuan Haji Hasmadi bin Hassan.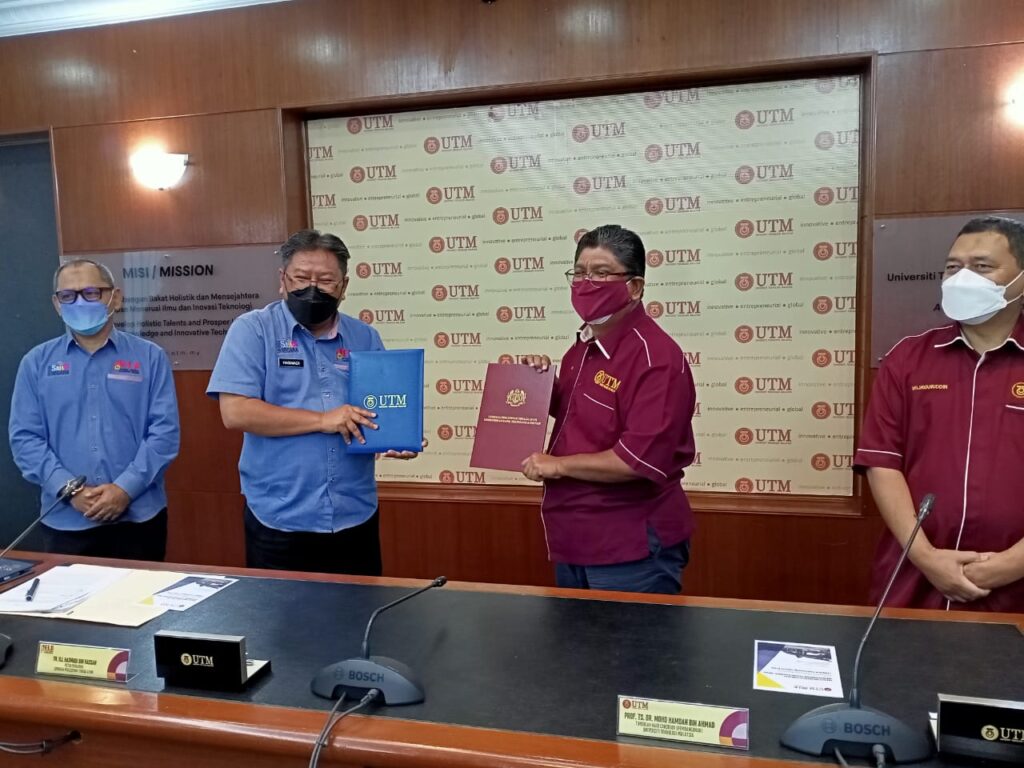 The MoU Renewal is the continuity of the success of UTM-AELB MoU in 2017, as many joint activities have been organised between the institutions which encouraged and promoted cooperation in educational and research area on Nuclear and Radiation Safety, Security of Radioactive and Nuclear Materials, and Safeguards of Nuclear Materials.
Those included the field of teaching and learning, joint research, seminars, and publications, exchange of information, student placement for research / industrial training and staff exchange for post-doctoral programs.
Due to its success and effectiveness, both institutions have agreed to renew the MoU as an evident of a strong commitment and active involvement between UTM and AELB.
The event was then continued with discussions within UTM and AELB representatives on achievements and activities accomplished during the recent MoU terms.
AELB delegates were also invited to Nuclear and Radiation Physics Laboratory in UTM and Collaborative Laboratory of UTM-Billion Prima Sdn. Bhd. in Kulai to visit the current research and development progress based on nuclear science and technology.
It is hoped that the renewal of this MoU will further promotes the strategic collaboration between the institutions in terms of developing the professional capabilities and competencies of UTM and AELB members.
This is in-line with the aspiration of UTM EnVision 2025 in nurturing strategic nexus between University-Industry-Government community.
Apart from that, efforts to promote safe, secure, and peaceful radiation and nuclear technologies in Malaysia and public awareness on nuclear activities will be enhanced.
UTM also wished to dedicate a special acknowledgment to AELB counterparts in making this cooperation possible.
/ Section of Corporate Affairs