Quran Time 2021 was an online religious class organized by the UTM Islamic Center in collaboration with the Student Residential College Committee (JKM) session 2021/2022 to give exposure specifically about the Quran in terms of recitation, translation, tajwid and interpretation.
The committee members for this program were led by PK Zulhilmi Bin Zulkifli, who is also assisted by the program advisor, Dr. Mohd Akmali Bin Mokhter and Abdul Al-Hafiis Bin Abdul Rahman Lim.
The aim of this program was to introduce the technique of recitation and the fadilat of the Quran to the students.
Besides, this program was a great opportunity for students to improve their Quran reading and recitation.
This program was held via Webex Online Meeting at 8.45 P.M. on 9 November 2021. The guest speaker for this program was Ustaz Haizal Iqbal Bin Mohd Kamal, an Assistant Islamic Affairs Officer from Islamic Center UTM. This program was officiated by Kolej Tun Dr. Ismail Fellow Assistant, Muhammad Nur Ikram Bin Zaidi.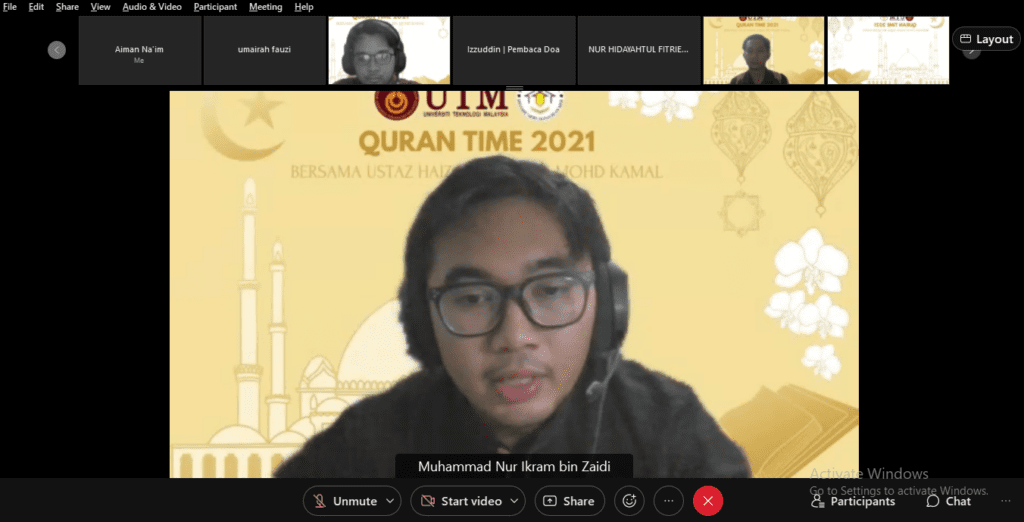 This program started with prayer recitation that was led by PK Muhammad Nur Izzuddin Bin Rijaludin. Then, the session continued with Ustaz Haizal Iqbal Bin Mohd Kamal reciting Surah As-Saff and its meaning, which generally tells about the obligation of Muslims to jihad in the way of Allah SWT.
The goal of this program was to create awareness among UTM Muslim students about the importance of the Quran from the aspects of recitation, translation, tajwid and interpretation of it.
A total of 160 participants participated in this program. Organizer would like to express gratitude to all participants and UTM Islamic Centre for the program.