On 4th September 2021, Rajamangala University of Technology Thanyaburi (RMUTT), Thailand hosted the 4th International Workshop on Asian Heritage (IWAH 2021). Honorable Professor Dr. Syed Zainol Abidin Idid was the founder of the first IWAH workshop initiated in 2015. IWAH 2021 workshop has gathered five university participants and academicians from South-East Asian Regions. The invited partner universities were Mahasarakham University (MSU), Universitas Sebelas Maret (UNS), Hanoi University of Civil Engineering (HUCE) and Universiti Teknologi Malaysia (UTM). Due to the global threat of Covid-19 Pandemic, IWAH 2021 workshop was conducted virtually via Zoom meeting platform.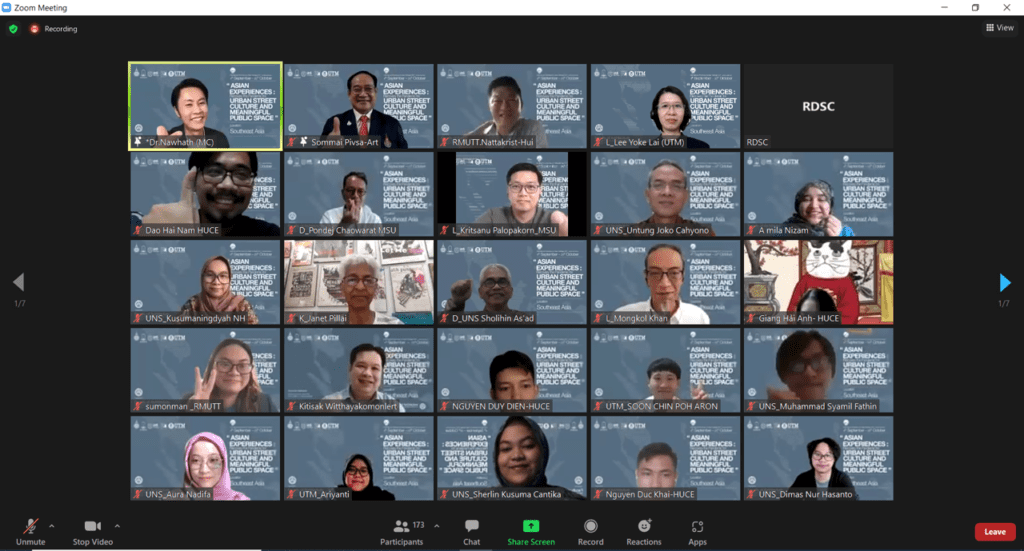 The main objectives of IWAH workshop were to provide platform for delegates from Asian countries to discuss urban-related issues, exchange ideas, and create networking opportunities in heritage conservation and in the field of built environment.  The joint workshop theme was "Asian Experiences: recovery of Pandemic for urban street culture and meaningful public space."  Delegates were expected to create potential ideas related to recovery via discussion and design manifestation that will contribute to the current Covid-19 Pandemic threatened to traditional urban streets in Asian regions. UTM formed two groups coordinated by Dr. Lee Yoke Lai and Noor Aimran Bin Samsudin. UTM delegates amalgamated eighteen students; 13 Landscape Architect students, four Urban Regional Planning students, and one undergraduate student of Tokyo City University (TCU) who joined the UTM group. 
The first day of the workshop began with the opening ceremony. The Dean of Faculty of Built Environment & Surveying, Assoc. Prof. Sr. Dr. Razali Adul Hamid delivered the opening speech remarks. Consequently, keynote speakers shared inspirational knowledge on the cultural mapping process and technique on the traditional urban street; the challenge in the old and new development integration in a series of Taipei heritage districts and the sharing of contributing street cultures that characterize the urban placemaking and lifestyle. Three distinguished keynotes' speakers were;
Keynote speaker 1: Cultural mapping (by Adjunct Professor Dr. Janet Pillai, Independent researcher, Malaysia)
Keynote speaker 2: Citizen's participation in heritage conservation projects in Taipei (by Miss. Vicki Wong, Taiwan)
Keynote speaker 3: Street Culture as a component of urban lifestyle (by Prof. Pham Dinh Viet, Vietnam)
IWAH workshop will be conducted by the following progress presentation of traditional street design and solutions (11th September 2021) and the final presentation and judging session (25th September 2021). At the end of the IWAH workshop, it is expected to create excellent networking and academic collaborations to nurture urban conservation awareness among young generations to comprehend, experience, and develop their local wisdom of Asian culture and heritage diversities.