What is Urban Farming?
Urban farming is related to growing or planting in order to produce food in a city by encouraging the setting up of gardens on limited, unused land or space within the compound of the city. This can inspire youth, adults and seniors to create an economically sustainable system to uplift communities of the city.
Advantages of Urban Farming
Urban farming is sustainable as it can increase access to locally grown food for various communities including those who are economically disadvantaged and reduce carbon footprints at the same time. This type of farming also does not get affected much by weather since it's usually indoor and relies on a water system installed with artificial light and nutrients.
Besides possessing the high elements of sustainabilities, it is more productive than regular farming with the concept of vertical farming which it produces, and can be done as many levels as possible on a meter square. Its planting technique is usually done in a more controlled and conscious manner which eventually leads to the production of more organic foods without the use of pesticides. 
Prospering Lives from UTM Expertise to Community
Accepting urban agriculture as one aspect of sustainability, Universiti Teknologi Malaysia (UTM) has contributed energy, resources and expertise to succeed in several urban farming projects with some local community. Among the successful projects are as follows:
Sustainable Food Waste Composting for Urban Farming MBIP
Hugel Culture is an agriculture ecosystem development technique that aims to be more sustainable and independent compared to a conventional system of modern agriculture. Hugel culture, "hill culture" or 'hill mound" is a process that raises the bed garden by using rotten woods (as preparation base), together with organic substances, nutrients, and air pocket to ensure the growth of roots become more effective.
The advantage of this technique which is the Hugel culture, it is a gardening method that involves the usage of compost produced from degraded material to increase the quality of the whole soil over time. Brown material from its first layer to the third layer acts as a natural water filter that absorbs water like a sponge.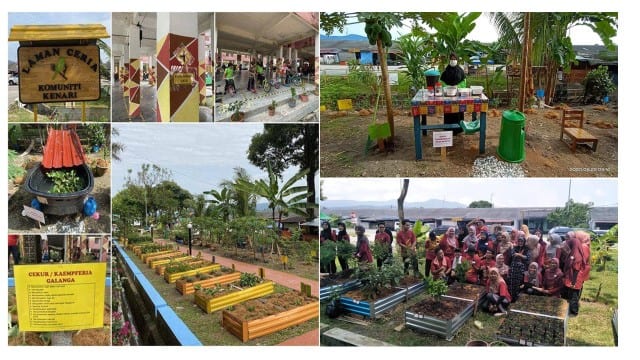 Uncontrolled solid waste disposal has been one of the challenges faced by the housing areas. Hence, it is important to come up with a practical solution for managing food waste as an alternative to landfills. UTM in collaboration with Majlis Bandaraya Iskandar Puteri (MBIP), has designed a model and a pilot project to be implemented in selected residential areas. The pilot project aims to test the feasibility of the model and for it to be replicated in other residential areas.
The Hugel culture and sustainable composting techniques were used for a Community Garden Project. To ensure active participation from the community, awareness talks on low carbon society, use of public transport, composting, and recycling were delivered to participants. The program was contributed by grants under the Development of Low Carbon Cities (GTALCC), United Nation Development Program (UNDP), Green Environment Facility (GEF), MBIP, and UTM.
This new farming approach was first adopted by the community in Taman Seri Orkid, Johor Bahru. It then gained the interest of other communities including Gateway Horizon Hills and Pangsapuri Kenari Kangkar Pulai. This program also was selected as the finalist of 'Anugerah Kejiranan Hijau 2020' organized by Federal Department of Town and Country Planning (PLANMalaysia).
2. Rejuvenation of Flat Taman Jaya through 'Science for All' and Urban Farming & Composting
To have a good quality of life requires one to be in a conducive environment. However, this may be challenging to certain community groups such as those residing in Low Medium Cost Public Housing. This has prompted the Faculty of Science, UTM to propose a rejuvenation program for Flat Taman Jaya in collaboration with Majlis Bandaraya Iskandar Puteri (MBIP) and Think City.
The program started with a Festival-like-day in February 2019 and exhibited a number of green projects including Nature School, river awareness and urban farming demonstration to transfer knowledge from university to the community besides having more engagement through 'gotong-royong' to cleaning up the neighborhood. As a result, more collaborations between UTM, MBIP and Think City were developed such as the ongoing research collaboration in water for Sungai Skudai.
The Urban Farming and Composting project was also organized in April 2019 which aimed at educating and exposing the community to implement a better and greener agricultural approach. Simultaneously, the community along with the organizers had a chance to enhance the scenery and supplemental revenue of Flat Taman Jaya residency with herbs and vegetable plants.
Besides that, knowledge of green agriculture was cultivated amongst the community by a demonstration of composting food waste to be used as an alternative green fertiliser. Experts assisted by UTM students were brought in to facilitate the demonstration and the development of urban farming.
These projects which were being duplicated and improvised in more communities have made this sustained UTM-MBIP-ThinkCity collaboration a big success for Iskandar Puteri.
3. Community Link Biocompost Open Laboratory
The need to innovate and explore new ways of effective waste management is important for desirable urban farming goals. The Faculty of Science, UTM has established an open laboratory for organic waste management in June 2020 by converting a designated green area within the faculty.
Named as the "Community Link Biocompost Open Laboratory", the project which was spearheaded by Dr Nurriza Ab Latif from the Faculty of Science was made possible by the support from the Research and Sustainability Unit of Iskandar Puteri City Council. The open lab serves as an area for research and innovation particularly in developing systematic composting systems that support solid waste segregation efforts.
New techniques or technology developed through this lab will be transferred to surrounding communities embarking on urban farming which is in line with SDG 2 that aims to end hunger, achieve food security, improve nutrition and promote sustainable agriculture.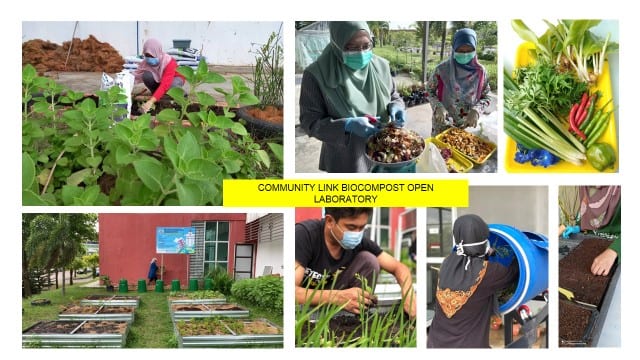 4. Fertigation as a Tool for Small Scale Pesticide-free Chilli Production
This project, located at the Agrotani UTM has been implemented with the aim of providing a fertigation system as a tool for the improvement of various biological aspects of chilli including plant growth and development, plant botany and plant pathology. To date,  its fertigation unit which consists of 180 plants has yielded approximately 15 kg chilli/week and is considered as pesticide-free farming.
The outcome of this project is an optimum fertigation system for chilli production. This project has benefited the undergraduate and postgraduate students and an urban-farming community by providing technical service on hands-on small operating fertigation unit for pesticide-free chilli production.
As in line with the Fourth Industrial Revolution and agricultural precision, the project is in the process of integrating with IoT to enhance chilli production. Such an integrated fertigation system could be applied for the improvement of chilli yield in the rural and urban areas.