JOHOR BAHRU, 7 Dec – Micro-credential courses in Universiti Teknologi Malaysia (UTM) were introduced as part of the university's efforts to enhance the process of lifelong learning and reskilling of human resources.
The Manager of Creative Multimedia & Learning Technologies of UTM Centre for Academic Leadership (UTMLead), Dr. Azizul Azri Mustaffa said that micro-credential courses offered by UTM is essential in this post-pandemic era.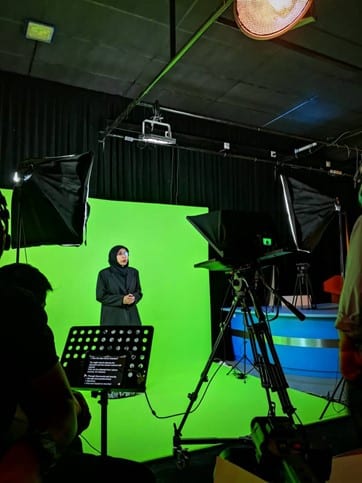 Due to the successful development of UTM's first micro-credential course – Mastering MUET, developed by MyLine, UTM's micro-credential initiatives have been officially launched by the Acting Deputy Vice Chancellor (Academy and International), Prof. Ir. Ts. Dr. Zainuddin Abd. Manan through Facebook Live from his office on Tuesday, December 1st of 2020.
"The needs and opportunities during this pandemic to reskill and upskill the workforce in many countries and organizations are going to be extremely important. A flexible way of doing that is through micro-credential courses.
Since online meeting and classes are the new norms nowadays, the participants can learn and follow the courses at their own time and pace. At the end of the day, the participants will be certified with a digital badge which they can collect and accumulate to obtain a higher level of recognition", said Dr. Azizul.
Dr. Azizul explained that to the Office of Corporate Affairs (HEK) in an interview session held at his office this morning.
Explaining specifically with respect to the courses offered, Dr. Azizul said micro-credential courses are certification of learning that are offered to a smaller set of courses or modules which are designed to provide learners with knowledge, skills, values and competencies in a narrow area of study and/or practice.
"The micro-credential courses offered are divided into four categories namely Executive and Professional Development Courses, Career Development Courses, Soft Skills Development Courses and Professional Certification with Industry Partner.
"To be specific, the Executive and Professional Development courses emphasize on professional development such as leadership series, business analytics and big data for decision making, or digital business transformation," he said.
Career Development Courses are specific to career development in specific field such as agile project management, fundamentals or standards and standardization while the Soft Skills Development Courses help in developing soft skills such as presentation skills, interview technique, business start-up and ethics and professionalism.
"The Professional Certification with Industry Partner courses relates with professional certification with UTM industrial partners such as the Registered Electrical Energy Manager certification which is certified by the Energy Commission," said Dr. Azizul.
Speaking about the micro-credential courses offered, Dr. Azizul said that these courses are open to all walks of life that may include staff, students, fresh graduates, employers and employees.
"The learning schedules are very flexible with low fees which generally ranges from RM 40.00 to RM 200.00 per course depending on the type of courses taken, with the duration of course completion can be up to one week. 
The learning methodologies offered are in the form of fully online and blended (online and physical)", said Dr Azizul.
According to Dr. Azizul, the participants' attainment of the course contents will be assessed before they can be offered the digital badges.
These digital badges which are embedded with a blockchain technology contains information of the achievement of the participants in terms of the skills and knowledge that they have gained.
The badges will be emailed to the participants where they can display it in their CV and social media platform such as LinkedIn which can be viewed by their potential employer and collaborator. To see the MOOCs and micro-credential courses offered by UTM, go to http://mooc.utm.my.
/ Section of Corporate Affairs