KUALA LUMPUR – Universiti Teknologi Malaysia (UTM) signed a Memorandum of Understanding (MoU) with Redbeat Academy on 1st October 2020 to reskill a pool of talent in Software Engineering and Data Science through awarding micro-credentials to Redbeat Academy courses and acknowledging it as part of the Accreditation of Prior Experiential Learning (APEL).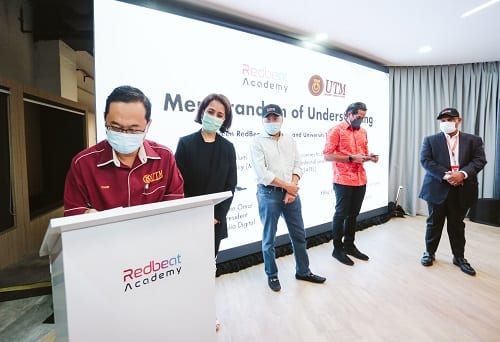 The MoU was signed today by Professor Datuk Ts. Dr. Ahmad Fauzi Ismail, performing the function as Vice-Chancellor of UTM and Ms. Aireen Omar, President (AirAsia Digital) of AirAsia Group in conjunction with the launching of Redbeat Academy, a partnership program by AirAsia Digital with Google, as part of their continued digital transformation journey.
The signing session was witnessed by Professor Dr. Shamsul Shahibuddin, UTM Pro-Vice-Chancellor and Associate Professor Dr. Astuty Amrin, the Dean of Razak Faculty of Technology and Informatics.
The Redbeat Academy was launched by Yang Berhormat Khairy Jamaluddin, Minister of Science, Technology and Innovation in the presence of Datuk Ir. Dr. Siti Hamisah Tapsir, Secretary-General of Ministry of Science, Technology and Innovation (MOSTI),  Datuk Kamarudin Meranun, Executive Chairman of AirAsia Group, Tan Sri Tony Fernandes, Chief Executive Officer (CEO) of AirAsia Group and Mr. Marc Woo, Country Head of Google Malaysia.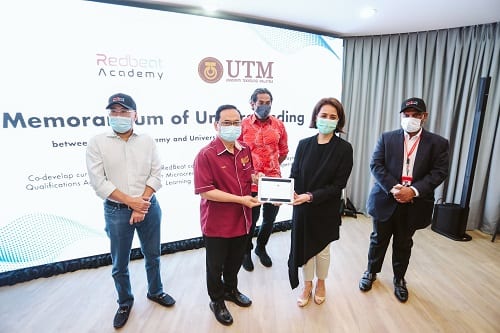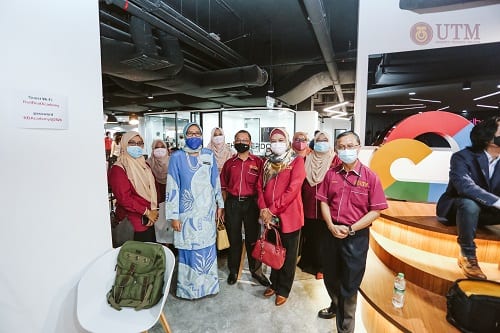 Initially set up to upskill and cross-train AirAsia Allstars (employees) through a series of tech workshops in areas of Artificial Intelligence (AI), Machine Learning (MI), Software Engineering, Cybersecurity, Big Data and Infrastructure among others,  Redbeat Academy has now opened its doors to the public.
UTM through Razak Faculty of Technology and Informatics, hope to contribute to the academy's objective and direction in building a future-ready generation by providing a one-stop service in technology, leadership and innovation that will be a vital catalyst for the digital economy in Malaysia and wider Asean.
Prepared by,
Prof. Madya Dr. Suriayati Chuprat
Prof. Madya Ts. Dr. Roslina Mohammad