Universiti Teknologi Malaysia (UTM) and University of Bologna (UNIBO) collaborated in an Asian-European consortium to improve the effectiveness of research and innovation management in Asian higher education institutions. Established in 1088, UNIBO is the oldest university in the western world. It is the top research university in Italy and is one of the leading academic institutions in Europe. It was founded by students for students back then, and now it hosts a community of more than 85,000 students, making it among the largest in Italy. UNIBO and UTM has been in close collaboration since 2017 in an Erasmus+ project, a European Union programme for capacity building for higher education.
UTM as the project lead coordinator was awarded by EU close to RM3.9 mill of grant. A Memorandum of Agreement was signed for the consortium collaboration involving institutions from eight countries, namely Italy, Finland, Czech Republic, Spain, Malaysia, Thailand, Indonesia and Philippines. Besides UNIBO, three other European institutions are University of Turku, Masaryk University, and Agora Institute of Knowledge Management. The Asian beneficiary universities include Multimedia University, Chulalongkorn University, Burapha University, Institut Teknologi Sepuluh Nopember, Syiah Kuala University, University of the Philippines, and Mindanao State University.
According to UTM Vice Chancellor, Prof Datuk Ir Dr Wahid Omar, the project, named SPIRE, aimed to contribute to the effectiveness of research and innovation management at Asian HEIs by enhancing Intellectual Property capacities. It focuses on strengthening knowledge and skills of university staff for the implementation of consistent IP protocols and policies, as well as for the provision of comprehensive IP services at the institutional and local levels. It also aims to establish or upgrade IP and Commercialization Offices at participating HEIs as centralised units for providing IP related assistance and services to the University communities and local businesses. In addition, it also aims to build a regional network as a platform of knowledge sharing and best practices exchange.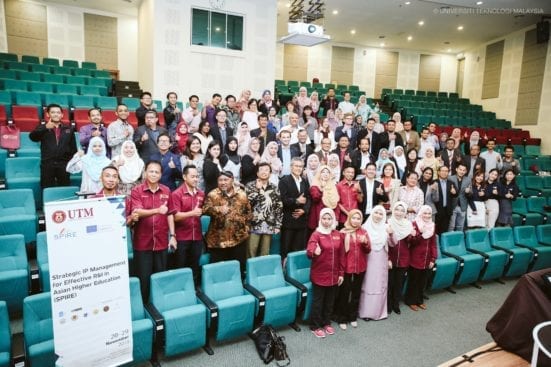 Group Photo of the Opening Ceremony of SPIRE2019 Conference
As part of the consortium initiatives, the UTM SPIRE team, led by Dr Fauzan Khairi Che Harun with members of staff from the UTM Innovation and Commercialisation Centre and UTM International, recently organised Erasmus+ Strategic IP Management for Effective R&I in Asian Higher Education (SPIRE2019) Conference on 28 November 2019. It was co-funded by EU, and co-hosted by the Higher Education Leadership Academy (AKEPT), Malaysia. The conference, themed "IP exploitation creativity", provided a platform to interlink and enhance IP exploitation innovation and creativity knowledge in the arena of research, innovation and commercialisation. In particular, it aimed to strengthen knowledge and skills among IP Managers in HEIs towards providing comprehensive IP management services, empower IP Management Units in providing efficient IP management services to industry and community, and establish a network of IP managers in Asia as a reference point for all IP exploitation efforts.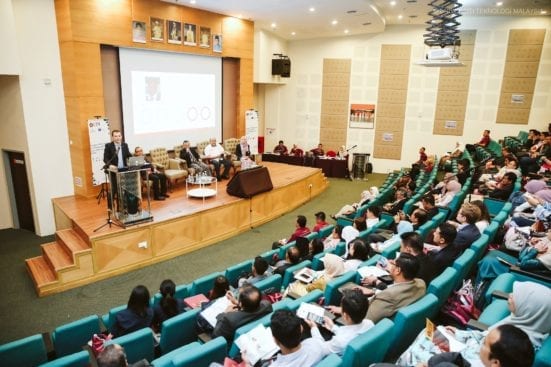 Andrea Ravaioli, University of Bologna delivering a keynote session
Andrea Ravaioli, Manager of the Knowledge Transfer Office, UNIBO delivered a keynote session on licensing intellectual property rights to spin-off company. In the second keynote session, Sh. Arifin bin Sh. Mohd. Noor, Assistant Director General (Administration and Finance) of the Intellectual Property Corporation of Malaysia (MyIPO) gave an insight into intellectual property in the Malaysia context. The conference was attended by more than 100 participants from European and Asian institutions. SPIRE next coordination meeting is set to be held on January 11, 2020, at the University of the Philippines, Philippines.