UTM Dean of Faculty of Engineering, Prof Dato' Ir Dr Mohammed Rafiq Abdul Kadir presented as plenary speaker at the national convention of Japan Association for Global Competency Education (JAGCE) in Shibaura Institute of Technology (SIT), Minato City, Tokyo. Prof Emeritus Akito Arima, the former President of Tokyo University, who was also the Minister of Education, Culture and Sports, Japan also spoke at the convention as invited speaker. The session was moderated by Prof Dr Masahiro Inoue, Vice President of SIT.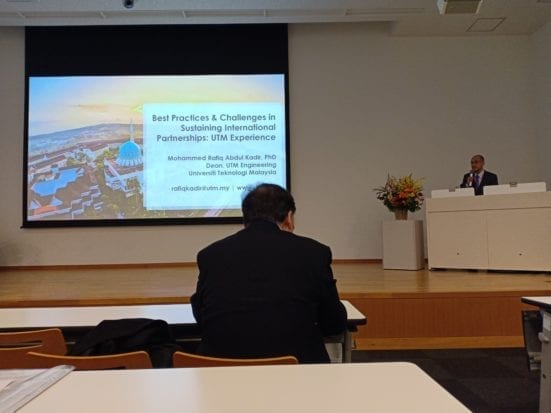 Prof Dato' Ir Dr Mohammed Rafiq Abdul Kadir presenting as plenary speaker
Representing UTM Vice Chancellor, Prof Mohammed Rafiq highlighted the key role of the international office in sustaining international partnerships, and several best practices including active participation in international events for higher education, a system to record and monitor partnership activities, and close communication and cooperation with members of faculties. At present, UTM has more than 300 active global partners and is actively involved in 26 international alliances. At the convention, several strategic collaborations with top global universities such as the MIT-UTM Malaysia Sustainable Cities Program with Massachusetts Institute of Technology and Low Carbon Transport Research with Imperial College London were also highlighted.
JAGCE is an academic association founded in 2013, with the aim to enhance competency of students in a rapidly globalising world. Its activities concentrate on developing human resources with an emphasis on diversity, providing networking opportunities, and fostering collaboration among those in the industrial sector, academia and government. The participating universities, among others, include Nishi-Kyusyu University, Akita International University, and Meiji University.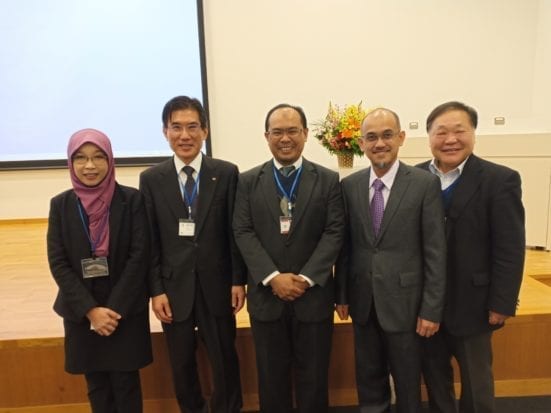 UTM delegates with Prof Dr Masahiro Inoue
The special invitation was extended through the Global Technology Initiative (GTI) consortium, of which UTM is an Advisory Committee Member. Three other GTI consortium representatives, namely Associate Prof Dr Weerapong Pairsuwan, Rector of Suranaree University of Technology, Thailand, Prof Kadarsah Suryadi, Rector of Institut Teknologi Bandung, Indonesia, and Prof Dr Tran Van Top, Vice President of Hanoi University of Science and Technology, Vietnam were also part of the plenary session. UTM Dean of Malaysia-Japan International Institute of Technology, Prof Dr Ali Selamat, and Manager of International Alliances, UTM International, Dr Farhana Diana Deris were also present at the convention that saw more than 100 participants from various institutions and backgrounds. The convention took place from 7 – 8 December 2019.