It's a tradition for Universiti Teknologi Malaysia (UTM) to celebrate and appreciate its students who excel in their studies especially during Convocation.
Recently, excellent post graduate students were celebrated in a grand event, Best Postgraduate Students Awards in Pulai Springs, on 1 November 2019.
The event was organized by the School of Graduate Studies (SPS) and it was held in conjunction with UTM convocation session for each semester.
118 excellent students were selected from amongst the most outstanding postgraduate students in their field of study and faculty/schools from Johor Bahru and Kuala Lumpur campus, where 41 were Doctor of Philosophy (PhD) students and 77 were from Master's program.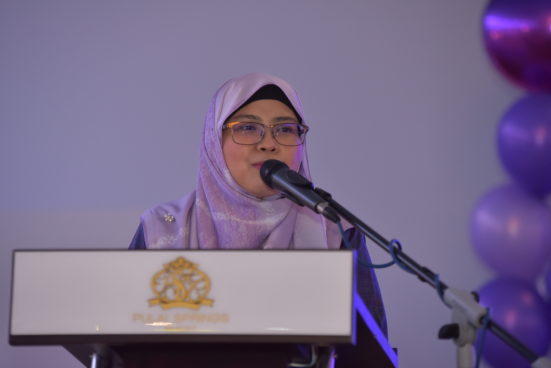 Faculty of Engineering had the most number of recipients with 17 PhD and 29 Master recipients, followed by the Faculty of Technology and Informatics Razak with 5 PhD and 19 Master's recipients.
These recipients were selected based on their excellence in studies especially in their research and the result was finalized in a special academic meeting at the secretariat level.
Two recipients shared their secret of success which are sacrifice, self-discipline and family tolerance as the critical elements in ensuring continued consistency and success in education.
All three of the above elements are a must-have for a mature student who chooses to continue his or her study in a family-oriented setting with high commitment.
Dr. Loke Kok Foong, recipient of Doctor of Philosophy in Civil Engineering, felt that any individual who has a family and has chosen to pursue a study must be aware of the fact that they are going through a difficult journey.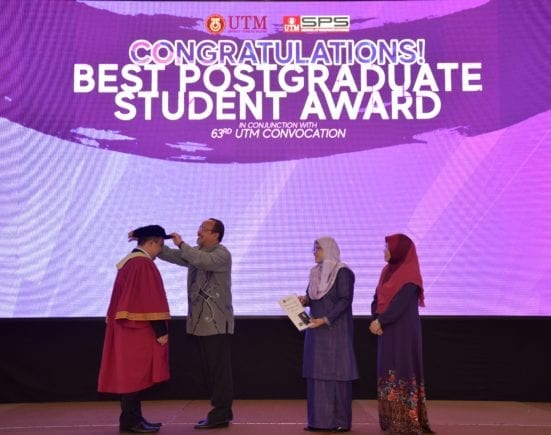 "Continuing education in a work-and-school environment is not easy because students need to be aware that besides having a commitment towards their studies, they must also pay attention to their families.
Sacrifice from the family is also necessary if your partner is continuing studies. Give them moral support and always pray for the best in their efforts," he said.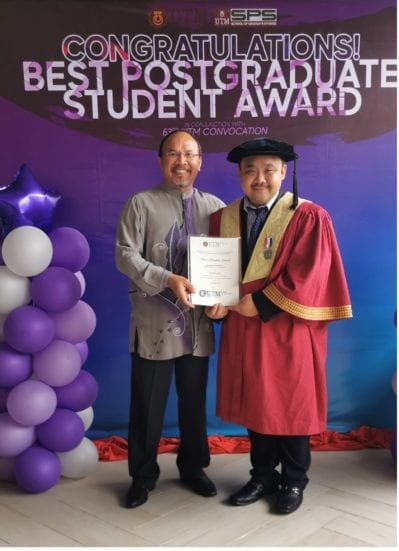 He added that students should know how to allocate effective time for their families and education.
"In order to avoid any complications that may arise during the course of study, we must discuss with our spouse.
Be clear to your spouse what your goals are and the purpose of your studies.
I don't see any problems if we are honest and professional, "he added.
Sharing his challenges in studies, the loss of his main supervisor after the completion of First Assessment, nearly smashed his dream and journey as a Doctor of Philosophy candidate in UTM.
However with the support from his new supervisor, Prof Dr Ramli Nazir, Dr. Loke continued his struggle to the end, which he did not only succeed to pass with a Doctor of Philosophy but also secured the Chancellor's Award in conjunction with UTM's 63rd Convocation Ceremony.
Dr. Loke Kok Foong shared the secret of his success, which is having high self-motivation and work-life balance. Calling himself a 'true product of UTM', he said all graduates need to be reflective, creative and responsible in order to contribute to the country.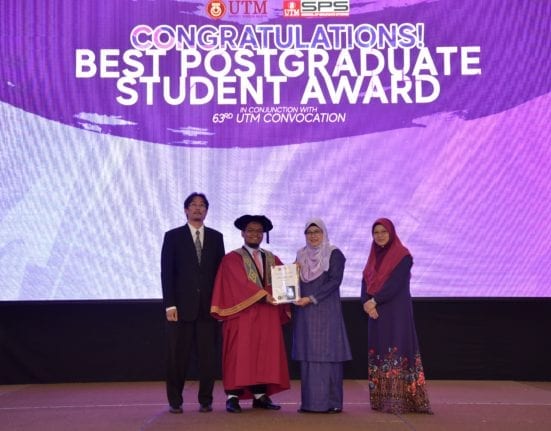 Another recipient, Dr. Irfan Bahiuddin, the Doctor of Philosophy graduate in Mechanical Engineering from Malaysia-Japan International Institute of Technology also agreed that one has to be wise to divide time between study and family needs.
Dr. Irfan, who is from Indonesia, said he has spent three years in UTM pursuing his PhD and some time felt very pressure to stay away from his family in Indonesia.
"During my studies, I will return to Indonesia every two months to see my family. It can be difficult to focus in studies if your family is neglected.
After finished my family business, I will return here to refocus on my studies. Although I have to make a commitment to my family, I am proud to be able to complete my studies on time,"he said.
Not only he being awarded the 'Best Postgraduate Student' but he was also awarded the Pro Chancellor award, the second highest award for Postgraduate Students in UTM Convocation which made his convocation story sweeter.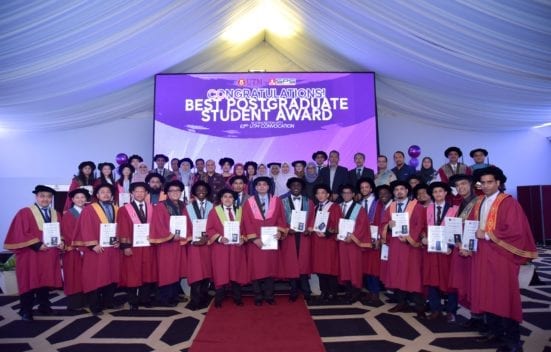 PhD recipients carved their memories together with the supervisors and the faculty representatives