The series of FREE workshops had been organized by FREE task force of Deputy Dean (Research, Innovation, Development & Alumni),  Faculty of Science UTM (FS) from 10 th Sept to 1 ft Oct 2019. The approach of FREE workshop is based on the requirement of four departments of FS.  The workshop involved Knowledge transfer, including the heutagogy approach, and the hands-on training. Heutagogy is the study of self-determined learning for knowledge sharing rather than knowledge hoarding.  Some Education 4.0 tools such as Kahoot, Quizzis, Edpuzzle, Nearpod, UTM e-learning and Coursera were included in the hands-on training.  The development process of images, animation contents  and media-oriented contents were also explained for making e–content. The instructors consisted of lecturers who are experts in e-content development, practising FREE 4.0, familiar with EDU 4.0 software tools and IT facilities, and used to manage digital record stored in cloud data based.
The implementation of FREE 4.0 does not depend on UTM wireless (WiFiUTM) and the issue of WiFiUTM can be solved. How?  Whatever problem of local networks and failure to access the local server , FREE practitioners still can practice the heutagogy style.  First, group the students based on the speed of their personal mobile network and internet service. Second, invite them to access EDU 4.0 software tool on cloud data based.  An analogy about network – The traditional proverbs are often saying 'kalau tak pandai menari ( FREE 4.0), jangan salahkan lantai jongkang-jongkit  (network)'.
The aim of FREE 4.0  is to give awareness to the lecturers on EDU 4.0 environment and platform, and propose the EDU 4.0  software and apps to support their active teaching and learning (T&L) skills.  Publication of Scopus index is considered as the main objective of FREE 4.0. The task force will draft the full paper and every sub-group will extend the content depending on 4 different departments and T&L approaches. The next series of FREE workshops will emphasize on the paragogy (peeragogy)  educational practice in which students interact with other students to attain the educational goals.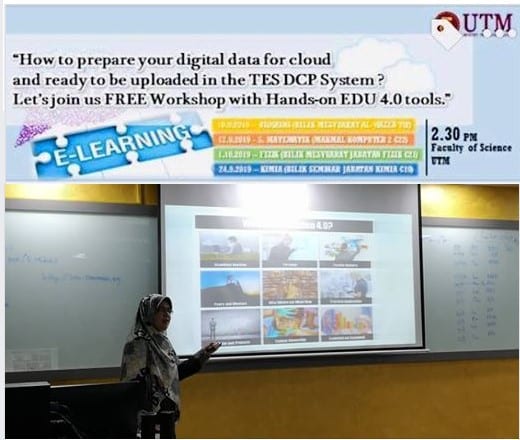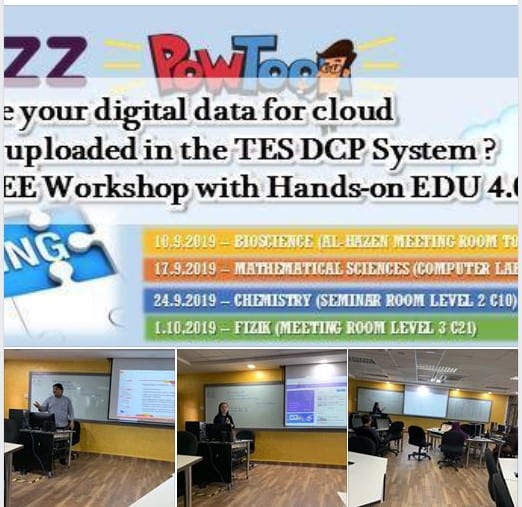 FREE in Biology field on 10 th Sept 2019                                                                  FREE in Mathematical Sciences field on 17 th Sept 2019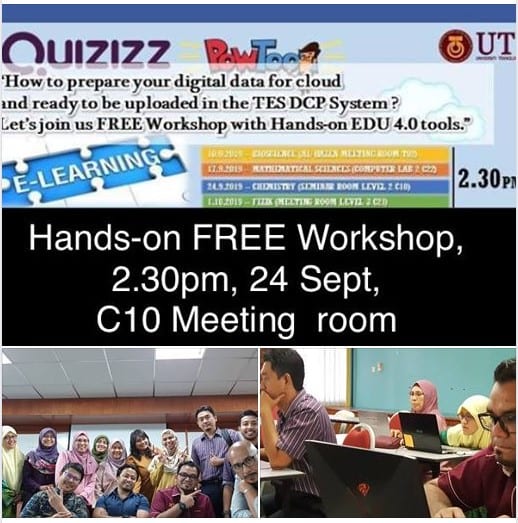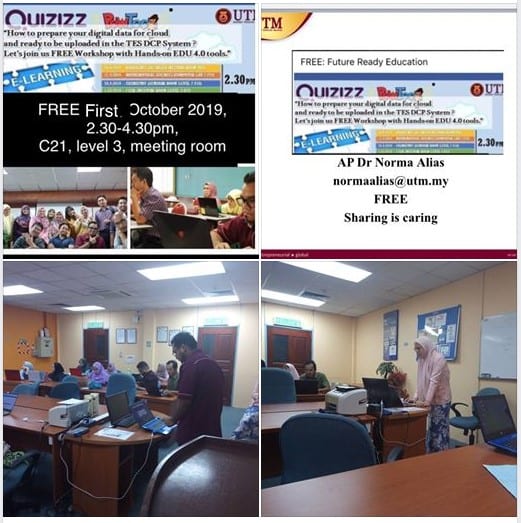 FREE in Chemistry field on 24th Sept 2019                                                             FREE in Physic field on 1 ft Oct 2019
Reported by:  AP Dr Norma Alias; Task Force of FREE 4.0 FS