Senai, 24 July 2019 –Universiti Teknologi Malaysia (UTM) via UTMLead has successfully conducted a course under the Mentoring for Excellence Program (M4E) called Becoming An Outstanding Mentor at the Le Grandeur Resort, Senai. The half-day course consisted of two talks, presented by prominent mentoring icons, Tan Sri Datuk Seri Professor Noor Azlan Ghazali from Universiti Kebangsaan Malaysia (UKM) and Emeritus Professor Dato' Dr Zainal bin Mohamad. The vast experience of Tan Sri Datuk Seri Prof Noor Azlan Ghazali who has been the UKM Vice Chancellor for five years and a member in several committees such as Bank Negara Malaysia Monetary Policy, Special Committee of experts at the Economic Planning Unit (EPU) of the Prime Minister provide valuable inputs to the participants.
The first talk was given by Tan Sri Noor Azlan Ghazali entitled 'Producing Results: Achieving Mission'. He reminded participants on the values and focus of being an academician to ensure all mentors have the right method to assist their mentees. He also elaborated on the Golden Circle by Simon Sinek and how this would trigger mentees to work together with the University towards achieving a mutual goal. Tan Sri's interactive session allowed a two-way communication between him and the participants. During his talk, an interesting economic term he mentioned was 'isomorphic mimicry' which refers to a situation in which forms are chased over functions whereby he hoped that this does not represent the nature of the M4E program.
Emeritus Professor Dato' Dr Zainal bin Mohamad led the second talk entitled 'Developing Transformational and Turnaround Leadership in University'. He deliberated on transformation process, transformational change and entrepreneurial leadership. He also elaborated on the IQ (Intellectual Quotient), EQ (Emotional Quotient) and CQ (Contextual Quotient). He also highlighted the importance of development of leadership process towards becoming a good mentor. He elaborated on the process that should be taken along with its details. The program received a turnout of 40 participants.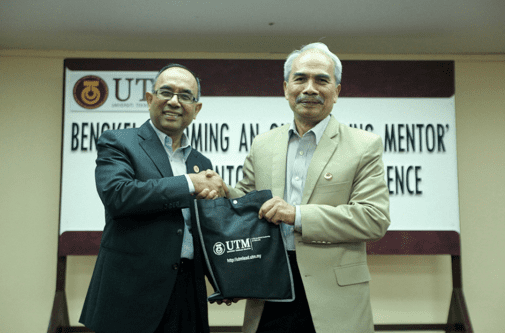 Emeritus Professor Dato' Dr Zainal bin Mohamad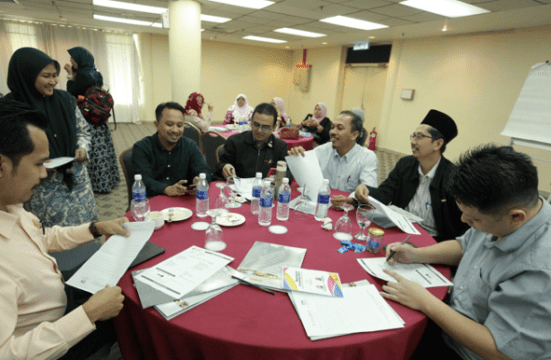 Some Participants of the M4E Program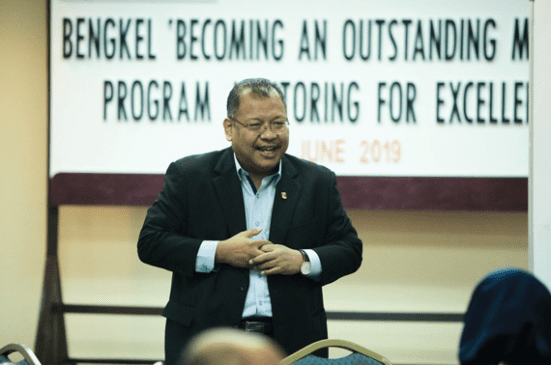 Tan Sri Noor Azlan Ghazali