51 postgraduate students from the Faculty of Science had participated in the Research Week Carnival 2019, which comprised 3 Minute Thesis (3MT) Competition in English, Pertandingan 3 Minit Tesis (3MT) Bahasa Melayu and 2nd Graduate Research Exhibition Competition (2nd GREx) that was held from the 18th – 21st March 2019. The event was held at Block F54, School of Graduate Studies (SPS), UTM Johor Bahru.
A total of 31 postgraduate students from the Faculty of Science had participated in the 3MT (English) Semi Final competition and four of them were selected as the finalists for the final competition which was held on the 20th March 2019 at the UTMLead Hall, Block F54, UTM Johor Bahru. The 3 Minute Thesis (English) competition is an international research communication competition developed by The University of Queensland, Australia in 2008 until now.
In 2017, SPS introduced Pertandingan 3 Minit Tesis in Bahasa Melayu which was adapted from the 3 Minute Thesis in English competition to assess students' ability to present ideas and research within three minutes and use one static slide in Bahasa Melayu. This year, the competition received a total of 12 FS postgraduate students and based on the judging criteria, one of them was selected to be the finalist in science and technology category.
Faculty of Science proudly announced that four out of 12 students won the 2nd GREx Competition 2019. Congratulations to the Gold Award winners, Lam Ming Quan and Farayola Musiliu Folarin from Biosciences and Mathematical Sciences departments. Not only that, FS also won two bronze awards earned by Nur Hazwani Aqilah Abdul Wahid and Nur Nabihah Yusof. Both of them were from the Department of Mathematical Sciences and Department of Physics.
These competitions are organized at University level and the first, second and third place for 3MT English and Bahasa Melayu received RM 1000, RM 750 and RM 500 respectively. Meanwhile, 13 winners were selected in 2nd Grex Competition 2019 with 2 Gold, 3 Silver, 5 Bronze and 3 Best Poster awards. Through deliberation and evaluation, the winner for Best of the Best Award for 3MT English at university level was Syarifah Nazirah Wan Ikhsan from the Faculty of Engineering, UTM. The winner will become the representative of UTM to compete at the national level of 3MT English Competition that will be conducted in July at UPSI, Perak. The national champion will become the Malaysian representative to compete at the international level in University of Queensland, Australia. Congratulations to the winners and thank you to all participants!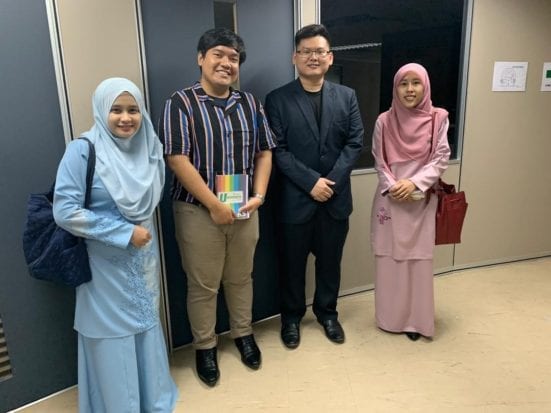 Our four finalists for Final 3MT Competition in English
Tan Yong Chee (SV: Prof. Dr. Abdull Rahim Hj Mohd Yusoff)
Zetty Amirah Zulkifli (SV: Dr. Zaidah Rahmat)
Nor Arbani Sean (SV: Prof. Dr. Hadi Nur)
Muhammad Hariz Asraf Hassan (SV: Assoc. Prof. Dr. Nik Ahmad Nizam Nik Malek)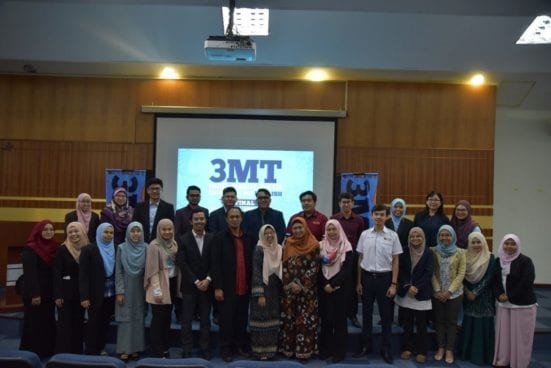 All finalists for Final 3MT Competition in English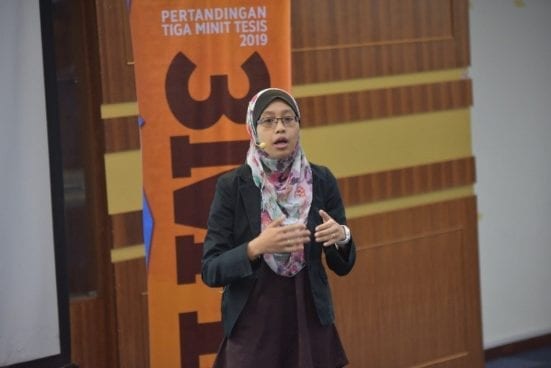 Our finalist for Pertandingan Akhir 3 Minit Tesis (3MT) Bahasa Melayu
Nurlyana Omar (SV: Dr. Koh Meng Hock)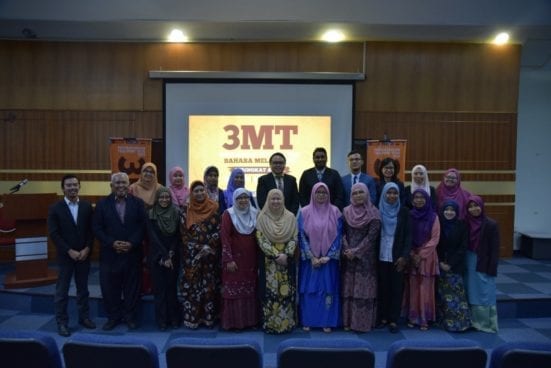 All finalists for Pertandingan Akhir 3MT in Bahasa Melayu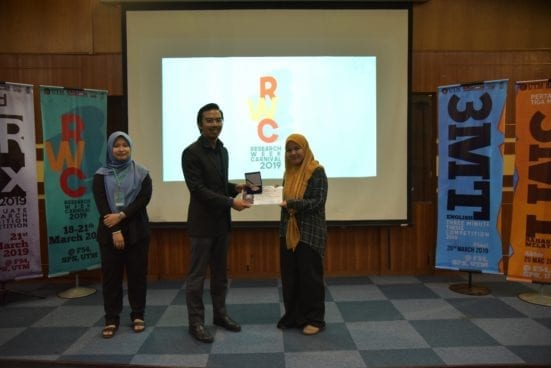 Bronze Award for 2nd GREx Competition
Nur Hazwani Aqilah Abdul Wahid (SV: Assoc. Prof. Dr. Ali Hassan Mohamed Murid)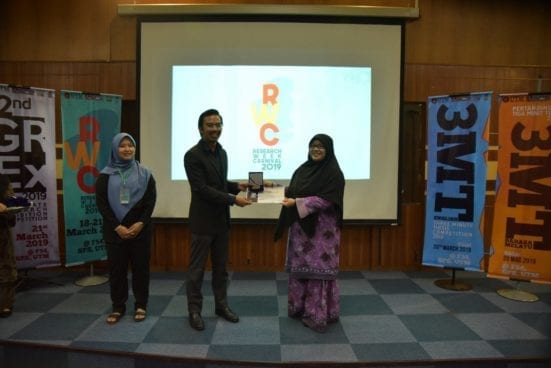 Bronze Award for 2nd GREx Competition
Nur Nabihah Yusof (SV: Assoc. Prof. Dr Sib Krishna Ghoshal)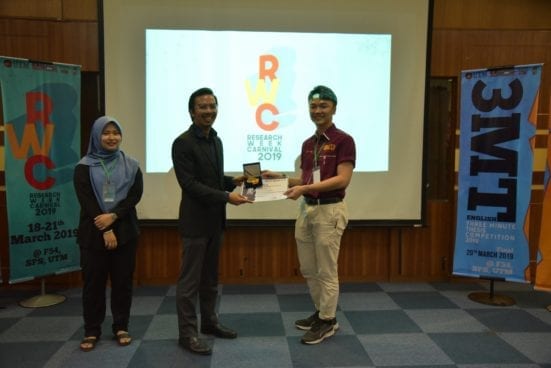 Gold Award for 2nd GREx Competition
Lam Ming Quan (SV: Dr. Chong Chun Shiong)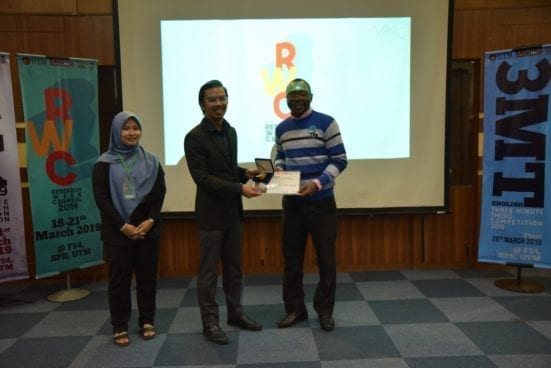 Gold Award for 2nd GREx Competition
Farayola Musiliu Folarin (SV: Assoc. Prof. Dr. Sharidan Shafie)
 Editor:
Mr Lam Ming Quan, PhD Candidate (Department of Biosciences, Faculty of Science)
Dr Ahmad Qushairi Mohamad (Department of Mathematical Sciences, Faculty of Science)