On the 11th, 14th and 18th November 2018, the students from UHAS2122, led by Dr. Mohd Nihra Haruzuan bin Mohamad Said, Dr. Noor Azean binti Atan and Miss Junaidah binti Yusup, have successfully organized a service learning with the theme "Creative Multimedia". The service learning program was conducted at two places which are Sekolah Kebangsaan (SK) Taman Universiti 3 and Perpustakaan Raja Zarith Sofea (PRZS), Universiti Teknologi Malaysia.
The program started with a workshop session with the students of SK Taman Universiti 3 on how to use Canva and Renderforest. The workshop received an enthusiastic response from the participants as they gained meaningful experience and had so much fun learning something new, useful and exciting. After the workshop, the participants from SK Taman Universiti 3 were given the chance to enter a competition to see which group had the best design for video and poster presentations.
The programme continued with decoration and installation of computer lab at SK Taman Universiti 3  on 18th November 2018. This was done to ease the students' movement when using the facilities in their computer lab.
For more information on the service learning project, visit our Facebook Page, CREATIVE MULTIMEDIA DESIGN WORKSHOP AND COMPETITION 2018.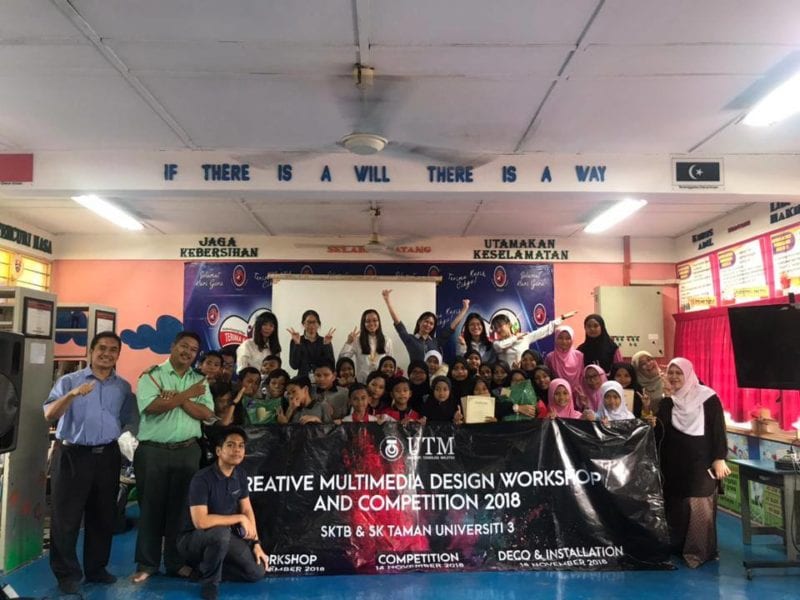 Creative Multimedia Design Workshop and Competition 2018