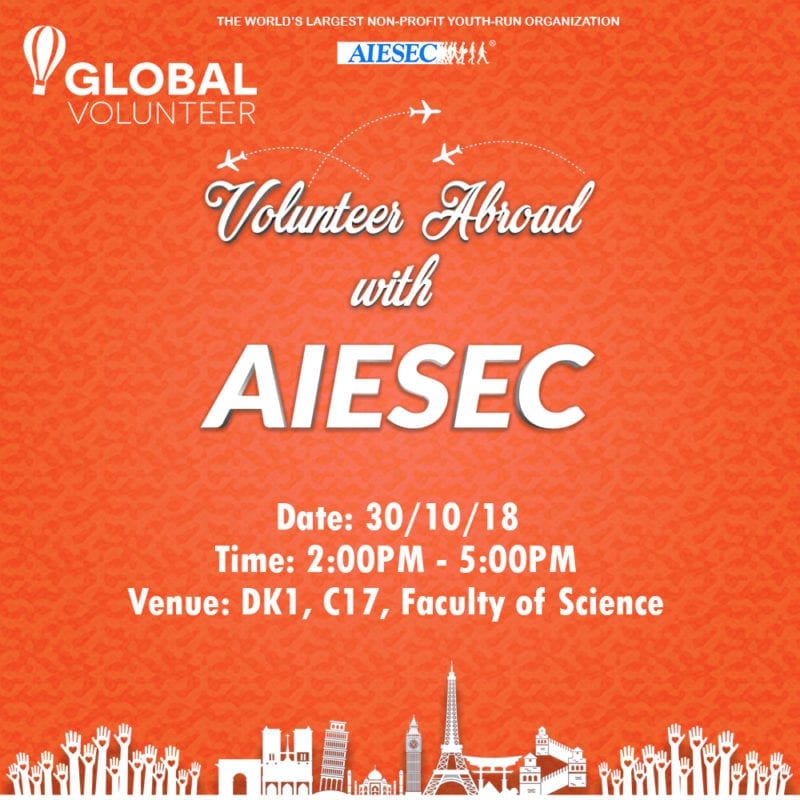 Have you ever thought about…
Discovering new places?
Meeting people from different cultures and countries?
Making a difference in the world?
Developing yourself?
And most of all, getting out of your comfort zone?
What if we tell you that we can provide you with a platform that can help you to achieve all that?
With AIESEC, under Global Volunteer programme, you are going to:
– Acquire a cross-cultural volunteering experience to develop yourself and the world.
– Be a local in an unknown environment and experience new cultures by working in a diverse and cross-cultural team.
– Volunteer abroad in NGOs or on projects to tackle pressing global issues to create positive impact in local societies.
– Grow and develop by going through practical experiences and learning-by-doing.
Are you interested in knowing more about Global Volunteer programme or even applying for it?
Join us in DK1 at C17, Faculty of Science on Tuesday 30th of October from 2:00PM to 5:00PM and start planning for your next adventure.
Click here to see/join event
"Global Volunteer is a cross-cultural experience for youth who want to gain personal development and leave an impact in the world."