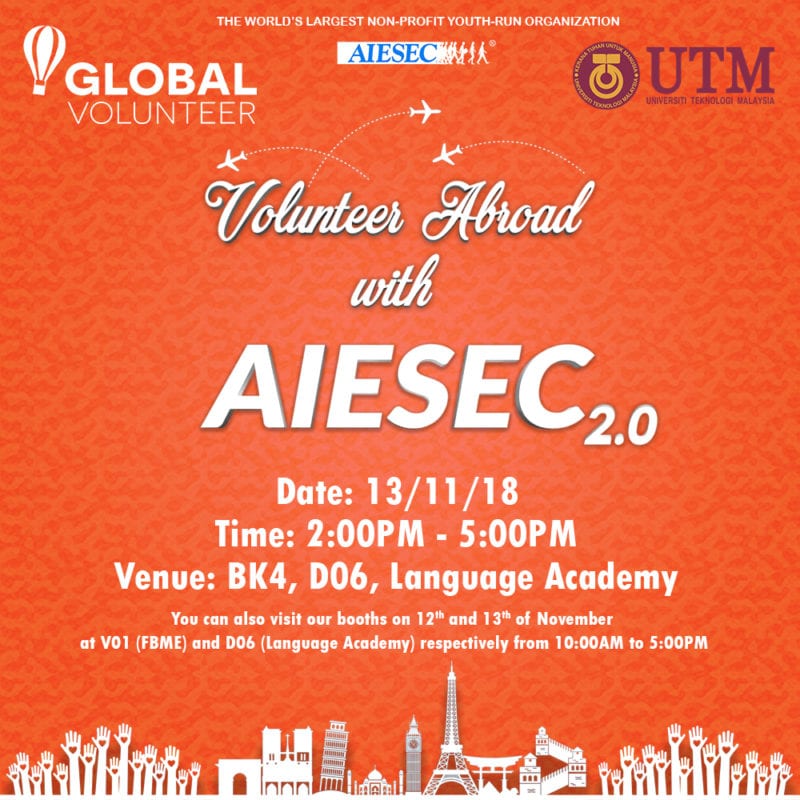 Life begins at the end of your comfort zone. Step out of your comfort zone now and be a global volunteer to experience a new culture and challenge yourself to take up projects that will make a huge impact on someone's life.
By joining Global Volunteer, you will be able to:
– Have Cross-cultural experience 
– Create impact and contribute to the society 
– See the other side of the world 
– Have friends from different countries 
– Gain personal development 
– Have lower budget than to go on travelling as a tourist 
– Get international certificate to beautify your CV! 
You wanted to attend our previous event but couldn't make it? Interested and want to know more about this?
Join us at BK4, D06, Language Academy on 13th of November from 2:00PM to 5:00PM
Register now at: bit.ly/VAwAIESEC
You can also find our booths on 12th and 13th of November at V01 (FBME) and D06 (Language Academy) respectively from 10:00AM to 5:00PM
Don't count the days, make the days count
Act now, without delay