KUALA LUMPUR, 19 Oct. – Razak Faculty of Technology and Informatics (FTIR), Universiti Teknologi Malaysia (UTM) Kuala Lumpur campus organized Research Week 2018 with the theme "Research Innovation towards Industry 4.0".
The program was held from 15 to 19 October 2018, involving students and staffs of FTIR.
The primary objective of the Research Week 2018 is to provide a platform to integrate research and education in the vital field of engineering and technology, management, science and design, informatics and policy studies. Its aim was also to create an interdisciplinary platform to showcase the academic talents and aspiring postgraduate students' research discovery and innovation.
This annual event comprises a series of programmes from research talks from renowned speakers, research workshops, postgraduate student seminar and poster competition.
Research Week shall be an excellent podium geared towards ensuring passion, dedication and commitment for research activities in supporting the UTM theme "Innovative, Entrepreneurial and Global".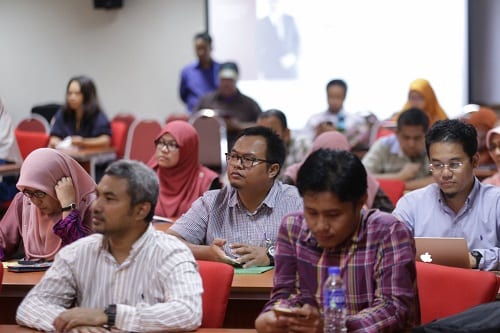 The opening ceremony was launched by the Dean of FTIR, Prof. Ir. Dr. Sha'ri Mohd Yusof.
In his welcoming speech, Prof Sha'ri mentioned that technologies come and go but researchers must bear in mind that there will be a generation gap and people who have difficulty trying to adopt those technologies.
Therefore, he urged researchers to not only do technology research but also research on social psychological area which is very important.
During this five days of event, he hope that researchers can share their research findings with each other, get the opportunity to network between researchers and finally get something good from this programme.
Among highlighted programme is Research Talks from distinguished guest, former UTM Vice-Chancellor Yang Berbahagia Tan Sri Datuk Dr. Ahmad Zaharudin Idrus and from the Deputy Vice-Chancellor of UTM (Research & Innovation), Yang Berbahagia Prof. Datuk Dr. Ahmad Fauzi bin Ismail.