Kuala Lumpur, 6 June 2018 – Universiti Teknologi Malaysia (UTM) received a courtesy visit from the President of Franche-Comte University; Prof. Dr. Jacques Bahi and the Director of Relation International, Mr. Antoine Guillemet. The delegation was also accompanied by Ms. Camille Retzignac from Malaysian France University Centre who has previously visited UTM KL on 14 May 2018.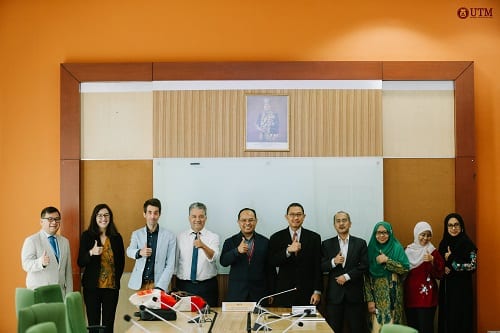 Their arrival was welcomed by UTM International staff, Dean, Deputy Dean and representative from MJIIT, Azman Hashim International Business School, Razak School, AIS and UTM SPACE.
Franche-Comte University expressed their intention to build partnership with UTM and is very keen to collaborate in joint academic activities and mobility programmes involving students and staff. They are also interested to sign an agreement with UTM. In the meeting conducted, they have reached a consensus that MJIIT will be given the privilege to become the owner of the agreement later.
It is hoped that UTM will receive and explore more opportunities for cooperation with universities in France.