JOHOR BAHRU, 7 May 2018 – Universiti Teknologi Malaysia (UTM) and Institut Jantung Negara (IJN) Sdn. Bhd. have signed the Memorandum of Agreement (MoA) to extend research collaboration for the period 2018 – 2022.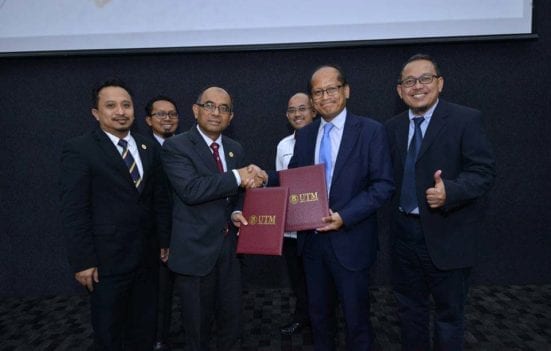 The ceremony was held at Banquet Hall, Sultan Ibrahim Chancellery Building, UTM Johor Bahru campus where UTM was represented by its Vice Chancellor, Prof. Datuk Ir. Dr. Wahid Omar and IJN Chief Executive Officer (CEO), Datuk Seri Dr. Mohd Azhari Yakub.
Speaking after the signing ceremony, Prof. Wahid said that the MoA was intended to further strengthen collaboration between both institutes following the previous Memorandum of Understanding (MoU) which lasted five years from 2013 until 2017.
"Following the first MoU, IJN-UTM Cardiovascular Engineering Research was established to forge greater collaboration between both agencies in the healthcare field especially conducting research on cardiovascular and other related fields.
"UTM contribution will be on engineering expertise (research and developments) while IJN provides expert advice and medical consultation as well as possible testing venue for the developed device," said Prof. Wahid.
To date, collaboration between both parties in the form of the IJN-UTM Cardiovascular Engineering Research has resulted in 311 paper publications, RM7.4 million research grants obtainment, 29 patent filing and the establishment of one spin-off company.
Also attending the ceremony were Dean of the Faculty of Bioscience and Medical Engineering (FBME), Prof. Dato' Ir. Dr. Mohammed Rafiq Dato' Abdul Kadir and Director of Clinical Research of IJN, Dato' Dr. Suhaini Kadiman. Earlier in the ceremony, Datuk Seri Dr. Mohd Azhari Yakub delivered a speech during the CEO TALK session entitled 'IJN, A Premier Healthcare Provider – Past, Present and Future.