Written by: Dr Nor Farahwahidah Ab Rahman, Faculty of Education, UTM
The Faculty of Education, Universiti Teknologi Malaysia has been organising weekly charity activities known as Free Meal Project and Free Market Project. The activities have been continuously carried out for 4 semesters and well accepted by the local and international students. The initiative is driven with an objective to provide a little relief for underprivileged students, especially those who do not receive scholarship for their studies. It is also an avenue for generous contributors to perform an act of charity by pooling the donation to help the students. Every Sunday at 5.00pm, 100 packs of the free meals are distributed at Level 1, C13 Faculty of Education to the students who bring their metric cards as proof. Some stationeries are also available for students to take away for their own use at the Free Market.
The projects are led by lecturers of the Faculty of Education. Volunteers among UTM undergraduate and postgraduate students from different faculties also lend their hands to manage the distributions. The projects promote volunteerism spirit among the students and staff, where they can channel their generosity and willingness in terms of money, time or energy.
Dr Nor Farahwahidah Ab Rahman, who is in-charged for the purchase of the free meals bought the food from Nasi Kukus Kolej 9 cafeteria. Mr Jalil, the cafeteria owner who shared the same ambition for charity works, generously provided the Free Meal project with the same quality of Nasi Kukus Ayam Rempah at a lower price. Meanwhile, the undergraduate students from the Faculty of Education Living Skill Education program prepared the free meals last semester as part of their assessment for SPPL2122 Food Preparation course conducted by Dr Nornazira Suhairom.
The Free Market collects unused stationeries like conferences bags, notebooks, pen, pencils, ring and plastics bindings and files from lecturers, support staff and students. Dr Hadijah Jaffri also contributes new stationery sets to be distributed for free to the students. As the projects receive more attention among the students, the faculty welcomes contributors to sustain both projects such as funding for the free meals and stationeries or assisting during the distribution. All these can be done by contacting us through email: nfwahidah@utm.my. To view more pictures from the activities, please visit the Faculty of Education, UTM official Facebook.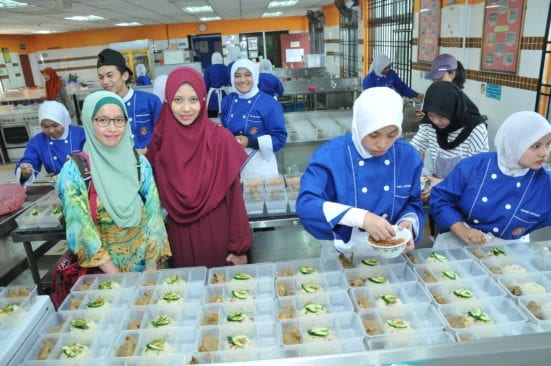 Special Edition Free Meal activities with undergraduate students from the Faculty of Education.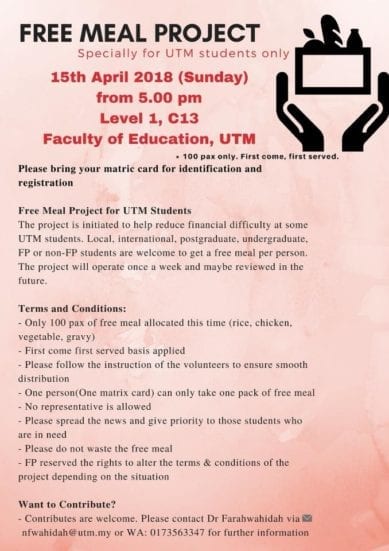 The poster for the food and stationeries distribution, located at Level 1, C13, Faculty of Education.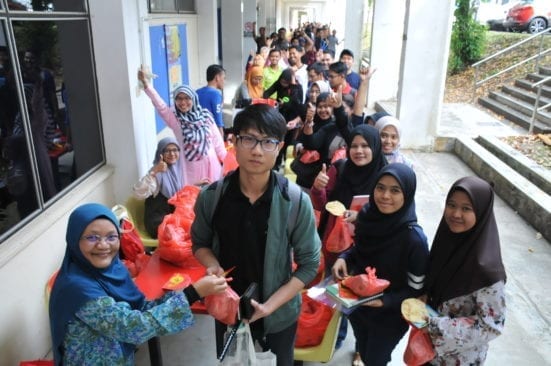 Free Meal activities in conjunction with Chinese New Year 2018 celebration at the Faculty of Education

Free Meal activities in 2017 with the former Dean, Faculty of Education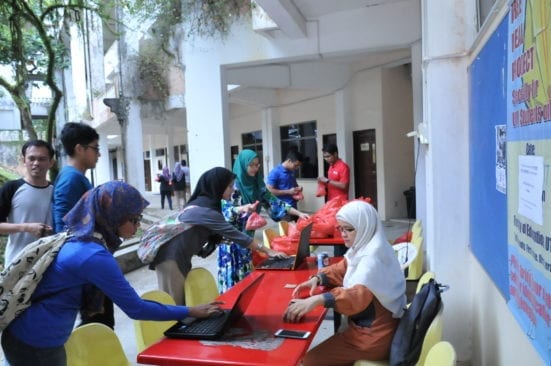 Weekly Free Meal distribution activities assisted by volunteers among the UTM staff and students