Realising the importance of English and the need to enhance students' confidence in using the English Language, Her Majesty Raja Zarith Sofiah binti Almarhum Sultan Idris Shah, the Queen of Johor sponsored the membership fees of 30 students of Universiti Teknologi Malaysia (UTM) to join the UTM ACES Toastmasters Club.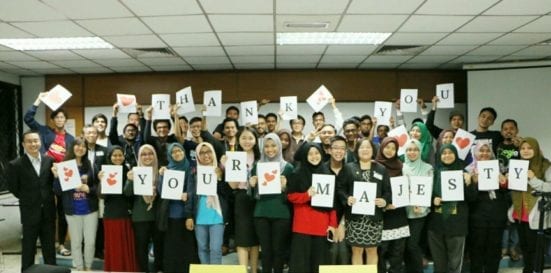 The club is now 32 members strong, with students from various academic background and nationality.
Its recent addition include two members from Tuanku Chancellor English Language Club and another two from Student Representative Council.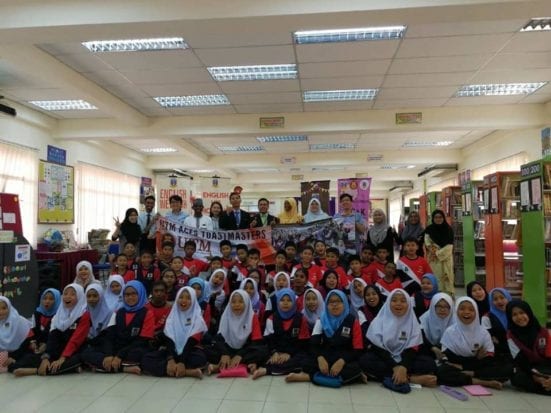 UTM Aces Toastmasters Club is part of Toastmasters International (TI). TI is a non-profit educational organisation that teaches public speaking and leadership skills through a worldwide network of clubs. Application for membership entails a registration fee of USD20 and membership fee of USD45.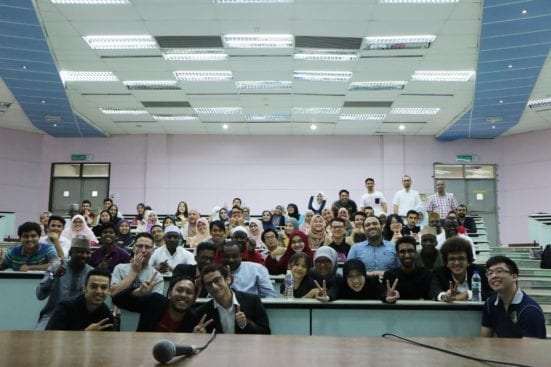 Membership is renewed every six months and the membership fee applies. UTM ACES Toastmasters Club is a non-profit club and it does not charge additional fees to its members and guests. For the ter­­m April-September 2017/2018, membership fees of 30 UTM ACES Toastmasters are sponsored by Her Majesty.
The Toastmasters' community is a close-knit community. The community believes in commitment in and contribution to their club and that all members need to support one another. The strong support from Her Majesty has touched the hearts of the students and has fueled further the club's desire to extend its support to other communities.
One of its recent programme in 27 March 2018, supported by the UTM Toastmasters Club (TMC), is 'Speak with your rhythm', a public speaking workshop to coach primary school students in Sekolah Kebangsaan Sri Pulai Perdana, Johor.
The club has also joined forces with the International Student Society (ISS-Central) in conducting a public speaking workshop, 'Speak like a Champion', on 20 April 2018 for local and international students in UTM.
The club is also organising another public speaking coaching and challenge programme on 6 – 8 May 2018 and it will involve 25 teachers, and 50 primary and 50 secondary school students from various schools in the State of Johor.
This programme is co-organised by the Johor Education Department (JPNJ), and in collaboration with UTM Language Academy, UTM Toastmasters Club, International Student Society, UTM International and supported by UTM Tuanku Chancellor English Language Club and Division G Toastmasters (Johor). The programme will be conducted in UTM.
Growth is important for the club, and participation in Toastmasters has led to some of the club members achieving great heights such as being featured in the news as part of the Astro Awani Rangers, becoming TEDx speakers, and contesting and winning in state wide competitions. In a recent Johor level contest, the club President, Sakesh Raj Narajah won as the first runner up for Table Topics (Impromptu Speech) Contest and the club Advisor, Dr Farhana Diana Deris as Champion for the Prepared Speech Contest.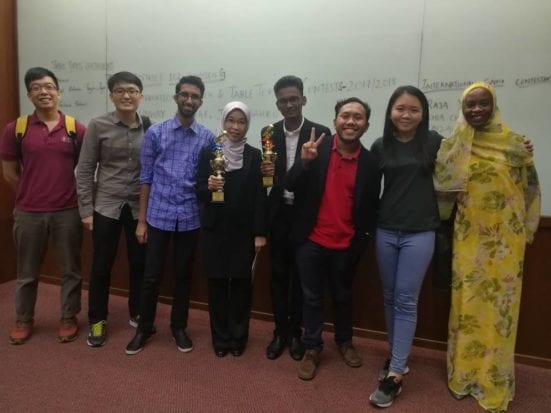 For more information about the club, please contact Dr Farhana Diana Deris (Club Advisor) at 0182087678 or Sakesh Raj Narajah (President) at 0164953010. The club can also be reached at https://www.facebook.com/pg/utmacestoastmaster
By;
Farhana Diana Deris, PhD
Head of Microsite Management
Language Academy