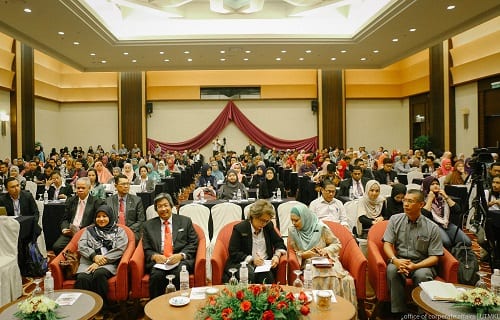 Negeri Sembilan, 28 November 2017- The Joint Training Committee of Higher Education Institutions in Malaysia (JALUMA) in collaboration with Higher Education Leadership Academy (AKEPT), is proud to organise the Convention for Young Administrators of Asean Higher Education Institituions 2017 (YAS@JALUMA 4.0) at the Nilai Springs Resort Hotel, Negeri Sembilan from 27 until 29 November 2017.  This convention was officiated by the Secretary General of Higher Education, Yang Berbahagia Tan Sri Dr. Noorul Ainur Mohd. Nur.  The theme for this year is "I'M THE EXECELLENT TALENT".  There were a total of 238 young administrators participating in this conference. Thirteen of them were from the ASEAN region which include the Philippines, Thailand, Indonesia, Vietnam and Brunei.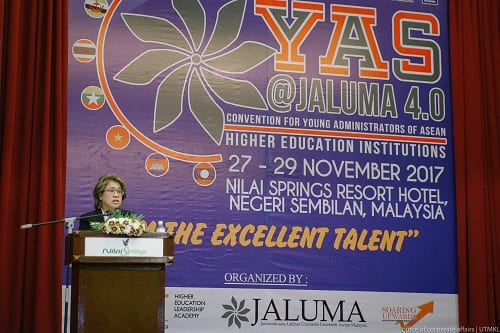 The Convention for Young Administrators of ASEAN Higher Education is organised yearly and will be hosted by the Public Universities in Malaysia by rotation.  The first convention was held on 21-23 November 2014 at Royale Chulan Hotel, Kuala Lumpur.  The second was held on 10-13 September  2015 at Higher Education Leadership Academy (AKEPT), Nilai, Negeri Sembilan and the third convention was held on 13-16  December  2016 at Higher Education Leadership Academy (AKEPT), Nilai, Negeri Sembilan.  This year Universiti Teknologi Malaysia (UTM) was chosen to host the convention.
With the theme "I'M THE EXCELLENT TALENT", the convention was aimed at focusing on how young administrators should equip themselves with all the good qualities and skills in leadership in order to excel in their career. Thus, it is imperative that administrators should continuously upgrade and improve their talents and personal abilities to face a more challenging and competitive educational world.
The objectives of this convention were:
To strengthen the talent of administrators through the cultivation of creativity, innovation and expertise.
To serve as a platform for the discussion and sharing of best practices and information by experts from various fields.
To enrich the professional development of individuals engaged in the administration of universities who are capable of making paradigm shifts through innovation and glocal thinking.
To meet the challengers and needs of the industrial Revolution 4.0 in the context of the dynamic and advanced world of higher education governance among university administrators.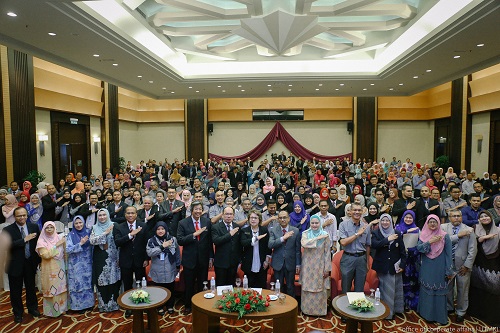 This convention also presented nine renowned invited speakers who are the experts on Leadership, Management and Talent. They are:
Datin Paduka Ir. Dr. Siti Hamisah binti Tapsir.  Director General, Department of Higher Education, Ministry of Higher Education.
Professor Dato' Morshidi Sirat, Director and Dean of Research at National Higher Education Research Institute (IPPTN), USIM
Associate Professor Dr. Arham Abdullah, Director, Industrial Relations, Ministry of Higher Education
Associate Professor Dr. Mohd Rushdan Jailani, Deputy Director, Centre for Academic Leadership, AKEPT
Zahrah Mokhtar, Human Resource Expert
Yang Mulia Dr. Tengku Naufal Tengku Mansor, Certified Facilitator in Applying FQ at work, Counselor, Advocate & Solicitor
Samuel Kim, Co-Founder Officer and President of the Centre for Asia Leadership
Madam Kartini Ariffin, Producer, Radio Announcer, TV Host, Script Writer, Voice Talent
Madam Shanti Jusnita Johari, Head of Enterprise Marketing and Solutions, MAXIS
Apart from the presentation, there was also a forum where three keynotes from industry, Madam Marina Malik from Talent Corp., Professor Dato' Norzaini Azman from Higher Education Research and Policy Development Organisation Malaysia and Yang Mulia Ahmad Husaini Hassan from Ritz Bravo discussed the New Elements in Talent Development. The combination of these experts is hoped to provide the participants with informative discussions on talent management.