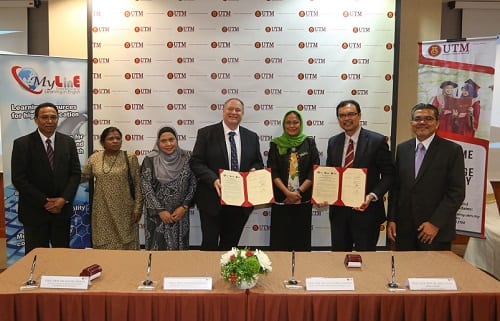 KUALA LUMPUR, 24 October: – The Memorandum of Agreement (MoA) and Memorandum of Understanding (MoU) signed between Universiti Teknologi Malaysia (UTM) and University of Nottingham Malaysia Campus (UNMC) has opened up the opportunity for international students from School of Education, UNMC to improve their language proficiency in order to obtain the required band of Malaysian University English Test (MUET) as set by UNMC. The learning takes place through face-to-face interaction and online learning in MyLinE portal developed by UTM MyLinE Task Force, Language Academy, UTM. The MoA and MoU were signed by the Provost and CEO of UNMC, Prof. Graham Kendall, and the Deputy Vice Chancellor (Development) of UTM, Prof. Dr. Azlan Bin Abdul Rahman, and witnessed by the Head of School of Education, UNMC, Prof. Dr Ganakumaran Subramaniam, and the Dean of Language Academy, UTM, Assoc. Prof. Dr. Abdul Halim Bin Abdul Raof, and observed by the Director General, Ministry of Higher Education, YBhg Datin Paduka Ir. Dr. Siti Hamisah Binti Tapsir.
According to MyLinE Manager, Associate Professor Fatimah Puteh, MyLinE portal is not only used by students of public institutions of higher learning in Malaysia, but also accessible to the public and private institutions, including international users. MyLinE's popularity has sparked initiatives for the MyLinE Task Force to expand its functionality to meet the current needs of users and the nation. MyLinE started as the provider of online learning materials for use among students of public universities in Malaysia to enhance students' English language proficiency. In responding to the needs of the nation, MyLinE offers MUET online materials through its microsites known as MyLinE MUET to assist candidates who are sitting for MUET. At present, MyLinE is the only language learning portal in Malaysia that offers MUET online materials. The portal helps users improve and master the four language skills (reading, writing, listening and speaking) tested in MUET.  This initiative receives strong support from the Malaysian Examination Council (MPM). MPM has supported MyLinE's efforts in conducting a pilot study on MUET online materials on students who were sitting for MUET. At the ceremony, the UTM MyLinE Task Force also presented a Certificate of Appreciation to Pn Norsheila Md Sheh, who was representing the CEO of MPM, Tn. Hj. Mohd Fauzi Bin Datuk Hj. Mohd Kassim.
The MoA and MoU will benefit both parties. For UNMC, this collaboration helps graduate students from Bangladesh who have been selected to join the Bangladesh College Education Development Project (BCEDP) to master English and to meet the required level of MUET Bands. This collaboration involves face-to-face trainings as well as online assistance for 1000 UNMC international students. In addition to enhancing the visibility of the two world-class universities, staff mobility will strengthen the expertise and competitiveness of UTM instructors. It could also indirectly strengthen cooperation between MyLinE and MPM in meeting the needs of MUET candidates.
With the signing of this collaboration, MyLinE is now at par with other global online learning service providers. MyLinE welcomes all parties who are interested to collaborate in areas concerning teaching and learning of English. MyLinE can be accessed at http://myline.utm.my. For more information, please contact myline@utm.my or 075537928.