KUALA LUMPUR, May 11, 2017 – Universiti Teknologi Malaysia (UTM) is offering self-contained accommodations that are complete, comfortable, modern and comply to international standards.
The complex, built on an area of 26.4 acres in the campus near Jalan Maktab, near here named Residensi UTMKL comprises four towers for between 11 and 22 floors.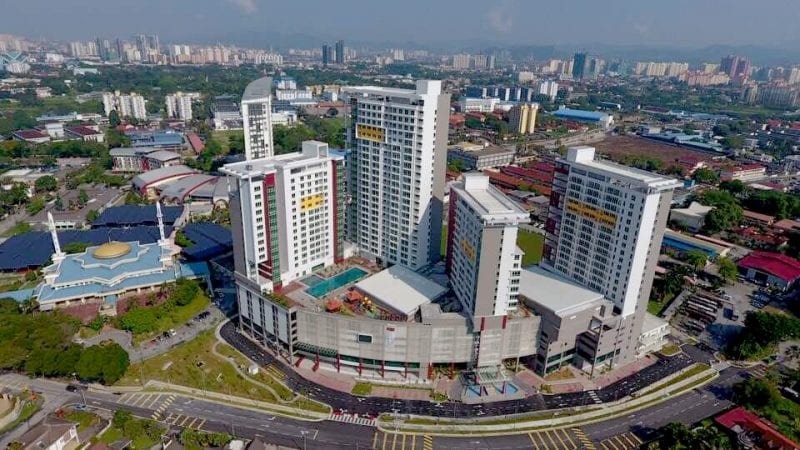 The complex contains 500 rooms and will be professionally managed by Royal Widad Hotel, The Regency and Dormani Halmark, all of whom have extensive experience in the hospitality industry in the country.
Rooms will be managed as a hotel and three-star service appartments to provide comfort and convenience of fully equipped accommodations for tenants.
Residensi UTMKL contains a seven-storey podium and four towers for accommodation. Tower 1 is the highest tower with 22 floors containing 150 units of two-bedroom accommodations.
Meanwhile, the 13-storey Tower 2 consists of 50 units of three-bedroom accommodation units, followed by Tower 3, an 11-storey tower containing 118 studio units, and Tower 4, a 14-storey tower containing 182 studio units.
In addition, Residensi UTMKL features a 10-lane bowling hall, a multipurpose hall that can accommodate up to 500 guests, a swimming pool, 60 business lots of retail space taking up 39,860 square meters, and features 719 parking lots.
Construction of the complex is in line with the Ministry of Higher Education's intent to promote the Public Universities (UA) to generate their own income to reduce dependence on the government.
Construction of the complex and its location near the centre of the city is expected to attract more students from home and abroad to study in various fields in UTM.
Residensi UTMKL's construction costs amounted to RM171.5 million obtained through a loan from the Employees Provident Fund (EPF), which amounted to RM180 million.
The idea of its construction was sparked by former UTM Vice-Chancellor, Dato 'Seri. Ir. Dr. Zaini Ujang in 2009 and received the support of the Board of Directors and the Ministry of Higher Education and Ministry of Finance.
Residensi UTMKL's construction was managed "in-house" in its entirety – contract documents, procurement, contract deals, appointment of contractors, financial management, project management administration; all using UTM's own expertise.
This move allowed UTM to save RM4 million in consultation fees alone.
To date, as much as 85 percent of the retail space has already been booked by confirmed tenants, among them UTMSPACE, EliteBowl, fast food outlets Burger King, Pizza Hut and Subway, 99Speedmart retailers, department stores my.News.com and Gloria Jean's Coffee.
Residensi UTMKL was built by contractors Ahmad Zaki Sdn Bhd (AZSB) beginning in July 2013 and was completed on May 7, 2017 and presented by its Chairman Datuk Prof. A Rahman @ Omar Abdullah to UTM Vice-Chancellor Prof. Datuk Ir. Dr. Wahid Omar in the presentation ceremony today.
Also present were Chairman of the Board of Directors of UTM, Tan Sri Abdul Halim Ali and AZRB Group Managing Director Dato 'Sri Haji Wan Zaki Haji Wan Muda.