KUALA LUMPUR, 11 May 2017 – Universiti Teknologi Malaysia (UTM) celebrates its industrial partners, corporate affiliates as well as alumni in a special academia-industry dinner reception in recognition of their continuous support and contribution to the university.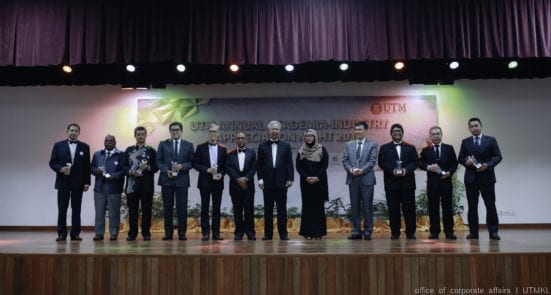 Collaboration between academia and industry is indeed significant not only for the sake of continuous excellence for higher education, but most importantly to produce graduates who are industry relevant and ready to face challenges of the future.
This is where the need to expose graduates to the realities of the working environment becomes more intense to produce graduates with high employability skills. UTM emphasizes 3 major aspects for UTM branding in Academia–Industry collaboration. First, to come up with strategic approaches through dynamic transformation to ensure UTM remains relevant and competitive. Second, the continuous drive to develop unique entrepreneurial mindsets among the UTM community to create value that would bring impact for the good of the nation. Third, to improve the university's image at the international level through smart partnerships with global partners in a strategic approach.
The collaborative and innovative partnerships that UTM has established with industry partners and corporate organisations have resulted in good synergy to transform the talent and capacity of its graduates while at the same time improve collaborative and sustainable quadruple helix models between industry, governments, academia and civil society.
For example, The Johor Strategic Innovation Institute IISJ-UTM is the best example in highlighting the R&D of UTM more effectively for the benefit of surrounding communities.
Industries also benefit tremendously through commercialization and licensing of R&D products.
At the same time, industries provide scholarships to enhance student development such as the RM 30 million from AMBANK, RM 5million contribution received from Johor Port Berhad, and RM 3million from KISWIRE.
Our students are also highly involved in many entrepreneurial programmes and projects under the UTM Technology Entrepreneurship Center (UTM-TEC), and innovation programs under the Centre for Student Innovation (CSI).
Many such programmes are in existence in UTM to enhance Academia-Industry collaboration such as the 2u2i program which is a new Bachelor program in the Faculty of Computing on Data Engineering, where students have 2 years on-campus learning experience and another 2 years in the industry. At the same time, the Jukebox under the Global Mobility program exposes students to our partner Universities in Japan, Taiwan, Germany, United States and Brazil.
To maintain and keep pace with technological developments, which are seen as very close to the industry, UTM received cooperation by industries offering placements to students. This is where skill development and higher Graduate Employability rate are achieved. Currently, every year, 80% or more of UTM graduates are employed 6 months after graduation.
The recent UTM Career Carnival 2017, that was held on 18-19 April 2017 involved 56 companies (40 multinational, 4 international and 12 locals). During the Career Carnival, graduate employability sponsors include Country Garden & Schlumberger.
Many collaborations with industries exists in UTM. Among others include Ericsson 5G centre, Johor Port Marine Centre, Azman Hashim International Business School, and Proton Lab. These engagements are synergized through MOUs and MOAs, which contribute to UTM's progress in various fields which ultimately lead to nation building.
Collaborations with dedicated Alumni also reinforce synergy and strengthen contributions in pertinent areas from alumni to the University. UTM alumni are its major assets, as they can contribute in promoting good branding, networking, sharing of expertise and experiences, and also training of UTM students.
UTM sees the significance of giving recognition while acknowledging the contribution of all all industry partners and corporate organisations in driving the progress of UTM.
This Academia-Industry Appreciation Night is one way in which UTM pays tribute to the excellent support and contribution of its industry partners for capacity development and talent building of UTM students as well as staff.