Warm-mix asphalt (WMA) technologies could address the problem of deterioration of roads, reduce escalated energy costs and increase environmental awareness. This technology allows significant reduction in temperature for construction and paving of roads compared to conventional hot-mix asphalt (HMA) paving.
Warm-mix asphalt is a relatively new technology suitable for an environment with a global warming problem and for helping to decrease emissions of greenhouse gases in the atmosphere. For this reason, it is well-known as a sustainable, green pavement. In addition, it helps in energy saving, improves workability of the pavement, hauling distance, extends pavement life and uses more RAP in paving.
Professor Dr Mohd Rosli Hainin from UTM Faculty of Civil Engineering, Universiti Teknologi Malaysia said, WMA reduces air pollution when carbon dioxide emissions are reduced. According to Mohd Rosli, the environmental pollution is minimized because the process producing WMA uses a lower temperature of 130 degrees Celsius compared to HMA which requires temperatures up to 160 degrees Celsius.
He said that cold asphalt paving complicates the process for contractors to pave the road according to specifications, causing the road to become easily damaged and endangering the safety of users.
Recently, Mohd Rosli and his research team have made a significant contribution to the Village Road Paving Program jointly organized by the Faculty of Civil Engineering, Universiti Teknologi Malaysia (UTM), Johor Strategic Innovation Institute (IISJ), Infra Desa (Johor) Sdn Bhd and Segamat Quarry in Kampung Air Merah, Mersing, Johor.
The program involved more than 50 participants from UTM, District Office, Public Works Department, Provincial Centre of Excellence for Engineering and Technology, JKR Create, Ministry of Rural and Regional Development, Infra Desa (Johor) Sdn Bhd, Segamat Quarry, Southern Premix, Universiti Teknologi Tun Hussein Onn (UTHM) Mersing District Council, Pavement and Transportation Research Group postgraduate students and lecturers.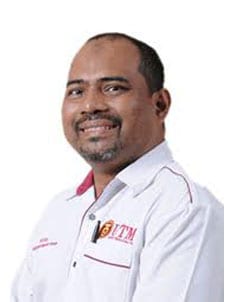 Researcher :
Mohd Rosli Hainin
Professor
Department of Geotechnics and Transportation
Tropical Geoengineering Centre (GEOTROPIK)
http://mjiit.utm.my/roslihainin
Related page:
https://pure.utm.my/en/publications/performance-of-warm-mix-asphalt-in-the-highway-industry
http://www.jurnalteknologi.utm.my/index.php/jurnalteknologi/article/view/3757