CAMBODIA, 19 June 2016 – Universiti Teknologi Malaysia (UTM) has been strengthening its strategic collaboration network to help people in Kampung Khleang , Kandal, Cambodia develop as a centre of tourism and destination Sustainable Cultural Village One Stop Centre Halal-Hub.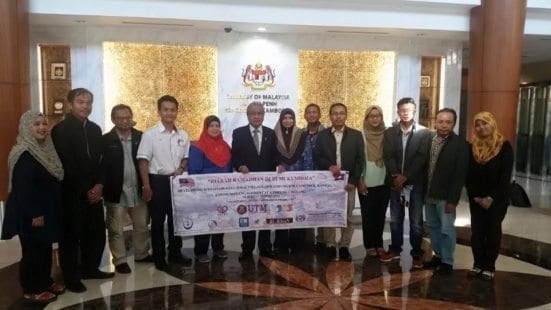 The project which began in 2012, led by Dr. Hisham Mohd Rashidi, Senior Lecturer, Faculty of Built Environment (FAB) has reached the third stage of the Sustainable Village project empowerment continuity.
Dr. Mohd Hisham said the visit of Strategic Collaboration Community Engagement which was conducted in Cambodia on 16-19 June is aimed at improving strategic network between the Coalition of Non-Governmental Organizations (NGOs), the Embassy of Malaysia and industry to empower and strengthen the collaboration and assistance during the month of Ramadan.
"A total of 11 people participated in this visit including Pasir Gudang Member of Parliment, the Honourable (YB) Normala Samad and Member of Parliament for Kota Samarahan, YB Rubiah Wang.
"Also joining the tour were Kuala Lumpur MyCare Chairman, Assoc. Prof. Dr. Hafidzi Mohd. Noor, Director Centre of Community and Industry Network (CCIN) UTM, Assoc. Prof. Dr. Nur Naha Abu Mansur, Deputy Director of UTM Alumni, Dr. Azlan Abdul Latib and Dr. Hisham Mohd Rashidi as Project Leader," he said.
The UTM delegation also met with Malaysian Ambassador to Cambodia, Datuk Seri Hasan Malek at the Malaysian Embassy in Phnom Penh, Cambodia.
The meeting was to strengthen the community network engagement between Malaysia and Cambodia where the Strategic CSR Engagement Industry Collaboration programme will be held by the embassy in August 2016.
"This program will help in getting sponsorship from Malaysian companies in Cambodia as well as increase network industry," he said.
Several contributions were made during the visit, namely 40 basic food hampers, cash money, clothing to needy families, donations to improve school infrastructure and to build houses and 2 goats for the fast breaking ceremony held at Kg Khleang mosque.
Among the biggest contributors to the project were UTM, Darul Sakinah Women's Welfare Society, Yayasan Salam Malaysia, Wakaf An-Nur, Al-Ikhsan Sdn. Bhd, Malaysia EM, My Care Malaysia, Media Prima, TV3, Caring Action Team (ACT) and several private donors.
"Both MPs who participated in this visit has also expressed their desire to strengthen the role of women as drivers of the economy.
"A total of RM 300,000.00 was donated by the Woman Welfare Society of Darul Sakinah to build commercial and sewing centre in Kg. Khleang to give employment to local women, "he said.
In addition to the development of Halal Hub One Stop Centre, UTM has also been actively involved in the activities of community service starting from 2012 with the establishment of classes teaching English, Development Center, Construction Gallery Village of Kg. Khleang, Center Commercialization Center and Sewing, community service programme,Circumcision program by the UTM Health Centre and Akikah programme during the 2015 Aiduladha celebration.