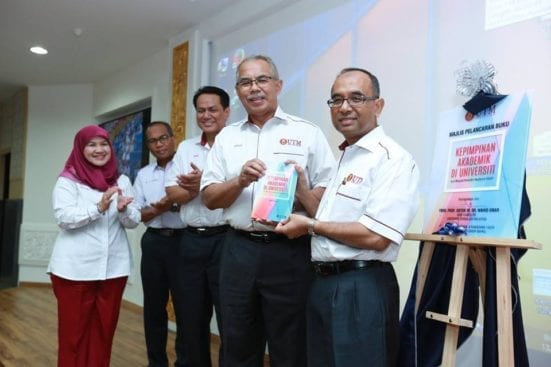 JOHOR BAHRU, 13 June 2016 – The launching ceremony of Academic Leadership In University written by Former Deputy Vice Chancellor of Academic and Internationalization, Prof. Ir. Dr. Mohd. Azraai Kassim was carried out by the Vice-Chancellor of Universiti Teknologi Malaysia (UTM), Prof. Datuk Ir. Dr. Wahid Omar today.
The launching ceremony was held at the Banquet Hall, Sultan Ibrahim Chancellery Building, Johor Bahru campus after the monthly assembly of the university staff.
This book was produced to provide exposure and guidance to the academicians, especially those who hold, or will hold academic and leadership positions, the most important aspects that need to be mastered in order to carry out their responsibilities more effectively.
Prof. Wahid said that Prof. Azraai's 25 years of administrative experience in university administration from the lowest of departmental level until the highest administrative level as Deputy Vice Chancellor can be a useful guide for all academic administrators.
"What is contained in this book can also be used as a basis for producing highly effective academic leadership needed to lead the university towards excellence.
"I hereby recommend that all new academic staff involved in the higher education sector to refer to this book. To understand and appreciate the fundamentals of the university administration, they can contribute to the development of high-impact jobs once holding the post of academic administrators in the future, "he said.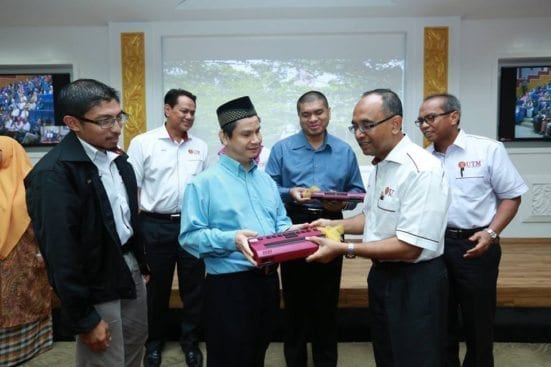 Prof. Wahid also had the opportunity to attend the handover ceremony of the eBraille Electronic Panel to Mr Zakaria Yahya and Muhammad Hj Lee Abdullah, the owners of the original data of the Quran in Braille versions.
The donation was made through eBraille Research Group of the Faculty of Mechanical Engineering (FKM).