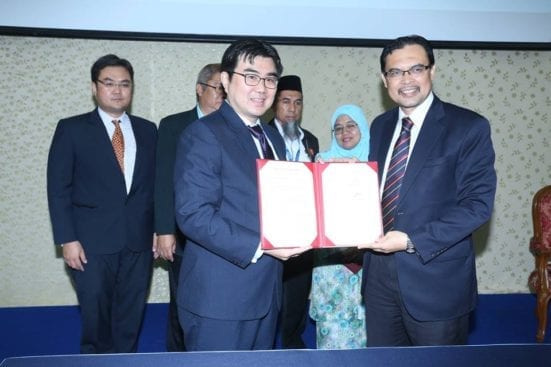 JOHOR BAHRU, 2 June 2016 – Universiti Teknologi Malaysia (UTM) and Pentalight Technology Sdn. Bhd. (Pentalight) have signed a Memorandum of Understanding (MoU) as part of the energy –savings initiatives in Johor Bahru campus.
The MoU was being signed by the Deputy Vice Chancellor of Development, Prof. Dr. Azlan Abdul Rahman on behalf of UTM while Pentalight was represented by its Chief Executive Officer, Raymond Tang.
Prof. Azlan said that this project was the second project of the Energy Performance Contracting (EPC) for UTM with an RM8 million total project cost.
"The project will cover the installation of Building Management System at the Raja Zarith Sofia Library (PRZS) and retrofit 2521 advanced Smart LED streetlights.
"An EPC agreement will be signed at a later date after a detailed audit report is submitted by the external energy auditor and approved by the UTM management," he said.
The expected energy saving from this project is around 6 million kWh or RM2 million on energy bills and RM5 million of streetlights maintenance cost for the period of ten years.
"The contract value will be paid by UTM over the next ten years with an option of 5 years from the energy cost savings. As such, there is no net cost for UTM where it is all paid by savings," he said.
Energy saving initiatives began in UTM as far back as 2003 when the facilities maintenance team improved power usage at the library with the help of an energy services company (ESCO) which provided the investments and subsequently shared the saving using the Energy Performances Contracting (EPC) business model.
The EPC's main objective is to improve the energy efficiency of a facility with no capital expenditure and the guaranteed energy savings payments for the capital investment required to implement improvements.
"With this project, UTM has collaborated with the Building Sector Energy Efficiency Project (BSEEP) from Jabatan Kerja Raya (JKR) and United Nation Development Programme (UNDP) with the support from the Global Environment Facility.
"BSEEP will be assisting in the development of UTM/Pentalight EPC by a dedicated team to build the capacity and provide necessary technical supports," he said.
BSEEP will provide recommendations to the proposals and EPC contracts, assistance to prepare the necessary documentation as well as legal assistance to review the EPC documents.
The EPC project which is initiated by the UTM Office of Asset and Development is also supported by the UTM Innovation & Commercialization Centre (ICC) as the main unit in UTM which manages the innovation and commercialization of UTM research output.
Also attending the ceremony were Deputy Director (Innovation) of Innovation and Commercialization Centre (ICC), Prof. Dr. Sevia Mahdaliza Idrus and Senior Electrical Engineer, Energy Management Unit of Office of Assets & Development, Hjh. Masilah Bandi.