13 June 2016 – An Interdisciplinary Malaysian Student team led by Kim Zhao Wei, a Master of Architecture student from the Department of Architecture, Faculty of Built Environment Universiti Teknologi Malaysia (UTM) won first prize in The Vertical Farming Award 2016 organised by the Association of Vertical Farming based in Amsterdam, the Netherlands.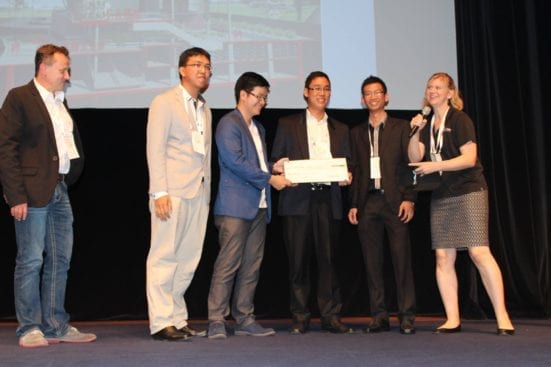 The other team members are Lai Chuen Ket also a Master of Architecture student in UTM, and Chong Shen Loong and Chai Yi Xue, both final year Degree students in Agricultural Engineering, Universiti Putra Malaysia. The advisor for the team is Associate Professor Dr Dilshan Remaz Ossen of the Dept. of Architecture, UTM Faculty of Built Environment.
The team's entry Inter-Farm Market captured the Juror's Interest in the innovative way in which they incorporated Architecture, Agriculture, Urban Design and Social Culture in addressing the issues of food supply in urban areas.
The award carries with it a First Prize of USD5000.00 and a paid trip for the team leader to the AVF Summit.
Watch their winning entry :