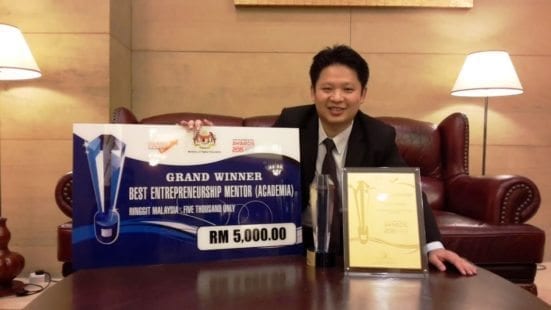 JOHOR BAHRU, 8 June 2016 – The majority of local students do not possess the drive and passion to push for success and building their own businesses.
The typical mindset makes it almost impossible for them to push their research or findings for commercialization as many give up owing to the mistaken beliefs that the focus of academia should only be in research, and that commercialization belonged to other sectors.
Speaking about this, the founder of DF Automation & Robotics Sdn. Bhd. and a senior lecturer at the Faculty of Electrical Engineering, Universiti Teknologi Malaysia (UTM), Dr. Yeong Chee Fai said that this is a view shared by many university lecturers as well but it is a wrong perception.
"Taken my own entrepreneurial journey for close to five years, universities in Malaysia have the best eco-system to produce top-notch start-ups.
"We just need to strategies and plan for success. Most importantly, we need to change and adopt the entrepreneurial mindset in universities," said Dr.Yeong.
In the past, the cool response to entrepreneurship could be due to the lack of success stories. Now, there is increasing interest and excitement among the younger generation largely because the success of Grab, Kfit and JobStreet which he believes will push more youths towards entrepreneurship.
"There is a need to leverage on existing advantages on academia. Universities provide a range of research grants that lecturers can apply for, and there are talented students with a hunger for success but do not have the funds to pursue their ideas.
"To reduce risks for students, universities should allow them to undertake start-up projects that have potential as part of their final year projects. This can also allow lecturers to fulfill their Key Performance Index in Publication and student graduation while funding some impactful projects,"he said.
These final year students also would be able to conduct their projects without having to worry about funding and try out a product for commercialization," said Dr. Yeong.
As Dr. Yeong has his own company, it makes mentoring easier since he is able to share on-the-ground experience with young entrepreneurs to supplement learnt theoretical knowledge.
"There is no single way to success as there are many different ways and you have just to find one. It's not an easy task but passion and a never give up attitude will lead you on the right path.
"Planning is also crucial since a company that runs without planning for success is cruising a boat without direction," he said.
Dr. Yeong also underline the importance of teamwork as the key to a successful companies often lies with bringing in all skillful talents who are able to work well together. Delegation and entrusting staff with responsibilities will also motivate them to work harder to grow the company.
"Currently I'm mentoring two start-ups companies, Techcare Innovation Sdn. Bhd. and WeAlert. Techcare Innovation started as a final-year project that students improved on and has gone on to win awards in the British Invention Show and Malaysia Technology Expo Awards.
"One of the students is now continuing this project for his PhD while at the same time holding a Chief Executives Officer (CEO) position in the spin-off company. To date, the company has raised more than RM1 million to support research and commercialization," said Dr. Yeong.
WeAlert, started by a group of second year university students as an entry to the Microsoft Imagine Cup competition, is a dengue reporting mobile application aimed at addressing dengue issues.
Dr. Yeong Chee Fai was announced as the Grand Winner of Ministry of Higher Education (MOHE) Entrepreneurial Awards (MEA) 2015 for the category D, Best Entrepreneurship Mentor (Academia).
The award was being presented to him at the Royal Chulan Hotel, Kuala Lumpur on November 14th 2015.
The DF Automation and Robotics Sdn. Bhd. company which he founded in 2012 designs and manufactures Automated Guided Vehicles (AGV) for industrial use. AGVs are mobile robots that move automatically and are very useful to carry loads in manufacturing industries.
Apart from AGV, DF Automation also provides a robotic solution such as universal robots for industrial use.