JOHOR BAHRU, June 21, 2016 – Universiti Teknologi Malaysia (UTM) achieved remarkable success when it was listed in the top 100 universities in Asia through the Times Higher Education (THE) Asian University Rankings 2016 released today.
UTM is listed in the top 70 in Asia, followed by Universiti Putra Malaysia (UPM) in the 121-130 grouping, Universiti Sains Malaysia (USM) 141-150 and Universiti Kebangsaan Malaysia (UKM) 161-170.
Vice Chancellor Professor Datuk Dr Wahid Omar said these encouraging results put UTM as the third best university in ASEAN after the National University of Singapore (NUS) and Nanyang Technological University (NTU) in Singapore.
"The success in becoming the third best university in ASEAN can help achieve the government's aim to make Malaysia a hub of higher education in Southeast Asia.
"UTM soared over 30 positions and placed for the first time in the top 100 universities in Asia following the attainment of academic quality and good research," he said.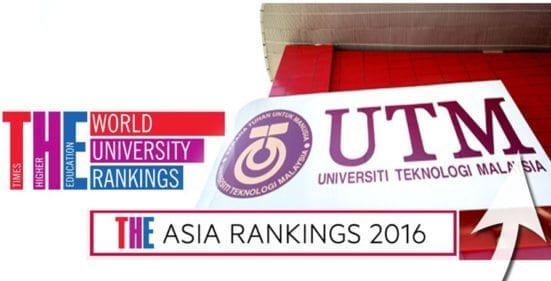 Meanwhile, the report published by THE places UTM as the institution of higher learning that is top among ASEAN countries after Singapore while Thailand has the most entries in the ranking this time with seven universities.
Thai universities that recorded the highest positions in the THE Asian University Rankings are the Mahidol University and King Mongkut University of Technology Thonburi (KMUTT) respectively in the 90th and 98th positions in Asia.
This year, the THE ranking lists the top 200 universities, compared to only 100 in the previous year.
—
For further information please contact;
Professor Dr Nordin bin Yahaya
Senior Director
UTM International
Universiti Teknologi Malaysia