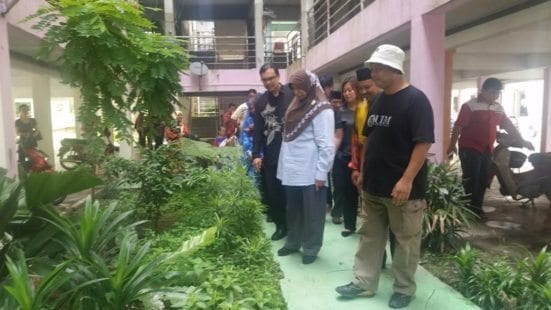 JOHOR BAHRU, 29 May 2016 – The Centre for Community Industrial Network Universiti Teknologi Malaysia (CCINUTM) in collaboration with the Parliament Office of Pasir Gudang has taken the initiative to redevelop the area around Flat Taman Plentong Utama.
Activities known as The Residential Transformation Project to Be Environmentally Conducive through Community Engagement has received a cash injection of RM 35,000.00 from University Community Transformation Centre (UCTC), Ministry of Higher Education Malaysia through CCINUTM.
Project Leader, Dr. Mohd Hisham Rasidi said this project was initiated in response to the National Blue Ocean Strategy (NBOS) approach which is propagated by the government.
"A total of 50 students from UTM Faculty of Built Environment, Faculty of Education and CCIN were involved in this redevelopment project which was conducted with lower costs and was more effective than those developed by outside contractors," he said.
Among the development created was constructing interactive children's club and a 'love to study' room that was developed in a short time with each one taking about six months.
Dr. Mohd Hisham then said that such projects will be continued in accordance with the Master Plan, issued as a student research outcome.
"Among other planned development is the empowerment of local educational aspect with the construction Garden Therapy, Coastal Park River, Vertivulture Parks and Wildlife Art Community.
"The development model and the approach adopted by UTM will be used as reference and guidance to community development in other areas so that sustainability can be adapted," he said.
This phenomena will give a new life in a flat area and be a catalyst for a sustainable environment conducive to the comprehensive and better quality of life.
The Transformation Project was officially launched by the Pasir Gudang Member of Parliament, Yang Berhormat Normala Abdul Samad and accompanied by Deputy Vice Chancellor (Development), Prof. Dr. Azlan Abdul Rahman.